Noble: SembMarine Jackup Incident Not Linked to Structural Defects
|
Thursday, January 24, 2013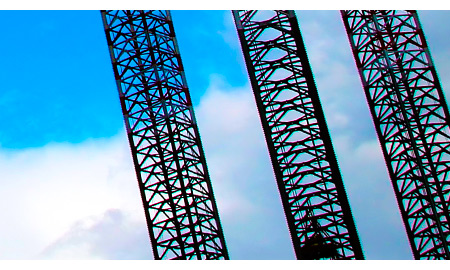 Noble Corporation confirmed late Thursday in an earnings conference call that the Noble Regina Allen (400' ILC jackup), which tilted during a jacking system test on Dec.3, 2012, is now securely berthed by Jurong Shipyard.
Noble Corp's Chairman and CEO David Williams noted that an investigation conducted by Jurong Shipyard and Friede & Goldman (F&G) shows that the legs, jacking system and hull suffered no structural damage.
"Data collected to date by the various investigation teams has ruled out structural or component defects, and teams are now concentrated on the jacking software control logic, electrical components relating to the jacking system, and the break holding capacity," Williams said in a statement.
Jurong Shipyard, a subsidiary of Sembcorp Marine, is still working to isolate the exact cause and rectify the problem. Sembmarine confirmed on Jan.15 that the rig was successfully restored to its upright position, and that the rig is expected to exit the shipyard by the end of 3Q 2013.
Commenting on the health and safety aspect of the incident, Williams remarked that "thankfully, of more than 700 people aboard the rig, there were no serious injuries reported."
Singapore's Ministry of Manpower (MOM) Occupational Safety and Health Inspectorate confirmed that 89 workers were injured as a result of the incident. A stop-work order (SWO) imposed by the MOM, which covers all production works on the rig, is still in place.
After the incident, F&G instructed Chinese state-owned shipbuilder, Dalian Shipbuilding Industry Offshore (DISC), to suspend the construction of jacking systems for F&G JU-2000E rigs for Prospector Offshore Drilling.
Prospector Offshore Drilling, incorporated in Luxembourg in 2010, is new to the drilling industry. It has six high-spec jackups under construction, four by DISC and two by Shanghai Waigaoqiao (SWS) with deliveries from 1Q 2013 to 1Q 2014.
CIMB Research's analyst, Lim Siew Khee, noted in a report issued in late December that DISC and SWS were awarded these rig contracts due to attractive payment arrangements that required as little as one percent in deposits.
Generated by readers, the comments included herein do not reflect the views and opinions of Rigzone. All comments are subject to editorial review. Off-topic, inappropriate or insulting comments will be removed.