Will Mariner Jumpstart UK's Heavy Oil Revolution?
by Jon Mainwaring
|
Rigzone Staff
|
Thursday, January 24, 2013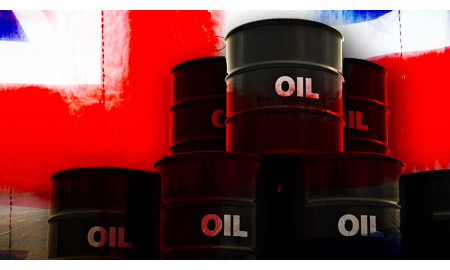 Statoil's decision in December to go ahead with spending an estimated $7 billion-plus on developing the Mariner heavy oil field was a welcome boon for the UK oil and gas sector.
Already in early 2013, Statoil is recruiting people for the project – which will see an estimated 700 people directly employed by the firm in long-term, full-time positions. Two hundred of these roles will be onshore jobs at the firm's operation center in Aberdeen, while more than 500 will be offshore positions. Statoil plans to recruit most of the people it will need for the project in the UK, particularly in Scotland in the Aberdeen region.
But far more than 700 jobs will be created thanks to the project, according to Oil & Gas UK Economics Director Mike Tholen.
"What you tend to see is that there is a ratio of about two or three to one. So, for every direct job there are two-to-three indirect jobs supporting them one way or the other," Tholen told Rigzone in a recent phone interview.
This suggests that perhaps as many as 2,000 indirect jobs can be created from the project.
Mariner "will have a wider impact, obviously. Everything from the trivial, such as office services, through to the substantial: engineering, manufacturing and other technical work. So, it's bound to enlarge the skills, demand and work not just in Aberdeen but beyond as well."
Discovered more than 30 years ago, the Mariner Field consists of two shallow reservoirs: the Maureen Formation and the Heimdal Sandtsones of the Lista Formation. With nearly two billion barrels of heavy oil in place (with gravity ranging from 12 to 14 API), the development of the field will be the biggest on the UK Continental Shelf for a decade.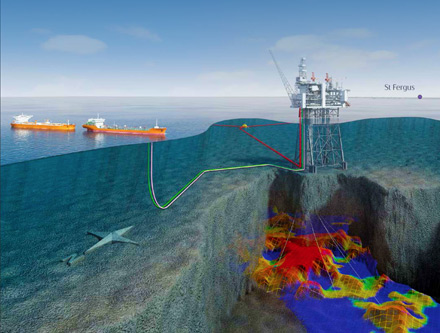 The Mariner field development concept
55,000 Barrels of Oil per Day
Statoil expects to begin production from Mariner in 2017 and once developed it is expected to produce for 30 years. The average production is estimated at around 55,000 barrels of oil per day for the first three years of the development's life.
Statoil has stated that the project will require pioneering technology for it to work. Discovered in 1981, the Mariner field was subject to a number of development studies by different operators – all to no avail. This changed when Statoil came on board as operator in 2007.
Mariner "was discovered more than 30 years ago but no operator has until now been able to put forward a development concept that allows for a possible development," Bård Glad Pedersen, a Statoil spokesman, explained to Rigzone recently. "We are proud that we have been able to do it. The challenge with heavy oil is obviously to get it out of the ground effectively and to reach a recovery factor that is satisfactory."
It also helps that Statoil already has some heavy oil experience.
"Previously we have done the field development of Grane on the Norwegian Continental Shelf and Peregrino, offshore Brazil," Pedersen added.
Oil & Gas UK's Tholen agrees with this view.
"The sort of technologies they are relying on have really continued to develop a lot over recent years and Statoil, because of the experience they have elsewhere, are very much ahead of the game in how to process and handle this sort of oil," he said.
Plenty of Contracts
Statoil's approach to developing Mariner will involve a lot of wells (around 50), as well as sidetracks. This is because of the extraction of heavy oil means low well flow rates. But the process will also be designed to handle large liquid rates and oil-water emulsions because of predicted early water breakthrough.
The field will be developed with a production, drilling and quarters (PDQ) platform with a floating storage unit that will have a capacity of 850,000 barrels. A jackup will also be used for the first four-to-five years of the project.
Statoil has already started awarding contracts to contractors and subcontractors for the Mariner project.
For instance, the contract award for the engineering, procurement and construction of a steel jacket for the platform has been made to Spanish firm Dragados Offshore, who will work with UK-based SNC Lavalin on the detailed engineering of the jacket.
UK-based engineering firms CB&I and Rig Design Services will work with Daewoo Shipbuilding and Marine Engineering Co. to deliver the topside for the platform. Meanwhile, Saipem's UK business has been awarded the contract for heavy lift operations.

But there are still plenty of contracts to be awarded and Statoil has stated that it has already seen a lot of interest from suppliers for Mariner work.
Sensible Tax Regime – a Key Factor
Statoil's Mariner project is an indication that other heavy oil fields in UK waters can also be developed. The Mariner project has been feasible due to a combination of a can-do operator with the technology to extract heavy oil at a manageable cost, a healthy range of prices for crude oil and a sensible tax regime, Tholen said.
The UK's tax regime "has flexed sufficiently to really encourage this investment", according to Tholen. Indeed, Statoil has pointed out that the UK government's 2012 expansion of the Ring Fence Expenditure Supplement – a measure designed to support investment in marginal fields – was a positive move that affected its decision to develop the Mariner field.
"I think it is very much the fact that in the last couple of years the UK Treasury has been paying a lot more attention to our industry because it recognizes that we mostly can sustain our investment," said Tholen.
"We're not so much 'over the barrel' when it comes to access to finance. Ours is an industry where it is how you attract the investment into the UK given that the investment will, in turn, create both new jobs and new tax yield for the Treasury. So, it sees that this is a good business to be involved in and recognizes, not least in this case, that the tax regime was holding an investment back."
Because of this softening towards the oil and gas industry by the UK's tax authorities, Tholen expects that there will be further heavy oil developments on the UK Continental Shelf.
"I am confident that there are other companies looking at other major heavy oil developments at the minute. No doubt, they'll be looking at the progress of this one as well with interest," he said.
Generated by readers, the comments included herein do not reflect the views and opinions of Rigzone. All comments are subject to editorial review. Off-topic, inappropriate or insulting comments will be removed.
RELATED COMPANIES