Natural Gas Powering Apache Hydraulic Fracturing Ops
|
Monday, January 21, 2013
Houston-based Apache Corp. has switched to using natural gas in its hydraulic fracturing operations as part of its plan to utilize gas wherever possible.
Apache, which has supported the increased use of natural gas in the United States through its public support for compressed natural gas (CNG) vehicles, kicked off its long-term commitment to gas late last year by implementing permanent, mobile frac spreads using CNG and liquefied natural gas (LNG) to power a frac fleet at its Granite Wash operations near Elk City, Okla.
Apache will use both frac spreads to fracture about 140 wells in 2013 with the technology. By switching to natural gas, the company estimates it will cut diesel fuel costs by approximately 60 percent while reducing emissions.
Apache plans to expand the use of the technology and eventually to shift to using field gas as the fuel source, the company reported.
The company plans to use natural gas wherever it can, from drilling to fracking to moving sand and water – anything that takes a diesel engine, said Mike Bahorich, Apache's executive vice president of technology, in an interview with Rigzone. In the United States, high horse power engines such as the engines that power hydraulic fracturing equipment run on diesel.
Last year, the U.S. oil and gas industry was on track to use over 700 million gallons of diesel to pump sand and water during fracture stimulation, according to Apache. At an average cost of $3.40 per gallon, that is equal to $2.38 billion spent on diesel.
"With abundant, inexpensive natural gas expected to be available in the United States for some time, I would challenge you to think of a better idea for the U.S. economy and the environment than switching from oil to natural gas," Bahorich commented. "We want to do our part to make that happen."
Making the Switch Happen
Currently, one percent of drilling rigs and zero full frac spreads are powered with natural gas. Bahorich recalls meeting with one fracture stimulation provider who said natural gas couldn't be used because of frac spread equipment being moved every few days, which meant it wasn't practical to run the piping. The majority of wells in the United States are hydraulically fracturing after they're drilled. This process requires the use of frac spreads, which includes equipment such as pumping trucks.
When Apache sought to incorporate natural gas in its hydraulic fracturing, the company sought out Halliburton and Schlumberger for bids. Bahorich was surprised when Halliburton and Schlumberger came back with zero-cost bids for the project.
"We didn't tell them they were bidding against each other, and we had planned on doing this with one crew. But when we saw they were both interested, we decided to move ahead with more fracking crews and use both solutions they proposed."
"It does show you that there are a lot of people that want to do this, and it's the right thing to do," Bahorich noted.
Halliburton is supplying LNG, while Schlumberger is supplying CNG. To meet Apache's need, Halliburton invented a system that quickly connects natural gas to pumping engines, making gas a viable fuel to rapidly and routinely move from job to job. The solution involves a simple gas line that connects from the natural gas source to the engine using a quick-connect jumper to link the natural gas line between trucks.
"There really is no difference using CNG or LNG when it comes to natural gas and how it responds to the engine," Bahorich commented.
The difference with LNG is that it's much more efficient to transport due to its higher energy density. CNG offers advantages in that it's cheaper and in supply in the areas where Apache is working. While LNG has a higher energy density and is therefore much more efficient to transport, the supply of LNG is limited in the United States, and must be trucked in from hundreds of miles away. Over time, Bahorich hopes to see additional LNG plants built.
The technical challenge of using natural gas for hydraulic fracturing is that a diesel engine does not have a spark plug like a car engine does. The spark in a car engine ignites the natural gas, which means passenger cars can run entirely on natural gas. A diesel engine can't run on 100 percent gas, but by blowing methane into the air intake, natural gas and diesel can be mixed, allowing for 70 percent of diesel to be substituted with natural gas in an engine with a spark plug.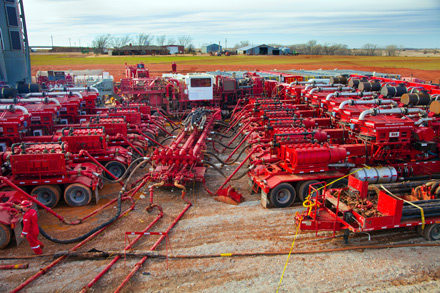 Apache will use frac spreads developed by Halliburton and Schlumberger in its hydraulic fracturing operations.
Caterpillar Bifuel Kits
One of the things different about Apache's project is that it utilized bifuel kits from diesel engine manufacturer Caterpillar. The bifuel kits developed by Caterpillar allow the pumping truck engines to run on diesel while idling and natural gas when they are throttled up for pumping, said Brian Erickson, Apache senior production engineer of E&P technology.
Halliburton's collaboration Caterpillar and Apache involved using 12 pumps equaling 24,000 horsepower, one of the largest dual-scale projects ever conducted in the oil and gas industry, Halliburton reported in a Jan. 11 statement. Halliburton and its supplier, Caterpillar, converted the company's new Q-10 pumps to dual fuel with a technology that would safely and efficiently accommodate high-quality LNG or CNG.
Halliburton also worked with Linde North America to establish a safe and efficient gas distribution system as well as the supply of the LNG needed for the Apache project.
As part of the collaboration, Caterpillar adapted its proprietary Dynamic Gas Blending (DGB) engine technology to power Halliburton's massive pumps, Halliburton commented.
"We anticipate that in the not so distant future, these DGB engines can be easily retrofitted to efficiently burn available on-site conditioned field gas, thereby saving operators additional fuel transport costs," said Marc Edwards, senior vice president of Halliburton's completion and production division, in a Jan. 11 statement.
Greenfield Energy Services has also worked with Apache in its efforts to switch to hydraulic fracturing with natural gas. Greenfield has run a frack pump for Apache at its Granite Wash fields using 100 percent field gas. Greenfield also is converting Apache's drilling rigs to burn gas using turbine engines from military aircraft, Rick Fontova, president of Greenfield, told Rigzone.
Additionally, Apache is working with Oscom to build a high rate CNG station in the middle of Apache's Granite Wash fields to supply CNG where Apache needs it. Though construction has not yet started, the station should be finished in this year's first quarter. The station is similar to the mobile LNG liquefaction plants that are being utilized in some areas, and will have a mobile compressor that connects to an Apache gas plant via a short pipeline.
"There isn't anything more important that we can do for the economy and environment than to switch from oil to natural gas," Bahorich concluded. "Apache is very interested in doing its part and is excited to see other companies doing the same."
With so much natural gas available, the oil and gas industry is starting to incorporate the use of natural gas in their exploration and production activities. Last month, the first use of LNG in hydraulic fracturing activity in the South Texas Eagle Ford play was reported.
The LNG division of Calgary-based Ferus LP completed the pilot project in the Eagle Ford last fall for Baker Hughes, Jed Tallman, manager of market development for Ferus LNG, confirmed to Rigzone. Ferus was working for Baker Hughes, who in turn was working for Cheyenne Petroleum.
"The use of natural gas for drilling and completion is growing at an incredible rate," said Jed Tallman. "We believe that the tipping point has been reached, and are excited to be able to support the growth of the industry."
Generated by readers, the comments included herein do not reflect the views and opinions of Rigzone. All comments are subject to editorial review. Off-topic, inappropriate or insulting comments will be removed.