Barents Sea: All Eyes on Darwin
by Jon Mainwaring
|
Rigzone Staff
|
Monday, January 21, 2013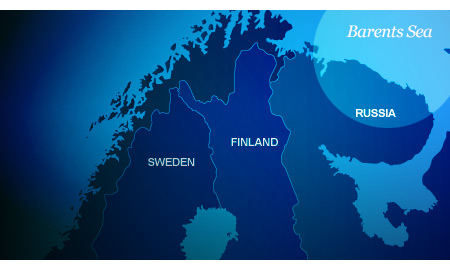 One of the last great frontiers for oil and gas exploration, the Arctic has been exciting the energy industry for a number of years. Several major oil firms have expressed interest in exploring deep into Arctic territories, and governments of countries such as the United States, Russia, Canada and Norway have been preparing for this eventuality.
This year will see many oil and gas companies take a step closer to exploring the Arctic with several drills scheduled to take place in the Barents Sea – a marginal sea of the Arctic Ocean that lies off the coasts of northern Norway and northwest Russia.
For example, Norwegian major Statoil plans to follow up its Skrugard and Havis discoveries of March 2011 and January 2012 with a four-well drilling campaign that it aims to complete by late spring/early summer 2013. In total, Statoil wants to drill nine wells in the Barents Sea during 2013.
The combined discoveries of Skurgard and Havis have been estimated at between 400 million and 600 million barrels of oil equivalent. Statoil's further exploration of the PL 532 license where the discoveries were made – as well as in the nearby PL 608 license – could lead to the Barents Sea being proven as another major hydrocarbon basin for Norway.
Faroe Petroleum is a junior oil and gas explorer long involved in exploration operations in the North Sea and Norwegian Sea, as well as around the Faroe Islands, but which more recently acquired prospects in the Barents Sea thanks to license partnerships with BG Group, Repsol and German oil firm Wintershall.
In a recent interview with Rigzone, Faroe Chief Executive Graham Stewart explained what makes the Barents Sea an enticing region for explorers:
"What is exciting about it, I suppose, is the prospect sizes: the fact that there have been some good discoveries in the past 18 months, mostly by Statoil and also by Total. Strategically, Norway is regarded on the world exploration map as extremely significant and, with the more recent very-large discoveries that have been made up there; people are expecting great things to come."
As well as the sizable Skrugard and Havis discoveries, Eni Norge – a subsidiary of Italian oil major Eni – recently completed an appraisal well at its 174 million-barrel Goliat discovery. Completed in December, this appraisal well brought Eni closer to its goal of bringing Goliat into production in the summer of 2014.
Apart from the obvious exploration opportunities, Stewart explained that the Norwegian zone of the Barents Sea offers additional benefits for oil and gas companies over rival frontier plays.
"You've got a politically stable regime, albeit quite high tax… And yet they have a tax regime that encourages exploration very actively through the state participation in exploration wells – at least financial participation through the use of a tax rebate," he pointed out.
Indeed, exploration incentives introduced by Norway in 1999 have been responsible – at least in part – for a doubling of the number of explorers drilling on the Norwegian Continental Shelf, according to a research report from Wood Mackenzie in August 2012.
A Reversal of Fortunes for Faroe?
For Faroe, the firm's 12.5-percent participation in the Repsol-operated Darwin prospect offers the soonest opportunity for it to benefit from Barents Sea hydrocarbons.
Darwin – which is located some 37-to-50 miles to the southwest of the Skugard and Havis oil discoveries on Norwegian production license 531– potentially holds one billion barrels, according to estimates.
After a very tough 2012, in which Faroe's six-well drilling program failed to find hydrocarbons in commercial quantities, the company is hoping that Darwin will deliver a reversal in its fortunes. Indeed, in its monthly exploration and production update, London-based investment bank finnCap pointed out at the start of January that should Darwin come in at the top end of expectations Faroe's gross prospective resources would increase "substantially".
"The first piece of action this year will be on Darwin," Stewart told us. "We will drill a well on Darwin most likely in the first quarter of this year. It could slip into the second quarter but it is scheduled for the first quarter. And that's a very exciting prospect."
Faroe hopes that at least one of the two other Barents Sea prospects it is involved with will be drilled in 2013: Samson Dome and Kvalross.
Samson Dome was awarded in Norway's 20th licensing round, with Faroe gaining a 20-percent interest (operator BG Group holds 40 percent, while Statoil and Wintershall each hold 20 percent). A new 3D seismic dataset is being interpreted at Samson Dome, and a decision to drill is expected to be taken in 1Q 2013.
"We were hoping that we would be drilling Samson Dome this year, so I would think it is highly likely will we be drilling one or both of those prospects next year," said Stewart.
Faroe has also applied for more licenses in the Barents Sea in Norway's latest offshore licensing round. In early December, the Norwegian Petroleum Directorate reported that this 22nd round had seen 36 companies apply for 86 blocks, or shares of blocks, with the greatest interest being shown in the Barents Sea.
Plenty of Activity in 2013
But early 2013 looks like it is shaping up to be a very interesting period in the history of Barents Sea exploration.
Statoil's four-well drilling campaign, which it hopes to complete by the summer, begins with the Nunatak prospect being spud before the West Hercules (UDW semisub) drilling rig moves on to drill the Kramsno, Skavl and Iskrystall prospects.
Meanwhile, Eni Norge continues to appraise its Goliat field – which is due to come on stream in 2014 and is estimated to contain reserves totaling 174 million barrels of oil. And Total plans to drill an appraisal well on its Norvarg gas field, where a wildcat well discovered a resource in August 2011 that has since been estimated at more than 200 million barrels of oil equivalent.
So, what would a new discovery in the early part of 2013 do for the Barents Sea's development as a hydrocarbon region?
"Well, whether it would speed things up in 2013 I doubt because it takes time to put in a rig, a contract in place and all that kind of stuff. But it would certainly heat things up insofar as people will be very keen to get in. It would make the farm out market hotter. It would make license applications in the future more challenging and so on," said Stewart.
"But I think it will obviously excite the market a great deal if there is a success in the early part of the year because I think there is an awful lot more to go for. And that's before the East Barents has been opened up."
More Opportunities in East Barents
"Already [Russia is]… active in Norway, looking for opportunities," explained Stewart. "And I think this is sort of a precursor to joint ventures emerging on the East Barents in time for that round. So I think there is a lot to come there. It goes into deeper water there, as you slide down into the Russian side of the Barents, and I think the general view is that no wells have been viewed on either side yet but there's an expectation that it is going to be extremely prospective. Already early indications are that you've got multi-million barrel-type prospects there."
Needless to say, Faroe is keeping an eye on the situation in the East Barents which it believes may become available in Norway's 23rd licensing round.
For now, though, Faroe's focus is on the first-quarter drilling of Darwin.
"The main thing is obviously the Darwin well and that will take a couple of months to drill and test the prospect… We are very excited about that."
Generated by readers, the comments included herein do not reflect the views and opinions of Rigzone. All comments are subject to editorial review. Off-topic, inappropriate or insulting comments will be removed.
RELATED COMPANIES