Planning, Stamina Needed for Marathoning and O&G Exploration, Production
|
Friday, January 18, 2013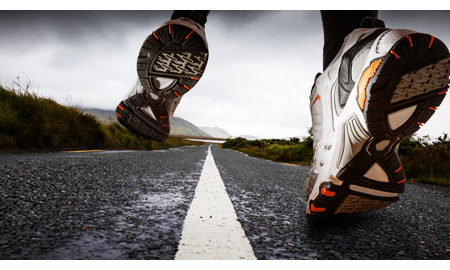 What do running marathons like the Jan. 13 Chevron Houston Marathon and working in the oil and gas exploration and development have in common? Both require planning, stamina and the flexibility to respond to unforeseen conditions, according to people who work in the oil and gas industry.
Just like global exploration and production (E&P) efforts, particularly for unconventional oil and gas resources and deepwater, the number of people who run marathons worldwide has grown in recent years. Over 551,000 people completed a marathon in 2011, according to the marathon running statistic website statisticbrain.com.
E&P activity and marathons are both about planning, from the route a runner or well runs, the casing or runner's body, the fluids, the support team and the drill bit or running shoes, said John Graves, money manager and author of the book Fracking: America's Alternative Energy Revolution. Training for a serious running is like prepping a site for drilling.
The Art of Running and Hydraulic Fracturing
Graves sees similarities between the art of running and the art of hydraulic fracturing.

"Whether a workover or a new horizontal, design is everything: from thumpers to advanced seismic, we prepare for the hole by knowing the rock. In a marathon, you prepare for the run by knowing your strengths – and expanding them," Graves commented.
Each wellbore teaches the crew, just as each run teaches the runner more about their endurance, preparation and mental behavior, Graves noted. A runner must have the right shoes, just as a toolpusher must know the right bit, and a runner hydrates to keep moving, just as the operator must keep mud flowing right for the bore.
Graves also likened both a marathon and frac operation to an endurance operation.
"Try running 26 miles. So too, 'turning the bit to the right' for 2 miles down, then adjusting to the horizontal over a 1,000 feet, then running another 6 miles is no easy feat."
Like a runner must know their body, the weather on race day, surfaces, direction, elevation, crowd size, competition and where the race ends, an operator must know the shape of the drillstring, the kickoff, and where the center of the hydrocarbon seam lies.
"Few can run a marathon; few can work a seam," said Graves.
"Mental attitude is at least as important as physical preparation, for both the runner and the drilling crew," said Graves.
Health, Safety and Environment
Health, safety and environment are also important in running and E&P activity, such as the health of the runner and the rig and the safety of the streets found on a marathon route and a drilling site.
The most successful oil and gas companies are those that apply a consistent effort over a long period of time, said Tatsuya Nakagawa, vice president of marketing and strategy with Castagra Products Inc. Nakagawa has run two marathons and has worked alongside exploration and production companies.
"These consistent efforts include constantly monitoring the health of the company, just like a runner would constantly [check] their heart rate during the race to make sure they can finish the marathon, and monitoring the global marketplace, just as a marathoner would monitor the weather and temperature," Nakagawa commented.
Runners typically measure their training progress by running times and setting new time goals for themselves as they progress. Sometimes, these goals have to be adjusted due to injuries or other factors that can interfere with training. Oil and gas companies also strive to achieve new goals in terms of exploration and production, and must review and adjust these goals regularly, Nakagawa noted.
Good running partners and coaches are critical to successfully train for a marathon, for both peer support and mentorship. To succeed in endeavors such as exploration and field development, oil and gas companies must align themselves with good partners, Nakagawa said.
Regulatory, Stakeholder Hurdles
Oil and gas companies not only face hurdles in exploring for oil and gas in more challenging environments such as deepwater or the Arctic, but regulatory issues as well. The rules of a marathon don't change in the middle of a race, laws and politics often result in tremendous change in the energy industry. "Marathon runners are forced to carry heavy backpacks; the energy industry is often burdened at random by weighty regulations and standards," said Brian Massie, a communication consultant with American Timing Group.
The challenges that oil and gas companies face in obtaining environmental permits for drilling could be compared to the test of stamina similar to that found in the marathon, William Nicoloff, a managing director who specializes in oil and gas at Seattle-based financial investment firm Cascadia Capital specializes in oil and gas, said. The ever-changing regulatory environment also means that oil and gas companies must have the ability to quickly adapt, just like a runner might need to change their race day strategy due to weather.
Investing in oil and gas exploration requires a significant amount of capital investment on the front end, similar to the intensive training undertaken before a marathon. From a producer standpoint, convincing public and private shareholders that the planned exploration strategy and target are the right way to go also is similar to a runner convincing themselves that getting out of bed early every morning to train will pay off, Nicoloff commented.
Producers' efforts to weather other factors, such as the macroenvironment of weak U.S. natural gas prices, as well as political risks such as environmental opposition to hydraulic fracturing, also requires producers to adapt to local risk, just as a marathoner must continuously adapt their training to obstacles, Nicoloff noted.
Financial Endurance
"To successfully run in a marathon, you must possess a strong work ethic, be prepared for obstacles along the way, and have a narrow focus," said Andrew Schrage, co-owner of the financial website moneycrashers.com and an avid runner himself.
The same holds true for oil and gas companies.
Schrage noted that profits leveled off in the oil and gas industry last year, and recent geopolitical crises have had varying effects on global supply, which has meant further uncertainty. Iran continued to make threats to close the Strait of Hormuz, which left many companies wondering if their product would even reach the intended markets. Conversely, Iraq continues to step up production, and if this trend continues, more drilling opportunities could pop up there.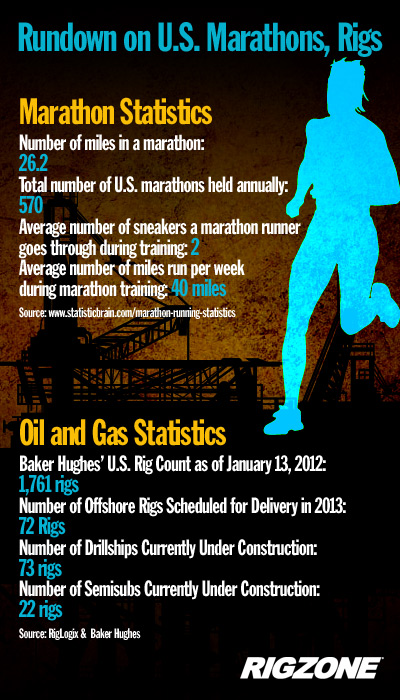 "In short, the idea of predicting what oil prices will be long term is difficult, similar to not knowing what may happen to you physically while running a marathon," Schrage said. "Consequently, you may have to change your strategy during the marathon depending upon what happens to you."
The same is also true for oil and gas companies. As profits slacked off last year, oil companies had to readjust their business model to focus more on cost management than runaway growth. Many companies also focused their efforts on the sub-industries they deemed to be most profitable, Schrage said. Examples of this readjustment include Devon Energy, which sold off assets to become more focused on U.S. unconventional exploration and production. ExxonMobil also recently scaled back its retail presence to focus more on international exploration.
"Just like oil and gas companies are now focusing more on what makes them the most successful, marathon runners often do the same thing," Schrage commented. "Whether it's mental energy, stamina, or something else, a marathon runner who focused more on their successes rather than their weakness has a much better chance at winning."
Joseph DeWoody, founder and president of Clear Fork Royalty, likened preparing for a marathon to an exploration and production company's capital outlays in the securing of leases and prospect drilling.
"If you think in terms of a shale play, the early days of marathon training that involve shorter runs would be similar to discovery and test wells, often drilled to hold acreage and conduct research and development," DeWoody commented.
"As the training continues and the endurance builds, the runner is able to stay on the road longer; this would be similar to the development and infill drilling phases of shale cycle development. As the company defines their acreage and continues to develop and prove up their reserves they are reaching their stride."
Race day, when a runner is in the best shape possible following training, is similar to a company's return on investment increasing and cash flow beginning to reach sustainability, allowing fuel for the race, DeWoody noted.
"If the runner is worth their salt, or the company has quality assets, then the top three finish of the runner would be similar to a harvest of the assets and divestiture allowing for substantial returns for the company."
These steps seemed to have sped up in the past four to five years, but the process remains a "grueling long journey" that involves hours of research, capital formation, prospect evaluation, lease negotiation, regulatory management and due diligence.
"A strong oil and gas company is one built to run the marathon and not the sprint," DeWoody concluded.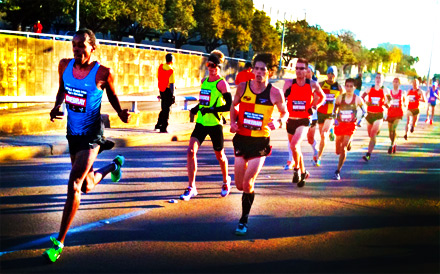 Elite runners competing in the 2012 U.S. Olympic Marathon Trials in Houston last year. Photo: Karen Boman
Generated by readers, the comments included herein do not reflect the views and opinions of Rigzone. All comments are subject to editorial review. Off-topic, inappropriate or insulting comments will be removed.