Tilted SembMarine Jackup Restored to Original Upright Position
|
Monday, January 14, 2013
Sembcorp Marine announced Tuesday that it has successfully restored the Noble Regina Allen (400' ILC) jackup that tilted Dec. 3, 2012, to its original upright position following planned recovery and restoration operations Jan. 14, 2013.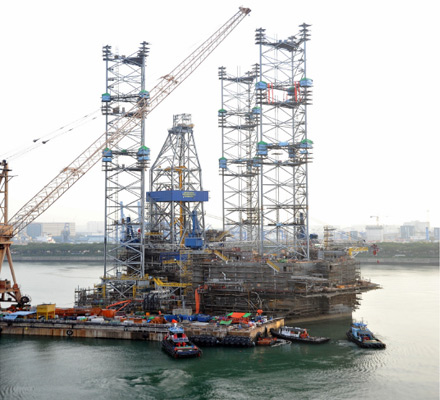 The tilted Noble Regina Allen was restored to its original position. Source: Sembcorp Marine
In a disclosure released Tuesday, SembMarine said: "Following the successful restoration of the rig to its upright position, Jurong Shipyard and the relevant authorities will focus on investigations into the cause of the tilting."
SembMarine also confirmed that a stop-work order (SWO) imposed by Singapore's Ministry of Manpower (MOM) Occupational Safety and Health Inspectorate, which covers all production works on the rig, is still in place.
A spokesperson from the MOM told Rigzone Tuesday: "The SWO will only be lifted after the occupier has met all of the stipulated conditions. These include the need to check and verify that all structures and platforms are stable, as well as to establish an adequate and effective emergency response plan with regard to the works on the jack-up rig."
"MOM's investigations are still ongoing," the spokesperson added.
SembMarine, when contacted, declined to provide further information pertaining to the timeline of the SWO.
Meanwhile, the rig which was originally slated for delivery in 1Q 2013 will be rescheduled for a later delivery date. SembMarine's tentative estimate is for the rig to be delivered by the end of 3Q 2013.