Cyclone Forces Apache, Santos to Stop Operations Offshore WA
by Quintella Koh
|
Rigzone Staff
|
Friday, January 11, 2013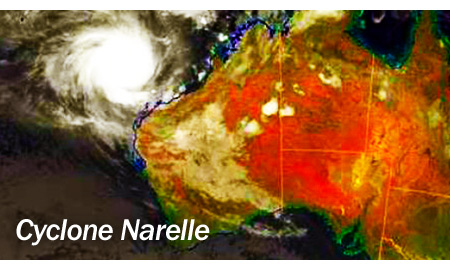 Apache Energy and Santos confirmed Friday that their operations have been affected due to an intensifying cyclone passing through Western Australia.
Apache told Rigzone that it has stopped oil production from its Stag and Van Gogh oil fields. In a statement to Rigzone on Friday, the company said: "Production of domestic gas continues uninterrupted from the Varanus Island and Devil Creek hubs, although Apache will continue to closely monitor these facilities during the passing of the cyclone."
The Stag oil field is located in 161 feet (49 meters) of water 37 miles (60 kilometers) offshore Dampier, Western Australia. Reserves on the field are estimated between 35 and 55 million barrels of oil. Apache serves as the operator of Stag with 33.3 percent interest, while Santos holds the remaining 66.7 percent stake of the field.
The Van Gogh oil field is sited offshore Western Australia in the Exmouth Sub-Basin, and is part of the Van Gogh project. Located 33 miles (53 kilometers) north-northwest of Exmouth in a water depth of 1,247 feet (380 meters), the project taps hydrocarbons in the Top Barrow Sand reservoir. Apache serves as the operator of the project with a 52.5 percent interest, and Inpex holds the remaining 47.5 percent interest.
Meanwhile, Santos is forced to shut down the Nan Hai IV (315' ILC) rig, which is drilling on the South Finucane field. The field, located in a water depth of about 459 feet (140 meters) in WA-191-P, is situated at the northern end of the Carnarvon Basin about 9 miles (15 kilometers) east of the Mutineer facility. Serving as operator of the permit is Santos, holding a 41.6 percent interest. Kufpec Australia and Nippon Oil hold a 33.4 percent and 25 percent stake respectively.
"All personnel onboard the rig have been demobilized," a spokesperson representing Santos told Rigzone.
The Australian Bureau of Meteorology issued a warning on Friday, stating that Severe Tropical Cyclone Narelle will bring "gales with gusts to 100 kilometers per hour to coastal areas between Mardie and Exmouth this evening … then extend south to Coral Bay later on Saturday."
The bureau added, "Winds are likely to increase in the Exmouth area on Saturday with damaging wind gusts to 125 kilometers per hour possible overnight Saturday if the cyclone takes a track closer to the coast."
Other operators such as Chevron and Woodside have started making precautionary arrangements on Thursday.
A spokesperson representing Woodside told Rigzone Thursday that the company is taking precautions to safeguard its people and assets, while a Chevron representative told Rigzone on the same day that it had started tie-down activities.
Generated by readers, the comments included herein do not reflect the views and opinions of Rigzone. All comments are subject to editorial review. Off-topic, inappropriate or insulting comments will be removed.