Study Finds Hard-to-Fill Jobs in Pittsburgh Region
by Matthew V. Veazey
|
Rigzone Staff
|
Wednesday, January 16, 2013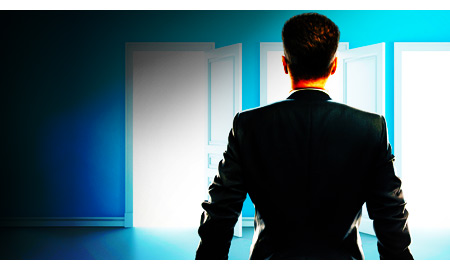 If you're a fan of football, four seasons and building a future in the natural gas industry, a city that some call "Houston North" might be for you.
Natural gas industry jobs requiring both post-high school training and professional degrees should be plentiful throughout the 10-county Greater Pittsburgh region for years to come, according to a 2012 workforce analysis conducted for the Allegheny Conference on Community Development and the Energy Alliance of Greater Pittsburgh.
"At a time when our region is already setting all-time records for employment, the 'help wanted' sign is out, and it's likely to stay there for years to come," noted David Porges, chairman, president and CEO of Pittsburgh-based EQT Corp., in a written statement.
Thirty-seven Pittsburgh-area employers from seven energy sectors participated in the study, which reflects perspectives spanning the region's energy economy. In addition to employment needs in the fossil fuel mainstays coal and natural gas, the report considers opportunities in other energy sectors such as nuclear, power generation and renewables. Twelve of the 14 hard-to-fill jobs that the analysis identifies apply to the natural gas industry, and the study's authors anticipate that competition should remain keen among the region's energy employers to fill these "target jobs" through 2020.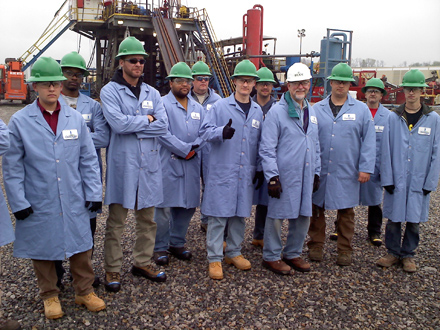 National Guardsmen enrolled in a 2011 roustabout training course at Westmoreland County (Pa.) Community College Center (WCCC) participate in a rig trip sponsored by Chesapeake Energy. Photo courtesy of ShaleNET.

"For the energy industry in particular, our challenge is to educate, train and attract enough skilled workers to meet this demand," continued Porges. "The good news: we have the tools necessary to make it happen; however, to be successful, we must have business, government and the workforce development system effectively working together towards this common goal."
Below are graphical breakdowns of these hard-to-fill jobs based on three broad levels of educational attainment:
high school or graduate equivalency diploma (GED) and trade school and certifications
most positions require associate's degree
bachelor's degree
Note that average annual wage figures accompanying each job title range from entry-level to experienced. Also, remember that the figures only reflect the responses of 37 companies that participated in the survey. More than 60,000 people work in direct energy jobs at 1,700 establishments in a 32-county region encompassing parts of Maryland, Ohio, Pennsylvania and West Virginia, according to the Pennsylvania Economy League of Greater Pittsburgh.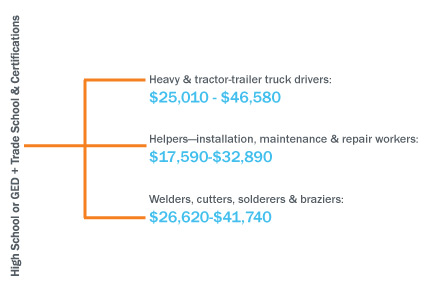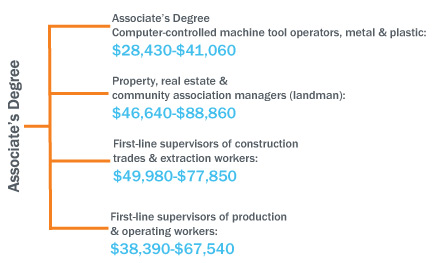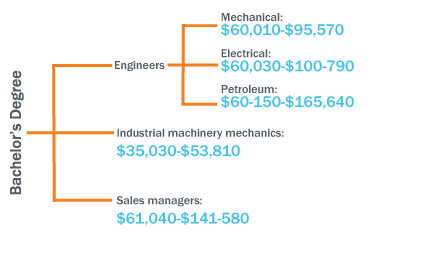 Results of the survey will help prepare students for jobs in the natural gas and other energy sectors, Laura Fisher, senior vice president of the Allegheny Conference on Community Development, pointed out. ShaleNET, a federally funded workforce development program that provides training for high-demand jobs in the natural gas industry, is launching its first pilot initiative based on the study's conclusions, Fisher added.
"The initiative will be focused on industrial maintenance technicians, needed widely across all energy sectors," said Fisher. "We have 15 companies, representing all sectors, at the table. We are working to develop a common energy-wide curriculum, skills assessment and training model."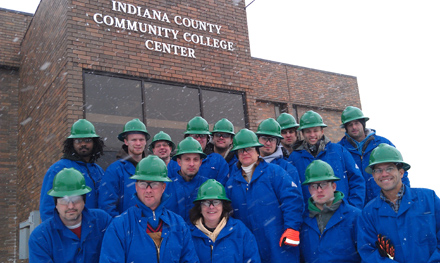 Participants in a floorhand class at Indiana County (Pa.) Community College Center (WCCC). Photo courtesy of ShaleNET.

In addition, ShaleNET is working with the RAND Corp. and the U.S. Department of Energy's National Energy Technology Laboratory to develop a study examining how innovation will change the skill sets for occupations highlighted in the 2012 analysis, Fisher said.
"We know that technology is calling for ever-greater skills, even at the entry level, so we will be working to identify how our systems need to adapt to meet this continual need to advance worker skills," concluded Fisher.
Generated by readers, the comments included herein do not reflect the views and opinions of Rigzone. All comments are subject to editorial review. Off-topic, inappropriate or insulting comments will be removed.