Kulluk Reaches Kiliuda Bay, Will Undergo Assessment
by Karen Boman
|
Rigzone Staff
|
Monday, January 07, 2013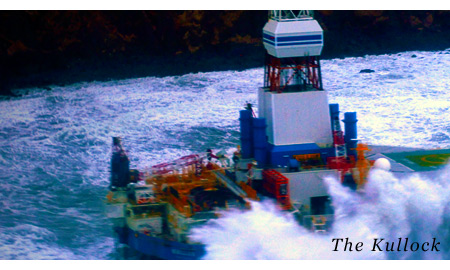 The Kulluk drilling rig, which grounded onshore Alaska last week, reached its safe harbor location at Kiliuda Bay, Alaska at 10 a.m. Alaska time Monday, according to a statement from Unified Command.
The anchor handling vessel MV Aiviq towed the rig an average speed of 4 miles per hour over 45 nautical miles, which took roughly 12 hours. The Kulluk had refloated from its position in Ocean Bay off Sitkaliadak Island late Jan. 6 after being grounded New Year's Eve.
The Kulluk will remain connected to its support vessels while it undergoes assessment in Kiliuda Bay, approximately 30 miles north of Ocean Bay. The rig's final location for assessment within the bay will be determined by weather and other environmental conditions.
The Coast Guard cutter Alex Haley escorted the rig to Kiliuda Bay along with two oil spill response vessels and other support vessels. A 500-yard radius safety zone around the Kulluk followed the escort and remains in place in Kiliuda Bay.
No signs of oil discharge were seen during the transit, according to a statement from Unified Command. The fleet has 15,000 feet of boom if needed, and additional boom has been staged in various locations. Unified Command reported that it continues to coordinate with the Old Harbor Native Corporation for potential clean-up activities. Additional spill response land resources have been staged in Old Harbor.
Unified Command – which includes the Coast Guard, Noble, Shell, Alaskan local, state and regulatory agencies and local community stakeholders – had been trying to regain control of the Kulluk after it came loose from the MV Aiviq Dec. 28. At the time, the rig was being towed from Alaska to Seattle for repair work. However, severe weather conditions hampered efforts for vessels to reestablish a link with the rig.
The National Oceanic and Atmosphere Administration issued a tsunami warming shortly after midnight Jan. 5. However, the Kulluk was located just outside of the tsunami warning area, and did not impact recovery operations, said Sean Churchfield, incident commander and operations manager for Shell Alaska, at a news briefing.
The state has received concerns regarding the upcoming fishing season, including the Jan. 15 scheduled opening of the Tanner Crab Fishery, said Steve Russell, state on-scene coordinator, during the Jan. 5 news briefing. The recovery operation does not pose an environmental threat that would preclude the fishery from opening. The Department of Environmental Conservation and Department of Fish and Game are jointly monitoring any impact the Kulluk recovery operation may have on the Tanner Crab Fishery and other commercial, subsistence and sport fisheries.
Generated by readers, the comments included herein do not reflect the views and opinions of Rigzone. All comments are subject to editorial review. Off-topic, inappropriate or insulting comments will be removed.
RELATED COMPANIES