Offshore with the Weathermen
by Jon Mainwaring
|
Rigzone Staff
|
Tuesday, December 25, 2012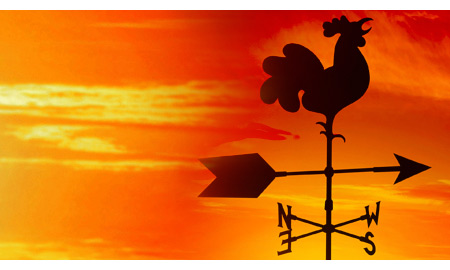 Weather is often a big issue when carrying out offshore oil and gas operations. While structures installed offshore are commonly designed to withstand extremely harsh weather and ocean currents, the practice of installing the structures or carrying out maintenance on them can be hazardous in difficult weather. So, it is natural that oil and gas companies often use weather forecasting to determine when it is safe to conduct such operations.
There are plenty of organizations that provide weather forecasting services to the exploration and production industry, as this list compiled by Rigzone shows. For example, Houston-based private enterprise Wilkens Weather Technologies provides forecasting services for offshore operations all around the world, from the Gulf of Mexico to the Adriatic Sea to Sakhalin Island in the Far East of Russia.
Such companies offer an array of services. These include site-specific forecasts and tow/move forecasts that aim to predict what the weather will be like along a ship's route. On-site forecasting services, where a weather forecaster is deployed to a particular operation for its duration, are also common.
As the oil and gas industry explores for hydrocarbons in increasingly extreme locations, predicting and dealing with extreme conditions is becoming an important factor in planning and carrying out operations.
But even regions that have long been used for oil and gas production continue to present challenges when it comes to the weather and the sea. For example, the Met Office – a UK government department – maintains that the constantly changing weather of the North Sea makes it one of the most dangerous working environments in the world.
While the Gulf of Mexico's hurricane season comes about every year as regular as clockwork, the changeable weather and currents of the North Sea mean that companies active there are constantly making decisions throughout the year about whether it is safe to carry out specific installation and maintenance operations.
The Met Office supplies forecasts and forecasters for operations around the world, but with more than 150 years' experience of forecasting the weather around the British Isles, the organization's main focus is northwest Europe.
John Mitchell, a metocean scientist who has worked offshore in the UK, Norway and Qatar, operates from the Met Office's Marine Centre of Excellence in Aberdeen, Scotland. He has significant experience of delivering wave and wind forecasts to the North Sea oil and gas industry.
"Our primary user group tends to those people who are very much weather sensitive," Mitchell told Rigzone in a recent interview, explaining that it is often firms who are exploring in a particular area or a subcontractor who is installing a rig or platform that are most concerned about the weather.
On-Site Weather Forecasting
According to Mitchell, there are two elements in which weather forecasters can help offshore firms operating in the North Sea, particularly at its margins where the conditions can be extremely hostile.
"The first element is in the planning. It's a high expenditure exercise to move into these areas so you want to maximize the time you are out there. The key to success is good homework. What kind of conditions are you going to experience and at what times of the year? How many times will you be able to work in those locations for certain operations, etc.? That homework is the first part of it and recently we've run a new database to enable some operational decision making through better-detailed background data."
The second element can be to have a weather forecaster on site.
"Let's not forget, even with technology moving on, it's still a human business. Often people are looking to make weather sensitive and weather critical decisions," he said.
"Therefore, having somebody on site who is part of a wider team, and who understands in some detail the thresholds that the team is having to work with, often enables an appropriate decision to be made in good time."
The familiarity with the operation being on site gives the forecaster advantages he does not have back in his office.
"There's a lot more technology in the office, and there's a lot more data, but it's really about the communication. I think communication is such an important element… Everybody behaves differently in different situations and you need to read those and work within a team and understand all those relationships."
Being on board and able to observe the conditions at close hand also puts a forecaster in a strong position when looking to forecast the next few hours of weather. But Mitchell insists the ability to communicate with the team conducting operations is the key benefit.
"A forecast is often a line of figures and some text. It needs to come alive. You need to put it over in such a way that there is a consistency, that there is confidence [in what you are forecasting] and that those elements are rightly portrayed for the teams making those tough shouts."
Atlantic Swell
Mitchell, who has performed weather forecasting duties in the inhospitable waters west of Shetland, believes the role of weather forecaster will become increasingly important as oil and gas companies focus on tougher targets on the edges of the UK Continental Shelf and beyond.
"The oil and gas industry is endeavoring to extract resources from more remote and more hostile environments. The easy wins are behind us. And as it is looking into most hostile environments it needs to do so in an intelligent manner. So, understanding the environment it is going into as well as being able to exploit those resources once they get there in the most efficient and safe way possible," he said.
For example, the Atlantic Margin, where both the UK and Ireland have awarded licenses in recent years, has its own special issues.
"Obviously the exposure to the Atlantic is unhelpful. With the deep ocean you have exposure to Atlantic swells [gravity waves] and the swells will create motion on vessels. You are no longer able to put your feet on the bottom in these locations and therefore you are more susceptible to the impact of waves on the stability of the craft. So, it's a very challenging environment," explained Mitchell.
"Anywhere where you are operating in an environment where there are complicated waves, and the Atlantic Margin is one such case, it is often provident to look at something which is called 'wave spectra'. This is where we can predict the energy in the sea so that the vessel motion can be calculated with greater accuracy."
Organizations like the Met Office can use spectral wave measurement to provide a detailed description of the sea so that the user can accurately predict the impact of the sea on the motion of the vessel and allow the vessel operator to identify suitable operating times and, so, increase utilization.
But while this sort of data resource is invaluable, Mitchell believes there will for some time be a place for on-site weather forecasters.
"The argument is always that you could do this remotely and in a number of instances that is what happens because you don't want to put people offshore unnecessarily… But occasionally in a sensitive operation, where quick decisions need to be made, it is helpful to be directly involved in that specific task," Mitchell added.
Generated by readers, the comments included herein do not reflect the views and opinions of Rigzone. All comments are subject to editorial review. Off-topic, inappropriate or insulting comments will be removed.