Construction Continues to Meet Bakken, Eagle Ford Housing Demand
by Karen Boman
|
Rigzone Staff
|
Friday, December 21, 2012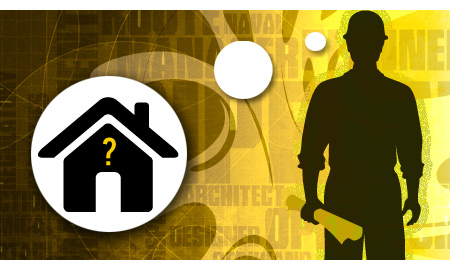 The surge in oil and gas exploration and production activity in North Dakota's Bakken shale play and the Eagle Ford play in South Texas have drawn thousands of workers to areas which previously had small populations, creating a demand surge for housing as well as emergency services, schools, roads and stores.
Responding to the high demand for housing that is in short supply in both regions, three different housing development schemes for oil and gas workers are either under construction, announced or have just opened for business.
One facility, The "Shut Eye Hotel", is being jointly constructed by veteran hospitality company Banyan Investment Group and extended term facility builder Proteus On-Demand to meet the dramatic growth of the oil industry in western North Dakota. The hotel, the first of its kind, is expected to begin operations at the end of this year.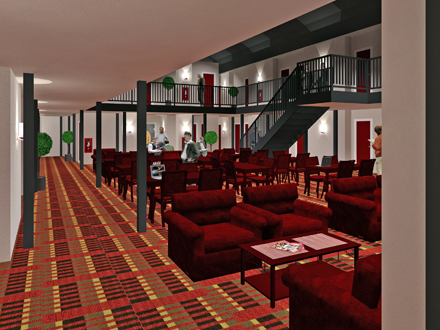 A view of the hotel lounge in the Shut Eye Hotel Source: Banyan Investment Group
"North Dakota has become the second largest oil-producing state, behind only Texas, and in the process the demand for hotel rooms is unprecedented," said Banyan President and CEO Rakesh Chauhan in a statement. "Yet there are only 322 hotels in the entire state and only 37 new properties have been built since 2010."
Construction began in October on the 70-unit facility, which is located 20 miles south of Williston, N.D., and 19 miles west of Watford City, in the town of Alexander. The hotel site is an ideal location along Highway 85, a major highway connecting Williston with Watford City. People who have to commute between those two cities will be able to save a lot of travel time, a spokesperson told Rigzone.
The hotel offers an innovative lodging solution that allows stylish, high-quality hotels to be constructed in 90 days instead of the typical two years or longer, Banyan said in a statement. The final product looks comparable to traditional construction at a fraction of the cost.
Traditional hotels are stick-built, using lumber bricks and mortar. Instead of this traditional approach, Atlanta-based Proteus On-Demand provides custom-made modular buildings made of sturdy structural steel that provide security and comfort, configured to a customer's specific space and capacity needs, said Proteus On-Demand CEO Theo Den Bieman in a statement.
Over the past 15 years, Proteus On-Demand has deployed semi-permanent housing solutions for correctional facilities, restaurants, schools, warehouses and office buildings. The Shut Eye Hotel meets all construction and zoning codes.
"These buildings can stand for five months, for 15 years, or for as long as needed, then can be removed without leaving a footprint and reassembled elsewhere," Bieman commented, noting that it's also an approach for convenient space management and quick response construction that has been popular and effective in Europe, but is just now being discovered in the United States.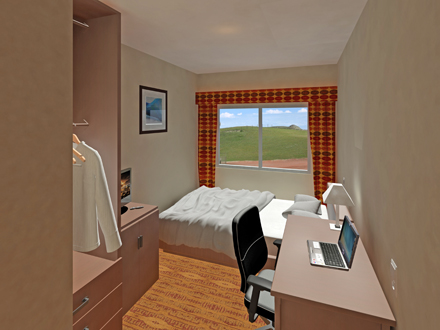 A room at the Shut Eye Hotel Source: Banyan Investment Group
A primary advantage of this concept is speed, which is important in an area such as the Bakken shale region, the spokesperson said.
Each room at the Shut Eye Hotel will have a flat screen television, in-room mini refrigerator, full-size bed, individual climate control and private bathroom. Other amenities include a complimentary daily buffet breakfast, wireless internet, daily housekeeping and a 24-hour onsite inn keeper.
"These are not cookie-cutter properties with a boxy, unappealing container look," said Banyan investment Officer Andy Chopra in a statement.
And when demand decreases, a hotel owner can move the assets to a new growth area, the spokesperson said.
The company is currently planning to bring 500 rooms online in the Bakken shale area in the near future, with a focus on the area, the spokesperson said.
Harvest Hills to Serve as Sustainable Housing Solution for Williston, N.D.
The influx of new residents into North Dakota due to the state's energy boom has also prompted affiliates and clients of Kohlberg Kravis Roberts & Co., including KKR Financial Holdings and co-investors Pfeffer Capital and CP Realty, to acquire land for development of a high-quality, permanent residential community in Williston.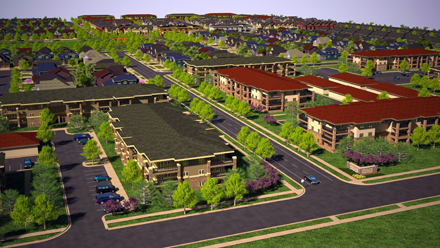 A view of the Harvest Hills development Source: Kohlberg Kravis and Roberts
Construction of the infrastructure for the current phase of The Ridge at Harvest Hills is underway, and will support development of up to 330 apartments which are scheduled to commence in Spring 2013 as well as lots intended for the construction of 500 single family, townhome and duplex homes.
The housing development will have access to parks, recreation, open space, utilities, retail, office complexes of major oil services firms and an elementary school.
Creating a new, quality neighborhood to attract families is a key step in the sustainable development of Williston, where an estimated 15,000 oil and gas professionals are living in various forms of temporary housing, including "man camps", RVs and hotels.
While the city does have short-term housing, Williston suffers from a shortage of sustainable communities that encourages employees to move their families or start families and make the city their permanent home, said Ralph Rosenberg, global head of KKR's real estate team, in a statement.
The population growth in North Dakota due to the Bakken is expected to continue. The City of Williston estimates that as many as 20,000 Bakken wells could be drilled over the next decade, resulting in the creation of between 10,000 to 20,000 new jobs in Williston alone. Thanks to the surge in worker demand and well-paying jobs, the state's unemployment rate has declined to 3 percent, according to July 2012 data from the Bureau of Labor Statistics.
A 2011 study by the state revised the U.S. Geological Survey's original estimate of the Bakken play, raising estimates from 3 to 4.3 billion barrels to more than 10 billion barrels.
Eagle Ford Housing 'Oasis' Opens Doors to Oil and Gas Workers
Earlier this month, the Frontier Oasis housing facility opened its doors to oil and gas workers in the Eagle Ford shale play. Located in Karnes County, Texas, the112-bed, all-inclusive workforce housing camp offers all-you-can eat catering, full laundry service, a recreation room, private bathrooms for each room and an on-site general store. The facility includes 16 VIP rooms, or single occupancy rooms.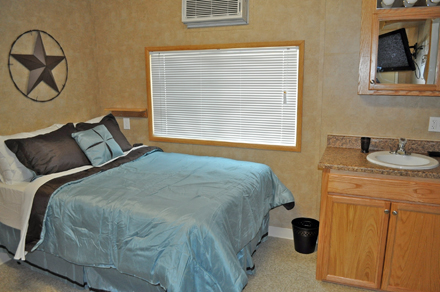 Eagle Ford workers can rest their heads at new housing facility Source: Frontier Oilfield Solutions
A Frontier Oilfield Solutions official told Rigzone that the company picked Karnes County due to the current drilling activity and future projections for activity in the area. With the construction of Frontier Oasis, the company has sought to create a standard for oilfield housing.
"We've seen those with the gang-style bathrooms and no landscaping, and they looked like a prison camp," the official said.

This standard includes high-end catering partners who provide sack lunches for workers to take with them, snacks available 24-hours a day and an onsite baker. Food is a big thing for workers – there's really not a lot of food options, or workers are too busy to go to a restaurant, the official said. Steak night and seafood night are also on the menu and prepared by cooks trained at culinary academies, not short-order cooks.
Frontier Oasis is situated on 10 acres, with plans for additional expansion of the facility and parking. The company has had a lot of positive feedback on the facility, and is in negotiations for several long term service agreements for companies seeking housing options for workers. While most of the facility will likely be booked with workers for a couple of large companies, individual rooms on a night-to-night basis can still be booked online.
Demand for housing, schools, emergency services and infrastructure needs such as roads will likely keep growing as oil and gas companies invest in the Eagle Ford shale play. Wood Mackenzie reported Dec. 6 that capital spending by oil and gas companies in the Eagle Ford is expected to reach $28 billion next year.
Counties with crude and condensate exposure will drive the growth as 74 percent of the future rigs operated are assumed to target these areas, according to Wood Mackenzie's analysis. Karnes, Gonzalez and DeWitt counties have established themselves as the sweet spots of the play, and now account for over 50 percent of daily liquids production.
While temporary housing solutions are springing up to serve demand, sustainable housing needed to ensure that sufficient and affordable housing is available for residents and the permanent workforce once the population growth associated with the Eagle Ford shale activity peaks in the next few years, according to a July 2012 Strategic Housing Analysis conducted by the University of Texas at San Antonio.
Generated by readers, the comments included herein do not reflect the views and opinions of Rigzone. All comments are subject to editorial review. Off-topic, inappropriate or insulting comments will be removed.