UK Govt Responds to Maitland Regulatory Recommendations
by Karen Boman
|
Rigzone Staff
|
Tuesday, December 18, 2012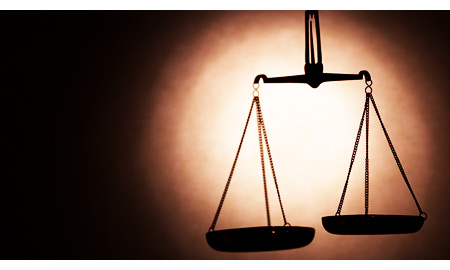 UK Energy Minister John Hayes reported Tuesday that majority of the regulatory recommendations made in the December 2011 Maitland Review have been positively received and implemented in full, while target dates for work in progress are in place.
Following the Macondo incident in April 2010, the UK government asked Geoffrey Maitland, professor of energy engineering at Imperial College London, to chair an independent review panel to ensure that the UK government considered the findings from official reports on Macondo and their relevance to the oil and gas industry in the UK.
That review panel acknowledged the "strength" and "rigor" of the UK's offshore oil and gas safety and environmental protection regime, but also stressed the importance of continuous improvement in oil and gas operations, Hayes said in a statement published on the Department of Energy and Climate Change (DECC) website Tuesday.
In their report, the review panel made a number of recommendations to further strengthen the UK regulatory oil and gas regime, including: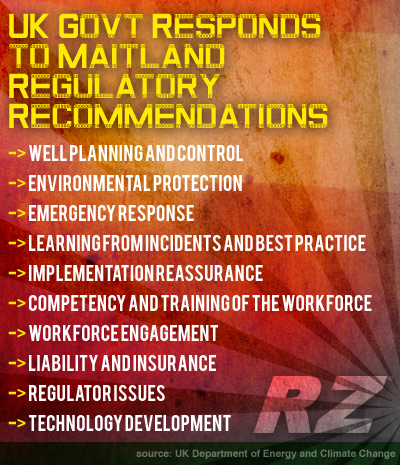 A steering group that included members of DECC, Health and Safety Executive (HSE), the Maritime Coastguard Agency (MCA) and Oil & Gas UK reviewed the recommendations. The report published Tuesday outlines how the government and oil and gas industry have responded to these recommendations.
Key responses to the recommendations include industry developing and publishing guidance to ensure that critical safety equipment remains in good repair.
Well Life Cycle Practices Forum (WLCPF), the pan-industry forum established to share best practice and develop guidance and standards for well management and design will remain in place permanently, Hayes said.
The UK government has also established guidelines for improved management systems to give assurance that safety and environmental plans are implemented robustly, Hayes noted. Additionally, the DECC has published guidance on how UK Continental Shelf (UKCS) petroleum licensees can show they have the financial capability to respond to an incident before consent is given to drill exploration and appraisal wells.
Operators also must now carry out emergency response exercises involving the Secretary of State's Representative every three years compared with every five years under the previous requirement.
A new senior oversight group that includes DECC, HSE and MCA will oversee implementation of the Maitland Review recommendations that are still being delivered, as well as ensuring that the offshore regime remains fit for purpose in the longer term.
"I believe that the government and industry responses to the independent panel's recommendations, alongside other ongoing work, will ensure that the UKCS offshore oil and gas industry builds upon existing high standards by protecting the environment, engaging and safeguarding its workforce; responding to emergencies and introducing new mechanisms on financial responsibility so that petroleum licensees on the UKCS must demonstrate that they have the financial capability to respond to an incident before consent is given to drill exploration and appraisal wells," Hayes said in a statement.
WLCPF, which was established by Oil & Gas UK in December 2010 to provide a forum for discussion of pan-industry issues, determined that current practices regarding well control standards, or whether at least two barriers should be in place, are fit for purpose. The panel recommended changes to well control standards.
"If a second barrier is placed slightly shallower (closer to the top of the well) than an existing barrier, it is not possible to sufficiently pressure test that second barrier," the report noted.
"In many cases the additional barrier would have to be removed before moving to the next operation…If the inflow test is performed with two mechanical barriers in place, then the operator would not know which of those barriers is intact."
Installing a fully independent barrier close to the main designed barrier is not possible because testing the barriers independently is not possible. An additional mechanical barrier would also not mitigate the requirement for competent people to implement the detailed procedures which manage the change in pressure, according to the report.
On this basis, the WLCPF believes that one active (a mechanical, inflow tested) barrier plus the blowout preventer maintains well integrity, while displacing to a light fluid, the government said in the report.
"These physical barriers should be supported by competent personnel and adequate testing and monitoring procedures."
Oil & Gas UK and DECC also rejected the recommendation that costs of high-risk deepwater wells should cover a 90-day release, which would reflect the typical time required to drill a relief well and plug the original well at its source. The UK oil and gas industry physically demonstrated it could deploy a cap within 30 days in an exercise carried out in the West of Shetland July 2011. Additionally, the WLCPF well capping workgroup are developing detailed procedures and methodology on industry's behalf which will further enhance the UK industry's ability to cap a well within 30 days.
"The industry believes that it would be disproportionate to base estimates of third party costs on the time required to drill a relief well," the report said. "DECC has been party to all the discussions relating to third-party clean up and compensation costs and accepts the rationale offered by industry."
Maitland said he was pleased to see the substantial progress made on so many recommendations and that others continue to be worked on with timeframes for delivery in place.
"This positive progress demonstrates industry and the regulators' commitment to continuous improvement that puts safety and environmental protection at the heart of the industry."
The review panel also included Mick Temple, currently a member of the University of Cambridge's faculty of sustainability leadership, and Professor John Shepherd, research fellow in earth systems at the University of Southampton.
Energy industry association Oil & Gas UK said the Maitland Review and ensuing report have proved to be a valuable exercise, not only in underlining the overall robustness of the UK offshore regulatory regime but also in highlighting where further improvements were possible. The majority of these have now been implemented.
"The review and report further underline why the EU Commission's proposal to introduce a 'one size fits all' regulation of offshore safety was misguided," said Oil & Gas UK Chief Executive Malcolm Webb in a statement. "We are pleased to note that the government in Europe is now clearly away from a regulation of that nature."
Generated by readers, the comments included herein do not reflect the views and opinions of Rigzone. All comments are subject to editorial review. Off-topic, inappropriate or insulting comments will be removed.