Licensing Round Shows UK North Sea has a Long Future
by Jon Mainwaring
|
Rigzone Staff
|
Wednesday, December 05, 2012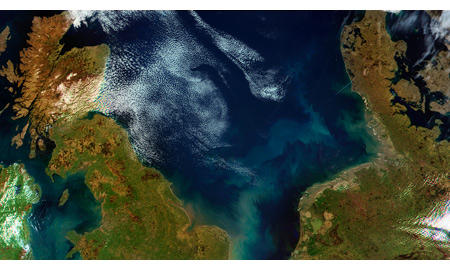 The North Sea has long been a source of energy security and wealth for the UK but despite rumors of the UK North Sea oil and gas sector being on its last legs, with the UK Press frequently complaining these days that oil and gas reserves on the UK Continental Shelf have already been "squandered", it seems there is plenty of life in the old dog yet.
As the UK government's recent Energy Bill pointed out Nov. 29, it is certainly true that the UK should expect less from the North Sea in the future. Oil production from the UK North Sea has been on a steady decline since 1999 when it peaked at 2.7 million barrels per day and eventually falling below a million barrels per day in June 2011. And the latest estimates from the government suggest that the UK's net imports of oil will rise from a current 28 percent to 43 percent by 2020, while its net imports of gas will rise from 45 percent to 53 percent.
But in spite of this, and a commitment to develop more alternative sources of electricity production such as nuclear and renewable energy projects, the government remains committed to developing North Sea oil and gas production via further licensing rounds and by providing a fiscal regime that encourages further investment and innovation in the North Sea.
A key sign that the North Sea still has many years ahead of it has been the commitment seen in recent years of several companies to the region. For example, according to an October 2011 Wood Mackenzie report, major oil companies such as Total and Statoil were behind a $38.2 billion-investment drive to develop around 50 fields near the UK Continental Shelf at the time of the report.
More recently, toward the end of October this year, the UK government responded to its heavily oversubscribed 27th Offshore Licensing Round, for which it received a record 224 applications for licenses on 418 UKCS blocks, by awarding 167 production licenses to dozens of companies.
Recruitment Drive
As well as license awards to the usual crop of majors, which include BG Group, BP, Centrica, ConocoPhilips, Royal Dutch Shell, Statoil and Total, several smaller companies focused on North Sea oil and gas exploration also won concessions.
One such firm is Anglo-Norwegian junior Bridge Energy. In the 27th round, Bridge – whose CEO Tom Reynolds was very upbeat about employment in the North Sea oil and gas sector when Rigzone spoke to him in April this year – was successful in two of its central North Sea license applications. It gained a 25-percent interest in the Skerryvore license and a 30-percent interest in North Sea block 9/9g, both close to existing infrastructure and, in the case of 9/9g, near acreage already held by Bridge.
Bridge has already established what it describes as a "high-grade portfolio of production, development and exploration licenses" in both the Norwegian and UK sectors of the North Sea. The firm recently had success in the Norwegian North Sea with an oil discovery at the Garantiana well on production license 554 in late October and indications of hydrocarbons at its more recently-drilled 16/1-16 well on production license 457. Also in October, the firm saw success in the UK North Sea when the Contender well, in which it has a 4-percent interest, discovered oil.
Bridge's partner in the Contender well, with a 60-percent stake, is TAQA Bratani – a large, UK-focused subsidiary of Abu Dhabi state-owned energy firm TAQA.
TAQA is keen to build a successful, long-term future for its North Sea portfolio, which has been steadily growing since January 2008 when it acquired Talisman Energy's Brae area assets. More recently, TAQA agreed to take over a "package" of BP's North Sea oil and gas fields in a $1.3 billion deal that was described by trade body Oil & Gas UK as "another vote of confidence in Britain's oil and gas industry and reflects the very significant potential that remains here".
TAQA is also on a recruitment drive to support its growth in the North Sea, according to very recent conversations with Rigzone. In fact, not only is TAQA currently looking for experienced professionals to work in the North Sea it is also planning to start a graduate recruitment program, which is unusual for a North Sea independent.
When UK Energy Minister John Hayes announced the 27th Licensing Round Oct. 25 he made the point that the oil and gas sector is still the UK's largest industrial investor, supporting 440,000 jobs. The success of the recent licensing round, and the keenness of smaller companies exclusively focused on the North Sea like Bridge and TAQA Bratani, suggest that the region will continue to support hundreds of thousands of jobs for many more years yet!
Generated by readers, the comments included herein do not reflect the views and opinions of Rigzone. All comments are subject to editorial review. Off-topic, inappropriate or insulting comments will be removed.