Ecuador Launches Oil Licensing Round for 13 Blocks in SE Amazon
by Dow Jones Newswires
|
Mercedes Alvaro
|
Thursday, November 29, 2012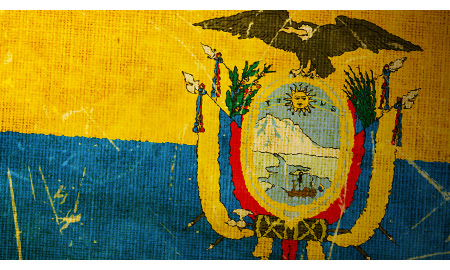 QUITO, Ecuador - Ecuador launched its 11th oil licensing round Wednesday in what promises to be a test of how the Ecuadorian oil sector is seen by investors after the government in 2010 requested oil companies to sign new contracts that stipulate that producers be paid per-barrel fees instead of taking ownership of the barrels they extract.
President Rafael Correa announced the licensing round, for 13 blocks in Pastaza and Morona Santiago provinces, located in the southeastern Amazon region, stressing that the winning bidders will be required to adopt the highest technical, social and environmental standards in exploring and developing oil prospects in the relatively untouched area near the border with Peru.
Earlier Wednesday, around a hundred indigenous residents of the Amazon region protested in front of the hotel in Quito where Mr. Correa made the announcement.
Mr. Correa, who took office in 2007 with a mission to overhaul the country's political and economic landscape, has increased state control over the economy, and as part of his energy policy has inked oil-for-credit deals with China.
In addition to the tender, Mr. Correa said that state-run oil company Petroamazonas will negotiate directly with foreign state-owned counterparts to jointly develop three blocks in the area. Wilson Pastor, Ecuador's minister of nonrenewable natural resources, said state-owned companies from Peru, Colombia, Turkey, Vietnam and other countries have shown interest in teaming up with Petroamazonas.
Although he didn't mention China Wednesday, Mr. Pastor previously said that the Middle Kingdom was interested in joint exploration opportunities. Earlier Wednesday, Ecuador's minister for strategic sectors said the South American country is negotiating with Industrial & Commercial Bank of China Ltd. (IDCBY) on funding to finance 70% of its Refineria del Pacifico project, in which China National Petroleum Corp. is planning to take a stake.
According to Mr. Pastor, about 20 companies have expressed interest in the tender, including Spain's Repsol.
The Andean country expects total investment of between $1 billion and $1.2 billion in the latest licensing round, Mr. Pastor said.
Companies will see returns on capital of between 15% and 25% for oil extracted from cretaceous depths and up to 30% for pre-cretaceous depths, Mr. Pastor said.
Mr. Pastor said winning bidders will be required to invest between $5 million and $15 million for each block they explore and develop on social projects for nearby communities. The projects will be carried out by the Ecuadorean government and payments will be made when contracts are signed.
Indigenous communities still aren't welcoming the oil companies. They have said 40 years of oil extraction in the northern Amazon has led to poverty and environmental devastation, and developing oil blocks in new territory will do the same.
According to an study from the Socio Environmental Information Unit of the Universidad Andina and the environmental NGO Fundacion Pachamama, 85% of Ecuador's South Central Amazon region is still covered by forest, and is home to indigenous groups--including the Kichwa, Shuar, Achuar, Cofan, Zapara--that account for 54% of the population.
Oil exploration and development is "potentially threatening [to] the wealth of this region, its unique biodiversity and cultural heritage," the study said.
Representatives of several indigenous communities of the affected region and the Confederation of Indigenous Nationalities, or Conaie, said Wednesday that they wouldn't allow oil companies to enter their territories, adding that the government's prior consultation process wasn't handled in accordance with the country's laws.
Mr. Pastor said that the process was handled in accordance with both the constitution and Ecuadorian statutes, adding that indigenous representatives failed to participate in the consultation process.
Companies have until May to prepare their offers, and winning bidders must sign contracts by next November. Contracts with state companies must be signed before that, Mr. Pastor said.
The contracts will provide for a four-year exploration period and a 20-year development period, if commercial discovery of oil is made.
Winning bidders who sign contracts will be paid a fee per barrel under a service contract once production commences, Mr. Pastor said.
Generated by readers, the comments included herein do not reflect the views and opinions of Rigzone. All comments are subject to editorial review. Off-topic, inappropriate or insulting comments will be removed.