Total Bids of $157MM Seen for Western Gulf Sale 229
by Karen Boman
|
Rigzone Staff
|
Wednesday, November 28, 2012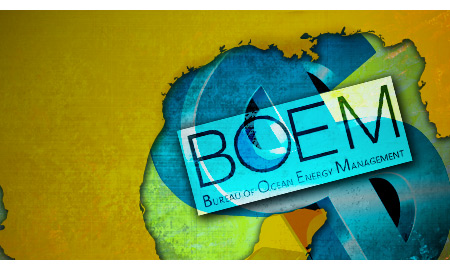 Wednesday's Western Gulf of Mexico Lease Sale 229 garnered high bids of $133.8 million and total bids of approximately $157.6 million.
Bureau of Ocean Energy Management (BOEM) officials said the sale, the third offshore sale in the U.S. Gulf of Mexico over the past year and the second in the Western Gulf, reflect more than $2 billion of investment by the energy industry in the Gulf of Mexico and indicates "how central the Gulf is to the U.S. energy portfolio" and one of the bedrocks to the nation's all-of-the-above energy portfolio.
Thirteen companies submitted 131 bids on 116 blocks. ConocoPhillips was top bidder in the lease sale with 63 total bids and had 62 high bids, the most number of high bids of any operator bidding in the sale. Chevron Corp. subsidiary Chevron USA submitted the second highest number of total bids with 35, followed by BHP Billiton with 10 total bids.
Chevron USA submitted the highest bid for a block in the sale, with a $17.2 million bid for East Breaks Block 546. Chevron also submitted the highest total amount of bonus bids totaling approximately $56 million on 28 tracts.
The roster of companies bidding also included Apache Corp. ExxonMobil, Arena Energy, Walter Oil & Gas, LLOG Exploration Offshore, Anadarko US Offshore Corporation, Tana Exploration, Plains Exploration & Production Company and Northstar Offshore Group.
The sale results did not come as a surprise to John Rodi, Gulf of Mexico regional director for BOEM. Last year's sale was robust in comparison due to the fact that last year's sale was the first in more than two years following the Deepwater Horizon incident.
"The sale results were in the range of what we might expect for a western Gulf sale," Rodi said Wednesday in a conference call with reporters.
The sale results also reflect the industry's significant interest and investment in the deepwater Gulf, Rodi said. The significant potential seen in seismic data in terms of subsalt prompted interest among operators in the East Breaks and Keathley Canyon areas, Rodi said.
BP did not bid on any blocks in the lease sale; BOEM Director Tommy Beaudreau said it did not know BP had not submitted any bids until the bids were opened Wednesday. While BP was not barred from bidding, BOEM would not have been able to accept any bids from BP until BP and the U.S. Environmental Protection Agency (EPA) work through an administrative agreement with BP, Beaudreau commented during the conference call Wednesday.
EPA announced Wednesday that it was temporarily suspending BP from entering into new contracts with the Obama administration due to BP's "lack of business integrity" in relation to the Deepwater Horizon oil spill and response. The EPA's voluntary suspension would only apply to new leases, not to BP's existing leases in the Gulf.
However, Beaudreau said he believes BP is "genuine and sincere" in reforming the way it does business. "Our experience with BP is that, following the spill, BP has gone through significant internal reforms," Beaudreau commented. He added that the company is making real changes, not only in its practices but in its culture.
BP has made a number of commitments to the U.S. Department of the Interior in the form of voluntary undertakings. On the basis of these undertakings and other reforms, BOEM has allowed BP to resume operations in the Gulf in the past year, Beaudreau said.
While BP has made significant progress in its commitment to safety and performance, "We need to see continued vigilance on safety and commitment to performing responsible work," Beaudreau said, not just from BP but from all operators in the Gulf.
The commitment to safety not only applies to offshore drilling, but workplace safety in general, said Beaudreau of the recent fire on a platform operated in the Gulf by Black Elk Energy. Beaudreau said BOEM has informed Black Elk it must step up its workplace safety efforts or face more consequences.
BOEM also received at least one bid within the three-statute mile boundary area north of the continental shelf boundary between the United States and Mexico. Any bids submitted on blocks in the area will not be opened until on or before 30 days following approval by U.S. Congress of the agreement between the U.S. and Mexico or May 31, 2013.
At that time, the U.S. Secretary of the Interior may determine whether it is in the best interest of the United States either to open any such bids or to return the bid unopened, BOEM said in a statement.
BOEM estimates the sale could result in the production of 116 to 200 million barrels of oil and 538 to 938 Billion cubic feet of natural gas. BOEM also recently announced that the next Central Gulf lease sale will take place on March 20, 2013. Lease Sale 227 will make 38 million acres available offshore Louisiana, Mississippi and Alabama.
While BOEM officials praised the sale, GHS Research reported Wednesday that it expected the sale to be the worst in decades given the lack of participants and number of blocks offered.
According to GHS' records, the number of companies submitting bids, 13, was the lowest versus the 20 companies that submitted bids in the 2011 Western Gulf lease sale and an average of 42 over the prior 10 sales.
GHS also pointed out that only 3 percent, or 116 blocks, out of 3,873 blocks made available received bids. This level of bidding is the lowest level of interest seen since the 1992 sale, when approximately 1.4 percent of blocks available received bids, and down from last year's approximate 4.9 percent and 7.9 percent average over the prior 10 sales.
Ninety-one percent of the 116 tracts receiving bids lie in deepwater, while 9 percent are on the shelf. This breakdown is in line with the most recent sale split of 93 percent and seven percent, but a higher proportion devoted to deepwater versus shelf than the prior 10 sales, which had a 70 percent and 30 percent split.
The 131 bids received is also the lowest seen since the 1992 sale, when 81 bids were received, and down from the 241 bids made in the 2011 sale and an average of 378 over the prior 10 sales.
While Western Gulf sales tend to attract less interest and money exposed than central Gulf of Mexico lease sales, the preliminary stats indicate there was just minimal interest in this exercise, likely due to just 141 new blocks being offered versus the 626 offered in last year's western Gulf sale.
EPA's decided to temporarily suspend BP from securing new federal government contracts, grants or other covered transactions "until the company can provide sufficient evidence to EPA demonstrating that it meets Federal business standards," EPA said Wednesday in a statement.
The decision reflects BP's Nov. 15 agreement to plead guilty to 11 counts, including misconduct or neglect of ship officers, related to the Deepwater Horizon spill. Other charges include one count of Obstruction of Congress, one misdemeanor count of a violation of the Clean Water Act, and one misdemeanor count of a violation of the Migratory Bird Treaty Act.
The suspension does not affect existing agreements BP may have with the government.
Since drilling permits are considered to be a safety and environmental permit, they would seem to be exempted from the EPA suspension, according to a Wednesday research note by FBR Capital Markets & Co.
"Thus, there seems to be little risk to either BP's ongoing business or to its subcontractors from this action."
The suspension sets up a process for developing an administrative agreement with the EPA, including additional business practice controls. In a parallel process, BP has already made a number of substantial voluntary changes to its offshore practices and culture, FBR noted.
"Generally, once an entity shows that it has corrected past wrongs and strengthened its controls and culture, such bans are lifted. However, ongoing disuptes over BP's civil responsibility for the oil spill under the Clean Water Act could conceptually complicate that," FBR commented.
Drilling contractor Transocean could also face suspension as a contractor or subcontractor on certain government contracts, including leases, if the company is charged with or convicted of certain criminal environmental offenses. But given Transocean's sizable presence in the Gulf, "an exclusion of the entire company would seem to undermine the Administration's efforts to put the moratorium behind it and move toward energy independence," FBR noted.
Generated by readers, the comments included herein do not reflect the views and opinions of Rigzone. All comments are subject to editorial review. Off-topic, inappropriate or insulting comments will be removed.
RELATED COMPANIES