Musings: If You Believe The IEA, Our Energy Worries Are Over
by G. Allen Brooks
|
PPHB LP
|
Wednesday, November 21, 2012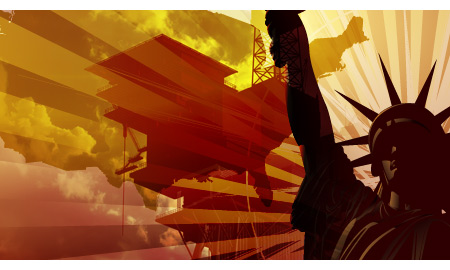 Earlier this month, as part of its annual energy outlook, the International Energy Agency (IEA) published a study suggesting that by 2015 the United States will become the world's largest gas producer and by 2017 the largest oil producer if one includes crude oil, natural gas liquids and biofuels. That status, however, will be short-lived as Saudi Arabia is projected by the IEA to regain its number one oil producer position by about the mid 2020s. Given the growth in U.S. and Canadian hydrocarbon production in recent years, coupled with slowing demand growth, energy imports will fall until eventually North America becomes a net oil exporter about 2030 and the U.S. becomes nearly energy self-sufficient by 2035.
The idea that North America has entered a new Golden Age of petroleum production has been growing over the past year with numerous studies attempting to define the implications of this development. Exhibit 15 on the next page shows BENTEK Energy's take on how the squeeze on non-North American oil imports will unfold. While their forecast only goes out to 2020, it shows that oil imports to North America will have declined sharply. One assumption in this forecast, and we assume in the EIA's, also, is that Canadian oil sands output has unfettered access to U.S. oil markets.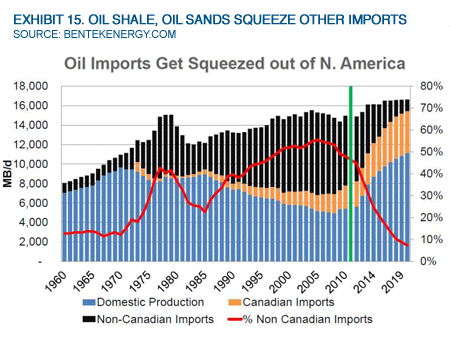 The first test of that assumption will come early next year when the Obama administration will be presented with a request to approve the permit to construct the Keystone XL pipeline and allow more oil sands bitumen to enter the U.S.
There are a number of people suggesting the Keystone project will get a green light to move forward. They are assuming President Barack Obama will not support his environmental friends by stopping the importation of more "dirty" oil sands output. Supporters of Keystone have to assume this oil will be used by the Gulf Coast refineries, which means that heavy oil volumes currently imported from Venezuela and Mexico will be cut and replaced with Canadian bitumen. That assumption is due to TransCanada's plans to mix the bitumen with Bakken light crude produced in Montana and North Dakota. Without a change in the federal law restricting the export of U.S. oil production, by blending the two oils, Keystone's volumes cannot be exported. If the refineries utilizing Venezuelan and Mexican heavy oil don't want to change suppliers, then the existing Gulf Coast refining complex will have too much heavy oil to be processed. That means the refining industry will have to revamp facilities to use more heavy and less light oil.
Fatih Birol, the IEA's chief economist, said his agency's forecasts to 2017 were based on data about existing reserves and production. He warned that the geology and reservoir performance of the oil shales were "poorly known," and he said it was unclear whether new reserves would be found to sustain production levels, let alone grow them. This is a critical consideration that underlies all the bullish forecasts for a new petroleum age for North America.
A key aspect of this glorious new world of abundant petroleum is the growth in natural gas production that has led to very low prices and boosted its use in generating electric power at the expense of coal. While natural gas has been cheaper than coal, the fact that gas creates about half the volume of carbon emissions than coal has spurred it use in power plants subject to increased environmental regulation. The natural gas industry is working feverishly to try to gain a greater foothold in the transportation fuels market with the hope that market will further boost natural gas demand thereby lifting prices. Increased gas demand is seen as the remedy for low natural gas prices. In the meantime, U.S. producers are continuing their shift in shale drilling from dry natural gas basins to those with higher liquids content and crude oil. An unfortunate side benefit of this drilling shift has been large volumes of associated natural gas being produced further adding to the abundance of gas and depressing any recovery in gas prices.
What we do know about the shale basins is that the wells have very high initial production rates that then decline rapidly. There is much debate about the shape of the decline curves and their meaning in projecting the economic ultimate recovery (EUR) volumes. A static gas basin analysis performed by Art Berman (Exhibit 16) shows that when the industry stops drilling new wells, the decline rate of existing gas production is very steep. A question yet to be investigated is whether this phenomenon exists, and if so how strong, in tight oil basins. This is essentially the point raised by Mr. Birol above, and it certainly has implications for the long-term forecasts for oil output in North America, which has emerged as the gas shale capital of the world.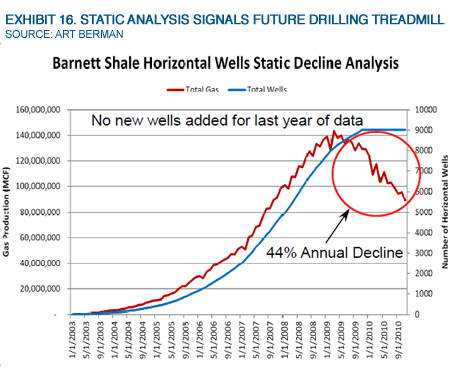 While the IEA study received significant attention from the mainstream media, most reporters do not understand the dynamics of oil reservoirs to ask the right questions and point out the possible weaknesses in the study. The IEA has conducted extensive research into oilfield decline rates in the past, but we sense little of that research was brought to bear in this study. It seems from reading the summary of the report prepared by the IEA that there are enough qualifiers to the assumptions underlying this long-term forecast to cast doubt on how firmly to embrace the report's conclusions. At this point, we plan to use the study as just one possible scenario for how the industry might evolve in the future. We are less inclined to embrace it than many others. What we worry about is that our policy makers do embrace the report and its conclusions and begin instituting policies and investments designed to capitalize on its projected outcomes. If those outcomes fail to materialize, we will be faced with having to make numerous mid-course corrections with unknown, and potentially significant, economic and social costs.
Generated by readers, the comments included herein do not reflect the views and opinions of Rigzone. All comments are subject to editorial review. Off-topic, inappropriate or insulting comments will be removed.
RELATED COMPANIES
Company: International Energy Agency (IEA)
more info
MORE FROM THIS AUTHOR
G. Allen Brooks
Managing Director, PPHB LP