Subpoena Issued over GOM Platform Fire, Recovered Body Identity Confirmed
|
Quintella Koh & Robin Dupre
|
Monday, November 19, 2012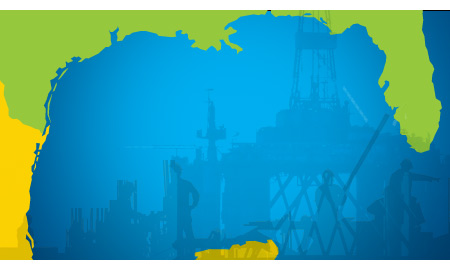 Black Elk was issued a subpoena by the U.S. Chemical Safety Board seeking details on the company's safety and environmental management plans and audits by the U.S. Department of Interior. The company must respond to the subpoena by Nov. 30, a spokesman for the board said.
In addition, the Philippine Embassy confirmed Saturday that a body recovered near the offshore oil platform in West Delta Block 32 – 25 miles offshore Grand Isle, Lousiana – in the Gulf of Mexico, belongs to one of two missing Filipino workers.
Roughly 22 of the reported 26 to 28 workers aboard the platform were Philippine nationals, including the recovered body and the four that were critically injured and being treated for serious burns. The Philippine Embassy has confirmed the body found was contract worker Elroy Corporal, which is being readied for repatriation to the Philippines after authorities perform an autopsy Monday.
The body was identified by Louisiana-based Grand Isle Shipyard, the employer of the victim, aboard the Houston-based and privately-owned Black Elk Energy platform which exploded Friday morning.
Divers working for Black Elk, whom are inspecting the structure to assess damage, are understood to still be searching for the second missing crew member.
The embassy confirmed in its statement that four injured Filipinos are being treated for serious burns at the Regional Burn Center of the Baton Rouge General Hospital. The embassy also said that doctors had confirmed in their latest reports that "two of the burn victims are in critical condition while the other two are in serious condition."
Early reports from the U.S. Coast Guard on Nov. 16 stated that production was not flowing from the well and at least 26 to 28 people had been aboard the platform. The workers were cutting into a line on the platform when sparks from a torch hit a storage tank, which then exploded, resulting in a two-by-a-quarter mile oil sheen around the site. The platform is located around 17 miles offshore Grand Isle, Louisiana in 21 feet of water.
The U.S. Bureau of Safety and Environmental Enforcement (BSEE) said Saturday it has established a seven-member team to investigate the explosion and fire.
"Witnesses will be interviewed, and documents containing the work procedures for the construction project will be reviewed," the BSEE said in a statement.
Grand Isle, a town home to around 1,300 people on a barrier island at the far southern tip of Louisiana, is also grappling with losses brought about by the August 2010 explosion of the Deepwater Horizon rig that killed 11 and unleashed the worst offshore oil spill in U.S. history.
Generated by readers, the comments included herein do not reflect the views and opinions of Rigzone. All comments are subject to editorial review. Off-topic, inappropriate or insulting comments will be removed.