China Looks to Emulate US Shale Success
|
Thursday, November 15, 2012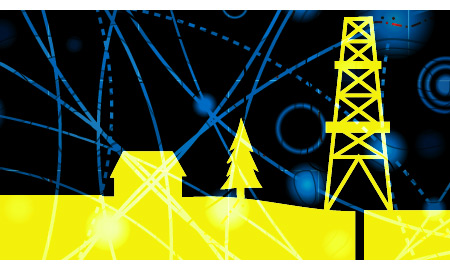 In the last couple of years, shale exploration and production has sparked a petrochemical renaissance in the United States which has not gone unnoticed. With over 50 new petrochemical projects planned in the United States, the country is on track to become the world's top gas producer in 2014. According to the U.S. Energy Department, the United States will produce 11.4 million barrels a day of oil and liquid hydrocarbons next year, almost as much as Saudi Arabia.
Countries worldwide are looking to the United States and evaluating their potential for shale exploration success. However shale drilling relies on hydraulic fracturing, which is an environmentally controversial way of creating channels in the rock to increase recovery of oil or gas trapped in these formations.
China decided to take the risk in June 2011 when it held its first shale gas auction to help slow its growing reliance on imported energy. China invited six U.S. and European companies to bid on four blocks to gain technical know-how as horizontal drilling and fracturing technology is not well developed in China. However, only two blocks were awarded. The other two blocks failed to attract the minimum number of bidders. The bidders included PetroChina, China Petroleum & Chemical, CNOOC, Shaanxi Yanchang Petroleum Group, China United Coal Bed Methane and Henan Provincial Coal Seam Gas Development and Utilization.
China's latest bidding round, held in October 2012, attracted 83 companies from around the world for exploration rights on 20 shale gas blocks.
Unlike the first invitation-only round, China loosened its control and allowed foreign energy firms to jointly bid with Chinese investors in the second round. The Chinese government restricted local bidders to those with a registered capital of $47 million (300 million yuan) and to those who already hold oil and gas exploration licenses. Under the terms, winners must start drilling within six months of the award and have license rights for a maximum of three years.
According to the Ministry of Land and Resources, China received 152 bids in total with one block receiving a maximum of 13 bids and another block – in China's Anhui province – falling short one bid from the minimum requirement of three.

The ministry said winning bids will be announced after experts evaluate the bidders' exploration plans, capital budgets and support measures.
About two weeks after the bidding round, Chinese Ministry of Finance announced it was encouraging shale development by offering $2.10 per cubic feet of production through 2015; however, as Platts news service reported the ministry also said "that subsidies will be adjusted according to the development of the shale gas sector."
According to the U.S. Energy Information Administration, China holds 1,275 trillion cubic feet of recoverable shale gas reserves, which would make it the largest reserve in the world. For this latest auction, China offered shale blocks in eight provinces -- Chongqing municipality and the provinces of Guizhou, Hubei, Hunan, Jiangxi, Zhejiang, Anhui and Henan -- with a total area of 7,723 square miles (20,002 square kilometers).
Power utilities, real estate groups, a coal mining company, and individual real estate developers reportedly joined international majors such as BP PLC, Chevron Corp., Total SA, ConocoPhillips and Eni SpA., to bid in the second shale gas exploration auction. Many of the bidders have little direct knowledge of the shale gas business. With only 63 wells drilled to date in China compared to over 1 million drilled in the United States, it is no surprise so many Chinese companies agreed to form alliances with experienced American companies.
According to the International Energy Agency, global demand for natural gas is predicted to increase by more than 50 percent by 2035. China is hoping to have as much success as the United States to try to meet the growing natural gas demand. Beijing has set a shale gas production goal of 6.5 billion cubic meters per year by the end of 2015, up from next to nothing this year, and aims to reach an annual output of 60 to 100 billion cubic meters by the end of 2020, according to the country's 12th Five Year Plan. However, with little technological know-how, lack of infrastructure and supply chain in place and water supply issues, experts say it is unlikely that China will achieve its goal in the next three years.
Nevertheless, low drilling costs and high local gas prices make China's unconventional gas reserves attractive to those who are willing to take the risk. Though experts don't see China reaching its 2015 goal, no one disputes the fact that China will gain fracking experience and become a major producer of natural gas from shale someday.
In March, Royal Dutch Shell PLC signed the first major production-sharing contract with China National Petroleum Corp. for exploration of a shale gas deposit in the Sichuan Basin. Shell is already actively exploring for shale plays in conjunction with PetroChina and China National Offshore Oil Corp. in China's southwestern Sichuan province, which is believed to hold some of the world's largest deposits.
Australia-based Leyshon Resources Ltd. also acquired the right to explore for unconventional gas in China this year. In early October 2012, the company announced that it had commenced drilling at the Zijinshan block on the Eastern flank of the Ordos Basin, China's second largest and one of the world's major gas producing basins. The company expects to complete the first two wells by the end of November and the third in early 2013.
Leyshon Resources Managing Director Paul Atherley said in a release, "the Ordos Basin is the beating heart of Central China, the world's fastest growing major economy and is one of the best places in the world to be exploring for gas right now. It's a major gas basin which has seen some spectacular recent discoveries. Any commercial gas discovery at Zijinshan will be hooked into one of the nearby pipelines and sold into one of the world's fastest growing markets for gas."
The Ordos Basin has well established gas pipeline infrastructure. The first of the three Zijinshan wells is located within 6 miles (10 kilometers) of a tie-in point on the Lin-Lin pipeline, which was completed in 2011.
Other Majors are exploring shale plays in China as well, but their focus is on the Sichuan Basin or Guizhou, where the largest deposits are believed to reside. They have very little interest in chasing smaller, riskier blocks on offer in the Hunan, Jiangsu and Anhui provinces. It is worth noting that the active majors in the country formed joint ventures outside of the tender process under Beijing's supervision.
Generated by readers, the comments included herein do not reflect the views and opinions of Rigzone. All comments are subject to editorial review. Off-topic, inappropriate or insulting comments will be removed.
RELATED COMPANIES
Company: U.S. Department of Energy
more info
Company: International Energy Agency (IEA)
more info