Top Tips for Getting that O&G Internship
by Rigzone Staff
|
Jon Mainwaring & Matthew Veazey
|
Monday, November 12, 2012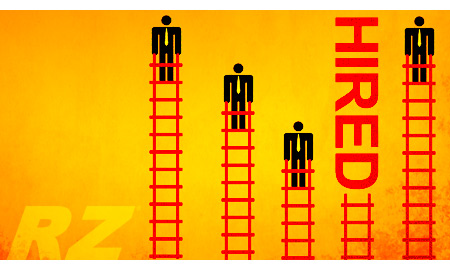 Times are tough for young people seeking a career. And for new university graduates in Europe and the United States who are looking to get started in a graduate career, times have not been this hard since the last big recession in the early 90s.
The oil and gas industry might be crying out for experienced professionals at the moment amid a boom in hydrocarbon exploration and production worldwide, but when it comes to taking on new graduates with little or no experience they are not so hungry. Training and development on inexperienced recruits into the industry takes time and costs money, while most businesses operating in the oil and gas sector right now need people who can get stuck in.
Consequently, jobs for new graduates in the sector are low when compared to candidates. For example, Rigzone reported in May that BP had more than 7,000 applications submitted for 250 positions on its graduate recruitment scheme in the UK this year.
One route into the professional workplace is to get an internship. A fairly new phenomenon in the UK and the rest of Europe, but popular for some time in the United States, internships usually offer lower pay than traditional graduate recruitment schemes. But they are a route by which students still completing their degrees, or even recent graduates, can achieve valuable work experience that will either lead to a role at the company they are serving their internship at or make them more attractive to another potential employer.
Rigzone consulted four companies that operate in the oil and gas sector to find out their top tips for youngsters looking to attain internships with their organizations.
An important tip when seeking internships is to make use of the university you study at. The university can be a great help in itself with plenty of resources that can help secure an internship.
"Use your university career center, attend company information sessions on campus and network. This will help you learn more about the companies you are interested in working for and the people who work for them," Nicole Fisher, a company spokesperson for Canada's Suncor Energy, told Rigzone.
"Most companies are on-campus several times during the year, and the more interaction you have, the better your chances will be," said Eric Fuller, recruiting lead at Halliburton's University Affairs department, who added:
"Talk to your professors. Professors often have company representatives within their professional networks. They will recommend students who they know and who have made an impression on them. They may also know of other opportunities that aren't posted on the job boards.
A tip that all of the firms interviewed recommend is to make sure that you know a lot about the company you are seeking an internship at.
"It is always good to see that a candidate has done research about the role that they are applying for and the organization as a whole," said Emma Judge, BP's head of graduate resourcing.
"Be knowledgeable about the company before you talk to a recruiter. Know what you want and go after it," said Halliburton's Fuller.
Kristrin Strand-Omreng, HR consultant at Norwegian oilfield services firm Aker Solutions, recommends talking to any personal contacts you might have with the firm you are interested in doing an internship.
"Such discussions will help you prepare for the interview. You can of course also find much information about our operations at our homepage and elsewhere online. It is always refreshing to meet applicants that are well prepared," Strand-Omreng said.
"When it comes time for the interview – take the time to prepare! Know why you want to work for the company, what the company does and prepare a list of questions," Fisher added.
Another key tip is to make sure that the company you are applying to knows what your interest in an oil and gas career is.
"In your application, it is important that you demonstrate why you want to explore a possible career in the sector and communicate your passion for your chosen discipline," said BP's Judge.
"Write a short application letter where you outline why you want to spend the summer working at one of our Aker Solutions offices. Your reasons for working at Aker Solutions and what you hope to gain from the experience is of great interest to us," said Aker's Strand-Omreng.
"Try to indicate what type of work you would be interested in and what skills/knowledge you can contribute. This can of course be challenging when you have little experience, but it can also help that you describe your wishes and preferences on a more general level."
And attention to detail is, of course, always important!
"Take some time and care when applying. Nobody likes to see a mistake in an application form," said Judge.
"Have a friend double check your resume to ensure no mistakes – with hundreds of applicants you want to stand out," advised Fisher, who also believes in the importance of practicing for any interviews you are asked to attend.
"When it comes time for the interview, take the time to prepare… To help calm the nerves, have a friend ask you some questions and go through some mock interviews. This will help you be more articulate the day of the interview."
Finally, another important piece of advice involves being an early bird.
"Apply early, the earlier the better," said BP's Judge, who told Rigzone that BP is now open for 2013 internship applications.
Aker Solutions' Strand-Omreng added that students will be able to apply for its summer internships online in late 2012/early 2013.

Generated by readers, the comments included herein do not reflect the views and opinions of Rigzone. All comments are subject to editorial review. Off-topic, inappropriate or insulting comments will be removed.