Halliburton Expands Facility to Offer 'Real World' Testing for Perforating
by Karen Boman
|
Rigzone Staff
|
Friday, November 09, 2012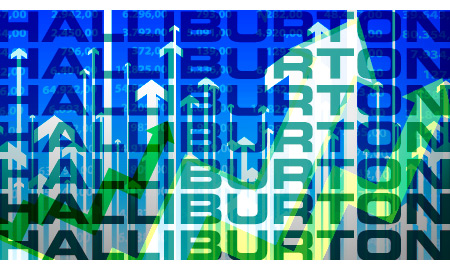 Halliburton has expanded its Advanced Perforating Flow Laboratory at the company's Jet Research Center in Alvarado, Texas, in order to better meet the oil and gas industry's challenges of perforating and fracturing wells in increasingly challenging environments.
The expanded facility allows Halliburton to provide 'real world' answers for its customers and their oilfield perforation needs. Oilfield perforation is a technique used to create a flow path from the reservoir into the wellbore using a shaped charge perforator. The charge, when detonated, penetrates the steel-cased wellbore and allows trapped hydrocarbons within the reservoir to then flow into the wellbore and up to the surface.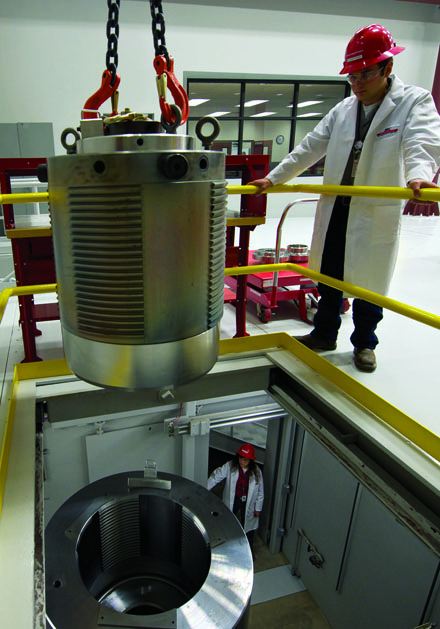 The cap of the 50,000 psi wellbore vessel is lowered into place to begin commissioning operation.
Construction on the Advanced Perforating Flow Laboratory began in 2010 and was completed in the first half of this year. The original flow lab has been operating for 12 years, and more than 650 tests have been conducted for our customers, said Dave Topping, vice president of Halliburton's Wireline and Perforating business line.
The decision was made to expand following two years of discussions, during which time Halliburton officials realized the need for a step-change in technology because of the new, challenging environments in which industry was operating, such as high pressure/high temperature wells, Topping told Rigzone.
"We decided that we could better help our customers developing their perforating solutions and improve recovery by replicating those downhole environments as much as possible," Topping said.
"Through the use of imaging technologies, we are able to examine the target to better understand the interaction of a perforating event with the reservoir. This allows better prediction of the production results that can be expected."
"You can't buy that technology – you have to research it, develop it and create it. Halliburton had the technological know-how to do it," Topping noted.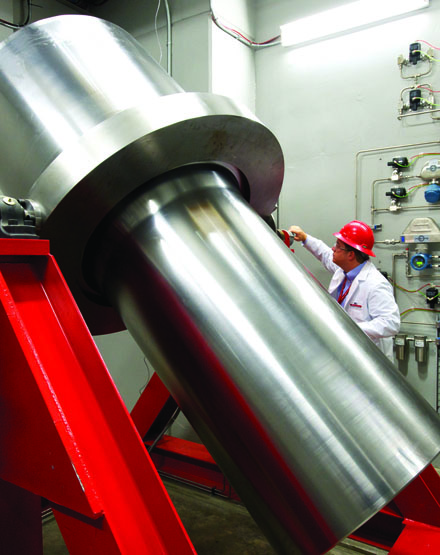 A Halliburton engineer inspects the 180-degree rotatable wellbore vessel.
Caption: A Halliburton engineer inspects the 180-degree rotatable wellbore vessel.
The expanded facility includes three testing vessels that provide customers with the most accurate information possible today regarding the effects of perforations in different formations and in different environments.
These vessels include a 50,000-pound per square inch (psi) vessel, which allows Halliburton to conduct tests at pressures higher than any other testing facility in the industry. A 25,000-psi vessel that can rotate up to 180 degrees is also available, allowing Halliburton to perform gravity-related sanding studies to better understand the effects of perforating and fracturing in horizontal wells.
Additionally, a 25,000-psi high-temperature vessel can flow at temperatures reaching 400 degrees Fahrenheit (204 degrees Celsius), enabling the company to test perforating capabilities in high temperatures.
The facility also includes an integrated command and control center, a core preparation laboratory and an extensive core analysis laboratory for post-test evaluation.
"This laboratory enables us to conduct the most advanced perforated core analysis in the industry," Halliburton said in a statement.
The company conducts these tests with the latest imaging systems adapted from the medical industry for use in oil and gas environments.
"Our lab is the only one in the world with such dedicated equipment, allowing us to evaluate reservoir inflow at the structural level," Halliburton added.
By using advanced computed tomography analysis (CT), engineers and scientists are able to evaluate the perforation performance without disturbing the core, allowing an accurate appraisal of how much reservoir contact has actually occurred and how effective the flow path may be in allowing hydrocarbon production.
A Halliburton scientist moves a perforated core into position to conduct an advanced CT analysis.
In the new lab, Halliburton anticipates increasing collaboration with its customers to develop products for their specific assets which are at higher pressures and temperatures, Topping said.
Testing at the expanded lab can provide insight into finding ways to clean up perforations more effectively; maximize production; evaluate alternative perforation methods; assess new explosive compounds and their performance; and use better-performing metals.
The Advanced Perforating Flow Lab has applications in all areas of perforating.
"However, the new facility enhances our current capabilities and allows us to design and test charges for the ultra-deepwater, high-pressure markets, as well as for extreme high-temperature wells," Topping said.
Halliburton also pioneered the shaped charge for oilfield use. The expanded lab will provide insight into actual perforating system performance under the harshest reservoir conditions. The original line of Haliburton's MaxForce charge was developed for optimal penetration in cement targets and to allow Halliburton to better compete in commodity markets.
Next came the MaxForce-FRAC portfolio, which is a charge specifically developed to enhance hydraulic fracturing. Benefits to customers include decreased completion costs, increased production rates and reduced risk of screenout.
"Our expanded lab provides insight into actual perforating system performance under the harshest reservoir conditions," Halliburton said. "And with the most advanced evaluation techniques in the industry, we can now truly understand reservoir inflow from a perforation tunnel and how it can be optimized for specific well conditions."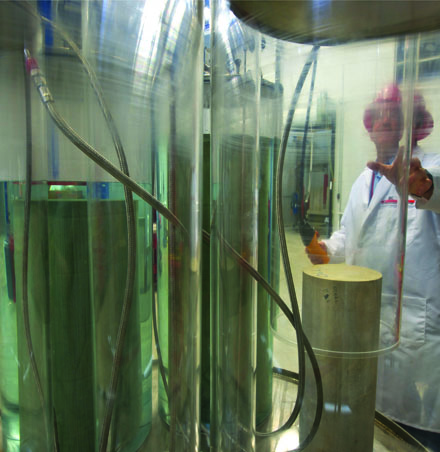 A Halliburton lab technician prepares to saturate a sandstone core with simulated oil to replicate downhole reservoir conditions prior to conducting a perforation flow test.
Through testing at the facility, Halliburton helped a major operator tailor charges to specific rock characteristics and reservoir conditions, providing deeper penetration and efficient tunnel clean-up for the operator's specific underbalanced condition at its marginal gas condensate field in the North Sea. As a result, rock penetration increased 21 percent and productivity grew 12 percent over benchmark conventional charges.
Halliburton noted that wrong assumptions can lead to billion-dollar mistakes.
"In some cases, pipelines are developed, roads are built and even towns are created all on the assumption that millions of barrels of oil or gas equivalent will flow from just a few wells," the company said. "Therefore, an operator must know precisely how each well is going to intercept the reservoir, and how efficiently and effectively that reservoir will flow into the wellbore."
"The tests we do at the Advanced Perforating Flow Lab give our customers precise answers on the exact depth of penetration into the formation in different types of rock, and also what the crush zone and skin value of that perforation is expected to be," Halliburton said. "These insights help identify or develop the best perforating system for any given well conditions."
The Jet Research Center has served as Halliburton's research, testing and manufacturing facility for the development of safe, reliable perforating and energetic products used through the energy industry worldwide. Approximately 200 employees support work performed at the Jet Research Center.
In 2011, Halliburton spent $401 million on research and development.
Generated by readers, the comments included herein do not reflect the views and opinions of Rigzone. All comments are subject to editorial review. Off-topic, inappropriate or insulting comments will be removed.
RELATED COMPANIES