Industry Looks Ahead to Energy Policy under a Second Obama Term
|
Wednesday, November 07, 2012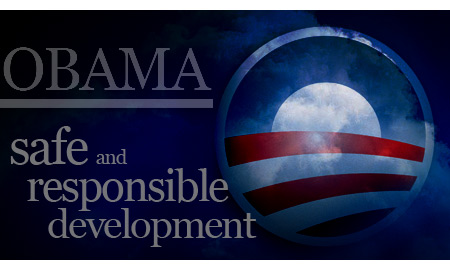 Now that President Obama has been re-elected to the White House, energy industry officials are looking to see whether the president fulfills his campaign promise to increase domestic oil and gas production and the shape that his "all-of-the-above" energy policy will take in the second term.
API looks forward to working with the president to help him fulfill his campaign promise "to increase domestic oil and natural gas production that will create American jobs and strengthen our economy," American Petroleum Institute (API) President and CEO Jack Gerard said Wednesday in a statement.
One way Obama can fulfill his promise "right off the bat" of creating more jobs is to approve the Keystone Pipeline project and "put thousands of Americans to work immediately," Gerard said.
Obama should also acknowledge the effective role states are already playing in regulating oil and gas production and "avoid the temptation to impose duplicative and unnecessary regulations on hydraulic fracturing."
"By following through on his own executive order to eliminate overly burdensome regulations, he can rein in EPA's [Environmental Protection Agency] plans to impose regulatory burdens that could cost businesses hundreds of billions of dollars and chill economic growth," Gerard noted.
The right public policies could allow the burgeoning U.S. shale boom to be a game changer for America, allowing for the creation of millions of new jobs, billions in government revenue, and stronger energy and national security, Gerard said.
Earlier this year, API launched its Vote for Energy campaign, through which it aimed to bring U.S. energy policy and issues to the forefront of the political discussion in the presidential race. In August, API conducted a poll, in which it found 92 percent of voters saying that energy security and domestic oil and gas production were important issues in the presidential election.
The poll results indicated that voters "clearly get" the issue of how oil and gas, and that API's efforts to bring energy to the forefront of discussion was successful.
"With both candidates supporting more development of America's vast oil and natural gas resources, energy is a big winner in this election," Gerard said in a Nov. 7 statement.
Though he supported Republican presidential challenger Mitt Romney, T. Boone Pickens also congratulated Obama on his re-election.
"We should all remember, no matter how divided Americans are during the campaign season, we have one President, and we can only succeed when we come together as a nation to find solutions to our greatest challenges," Pickens noted.
Pickens pointed out that Obama in his last State of the Union address spoke out in strong support of developing U.S. natural gas resources to reduce the nation's dependence on OPEC oil.
"I applauded him on his call for action at the time, and I will be eager to see him turn this promise into a reality during his second term," Pickens noted.
Western Energy Alliance President Tim Wigley said the election's outcome would slow U.S. economic growth because of "stalled energy policies and job-killing overregulation."
"We hope the Obama Administration will look at some of the policy ideas brought forth during the campaign, such as delegating more responsibility for oil and natural gas development to the states, and achieving a balance between regulation and economic growth, which has been missing the last four years," Wigley said in a statement Wednesday.
Environmental groups also praised the re-election of Barack Obama as president.
"Despite the hundreds of millions of dollars the fossil fuel industry dumped into this election to elect Mitt Romney, we proved those corporations are, in fact, not people," Sierra Club Executive Director Michael Brune noted.
"There was only one candidate in this race who doubled down on our nation's clean energy economy," Brune said. "There was only one candidate who consistently fought to hold oil and coal companies accountable and only one candidate who stood up for landmark protections to keep toxins out of our air and water."
"During his first term, President Obama articulated a vision of America leading the world with a clean energy future that meets the challenge of climate disruption head-on. Today, American voters chose to give President Obama both an opportunity and a challenge of huge proportions. And the President now has four more years to put American solidly on the path to this future."
Energy industry officials have touted expanded oil and gas production in the United States – particularly its unconventional oil and gas plays – as a means of jobs creation and a way to revive the U.S. economy. The abundance of inexpensive shale gas could allow for a renaissance in the U.S. manufacturing sector, industry officials say. However, they view the approach taken by the Obama administration over exploration and production regulations at home as impediments to that growth.
Under the Obama administration, the oil and gas industry has faced increased offshore regulations stemming from the 2010 Macondo oil spill. The industry also faces the prospect of losing tax treatments under the current tax code, including the ability to write off the cost of research done ahead of drilling a well. Obama has threatened to repeal these tax treatments, saying that industry is not paying its fair share of taxes, a notion that the energy industry and some lawmakers reject.
Increased regulations and changes to the tax laws, along with a new U.S. rule requiring oil and gas companies to report their payments to foreign governments to develop oil and gas fields, will squash exploration and production activity at home and make the industry less competitive abroad. In October, API and other business groups filed suit against the U.S. Securities and Exchange Commission to challenge the law.
Market analyst Phil Flynn forecasts that natural gas prices will rise as Obama raises taxes on oil companies, which will slow down the "historic job creating shale gas drilling" in favor of high risk, low return wind and solar.
"We are pricing in the government going after a thriving industry that has used creativity and imagination to make us energy independent," Flynn said in a Nov. 7 statement of his outlook for the futures market.
Futures markets correctly priced in an Obama victory Tuesday "and all of the economic pain that will go along with it." While an Obama victory would be "wildly bullish" for commodities because it would mean a vote of confidence for Fed Chairman Ben Bernanke and his policies of easing. At the same time, the market is pricing in "perhaps a decade or more of economic pain."
"The markets are saying that under an Obama presidency, get ready for continued high unemployment, higher budget deficits, higher taxes, and higher gasoline prices and less job creation," Flynn said. He added that Europe "is absolutely giddy with the outcome because they now will have another country moving towards their failing socialist experiment."
When he was first elected to office, President Obama pushed for the expanded use of alternative energy sources versus oil, gas, and coal. However, in recent times he has come around to supporting the development of natural gas.
Obama has stated that the United States needs to develop every available resource of American-made energy, including oil, gas, clean coal wind, solar, biofuels and nuclear. "However, most of his realistic substance seems to focus on the new big player, natural gas," said GHS Research analysts in a Wednesday research note.
GHS analysts note that Obama's energy plan calls for the "safe and responsible development" of the U.S.'s 100 year gas supply, which could support more than 600,000 jobs by the end of the decade.
"Although he is no fossil fuel friend, natural gas may get a boost in the next four years despite democrats perception as strong environmentalists," GHS noted.
Obama is seen as favoring some amount of liquefied natural gas exports from the United States. However, the fact that the Senate remains in the control of the Democrats, and that Sen. Ron Wyden (D-Ore), who will likely serve as chair of the Senate Energy Committee - and has said the United States should "reconsider rubber stamping LNG exports as part of a 21st Century energy policy," - could pose as obstacles to LNG exports.
Generated by readers, the comments included herein do not reflect the views and opinions of Rigzone. All comments are subject to editorial review. Off-topic, inappropriate or insulting comments will be removed.
RELATED COMPANIES
Company: American Petroleum Institute (API)
more info