Young Energy Professional Offers View of Races from Key Swing State
|
Monday, November 05, 2012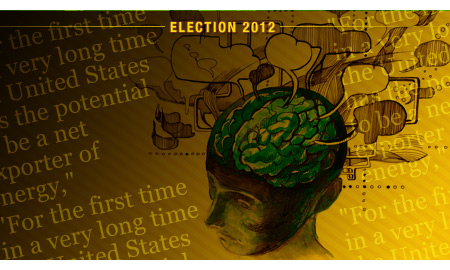 Home to major players in the oil and gas, nuclear, coal, power generation and renewables sectors, Pittsburgh, Pa., boasts a breadth of energy businesses that few cities can rival. As the president of a growing local organization that draws its membership from these various sectors, Josh Hickman of the Pittsburgh chapter of Young Professionals in Energy (YPE Pitt) has observed several similar responses to the races for the White House and Congress.
First among the local energy community's response is "annoyance that the federal government is taking credit for increases in United States oil and gas output when this has been done by private companies on private land," said Hickman, chief geologist with a Pittsburgh-based exploration and production (E&P) company.
Hickman said that many YPE Pitt members have also been expressing fears about whether the natural gas industry will be able to open new markets for gas produced from the Marcellus, Utica and other shale plays. He explained that a number of his peers are concerned that federal authorization to proceed with LNG export terminal projects and cross-country pipelines will not be forthcoming.
A native of the southwest Virginia coalfields who worked for E&P companies in West Virginia before settling in Pittsburgh in 2009, Hickman also is keenly aware of the difficulties the domestic coal industry has had in recent years. Factors such as stricter environmental regulations, permitting delays and low commodity prices have contributed to what he calls a "decimation" of the coal industry that has been characterized by mass layoffs and declining demand for coal-fired electricity. He says that his friends in the coal sector have expressed concerns that neither candidate for the White House has adequately addressed how to improve the business climate for coal.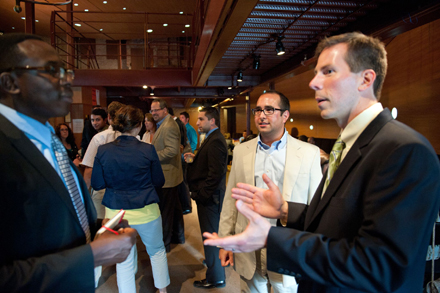 YPE Pitt's Josh Hickman, right, converses with a fellow member at one of the organization's frequent gatherings. Photo by Elizabeth Vincent Photography.
Although the treatment of energy in the 2012 election season has given some YPE Pitt members pause, Hickman observed that the issue's prominence in campaigns across the political spectrum is a positive overall development.
"The campaign trail is a treacherous place to look for promises and reality, but it is clear that each candidate sees that energy is a topic that America is concerned about," said Hickman. "This is a very good thing!"
"For the first time in a very long time the United States has the potential to be a net exporter of energy," Hickman continued. "Our oil production is expected to surpass that of Saudi Arabia. This is great news that can set us up to remain the super-power that we are."
Hickman also said that while he appreciates President Obama's push for an "all-of-the-above" energy policy, he advocates a more private sector-based approach to nurturing new sources of energy.
"I disagree that the government should take the place of venture capitalists," Hickman said, making an apparent reference to federal subsidies for companies developing wind, solar and other renewable energy technologies.
"Gov. Romney is pushing for energy independence and allowing the market to dictate where capital is spent to achieve this," Hickman added. "But he has to also support the good that has come out of the green initiatives of the past four years. So I like some of both plans, but neither is perfectly honed."
Hickman believes that what Obama and Romney are saying about energy on the campaign trail is a net positive. However, as someone who depends on the oil and gas industry for his livelihood, he sees a more worrisome trend in federal policies affecting his ability to do his job.
"I am more concerned about the trend of the current administration's actions towards the oil and gas industry over the past four years," Hickman said. "Members of the industry have to ask themselves if they want the arms of the federal government to continue in a direction of increased regulation and complexity."
However the balance of power is distributed between the White House and Congress after the Nov. 6 election, Hickman would like to see changes in federal regulations affecting the oil and gas industry. He said the single greatest thing the federal government could do to improve the growth prospects for businesses such as his would be to revamp regulations so that they are clearer, more applicable and easier to understand.
"As the size and complexity of government regulations increase, the cost of compliance increases for the industry," concluded Hickman. "This saps resources that can be redeployed to generate more wealth, employ more people, and raise the standard of living in the areas where we operate."
Generated by readers, the comments included herein do not reflect the views and opinions of Rigzone. All comments are subject to editorial review. Off-topic, inappropriate or insulting comments will be removed.