ExxonMobil 3Q Profit Fell 7.4% Amid Weaker Production
by Dow Jones Newswires
|
Tess Stynes
|
Thursday, November 01, 2012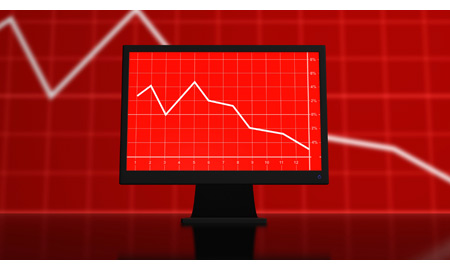 HOUSTON - Exxon Mobil Corp.'s third-quarter earnings fell 7.4% as it fetched lower prices for its oil and gas and production fell to its lowest level in three years.
Profits in its refining segment nearly doubled, however, enabling the world's largest publicly traded oil company to beat Wall Street expectations.
Exxon posted a profit of $9.57 billion, or $2.09 a share, down from $10.33 billion, or $2.13 a share, a year earlier. Revenue decreased 7.7% to $115.71 billion.
Analysts polled by Thomson Reuters most recently projected earnings of $1.95 on revenue of $112.4 billion.
While the entire oil industry has suffered from unstable prices for crude and natural gas in recent quarters, Exxon's production woes underscore how challenging it is for the biggest oil companies to grow production in a meaningful way despite massive investments.
The Texas oil giant's output fell 7.5% to an average of about 4 million barrels a day, the lowest level since the third quarter of 2009. Excluding the effect of divestitures, production sharing contracts and quotas set by the Organization of the Petroleum Exporting Countries, production fell 2.9%, a number that analysts consider disappointing.
"Clearly chronic production declines are not what we want to see," said Pavel Molchanov, an analyst with Raymond James.
However, some of the production decline involved relatively unprofitable U.S. natural gas, said analysts with Simmons & Co. Exxon is also the largest natural gas producer in the U.S. after its acquisition in 2010 of XTO Energy Inc. for about $26 billion.
Exxon has recently sought to boost its reserves and production, especially of profitable crude oil, by buying assets in the prolific Bakken shale in North Dakota from Denbury Resources Inc. It also has struck ambitious joint ventures with giants like OAO Rosneft to tap massive quantities of Arctic resources, but that is an effort that could take many years.
Last month, Exxon said it agreed to buy Canadian oil and natural-gas producer Celtic Exploration Ltd. for 2.59 billion Canadian dollars (US $2.63 billion)--its largest such deal since it acquired XTO--as the company remains optimistic about long-term prospects for the sector.
Exploration and production earnings declined 29% to $5.97 billion amid lower prices for liquids and natural gas and lower production.
Refining and marketing earnings more than doubled to $3.19 billion mainly on stronger refining margins.
ConocoPhillips last week reported third-quarter results in which lower oil and gas prices took a toll, though production results in unconventional U.S. oil formations helped the company top analysts' expectations. Chevron Corp. and Hess Corp. are set to report third-quarter financial results Friday.
Exxon shares were down 0.69% at $90.54.
Generated by readers, the comments included herein do not reflect the views and opinions of Rigzone. All comments are subject to editorial review. Off-topic, inappropriate or insulting comments will be removed.