Shale Gas Glut Hits Shell Profit
by Dow Jones Newswires
|
Selina Williams
|
Thursday, November 01, 2012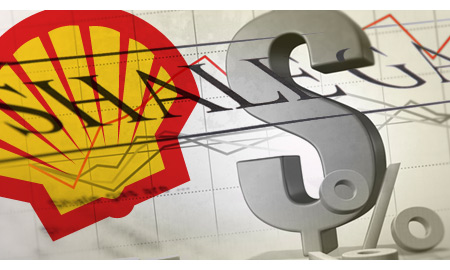 Royal Dutch Shell PLC Thursday posted a smaller-than-expected drop in profit for the third quarter, as a recovery in refining earnings was more than offset by continued weakness in North American gas prices.
For the second consecutive quarter, the Anglo-Dutch oil giant's earnings have been weighed down by the glut in U.S. shale gas production. Even as power generators have switched from coal to gas on a large scale, the U.S. production boom has outstripped demand, driving prices to 10-year lows.
U.K.-listed BP PLC and BG Group PLC suffered similar negative effects in their earnings this week, underscoring how disruptive the shale boom of the past few years has been to the sector.
In the third quarter, Shell's oil and gas exploration and production earnings fell 24% on the year. The average price Shell received for its gas in North America fell 38%, in contrast with an 8% rise in the price it earned in the rest of the world.
"The U.S. is something they need to tackle," said Royal Bank of Canada analyst Peter Hutton. "I would expect to see a renewed drive for cost efficiency in the Americas to counteract the low gas prices."
Several companies, including Shell and BG, have addressed this supply glut by finding more uses for natural gas, including converting buses and trucks to run on it and as exporting it in liquid form, but these ventures will have a limited effect on prices in the short term.
The Anglo-Dutch energy company said its clean current cost of supplies – a keenly watched figure that strips gains or losses from inventories and other non-operating items out of net profit – was $6.56 billion in the three months ended Sept. 30, down 6.3% from $7.00 billion in the third quarter of 2011. This was above average expectations of $6.31 billion in a Dow Jones Newswires poll of 13 analysts.
Including a $1.01 billion gain on the value of inventories and a $423 million impairment mainly on the value of natural gas assets in the U.S. and tax changes in the U.K., Shell's net profit for the quarter was $7.14 billion, up 2.3% from $6.98 billion a year earlier.
Shell Chief Executive Peter Voser said he was pleased with the company's progress in a difficult industry environment. "Shell is driving a long-term and consistent strategy, against a backdrop of volatile energy markets," he said.
Total oil and gas production was 2.982 million barrels of oil equivalent a day, a decrease of 1% from a year earlier, due to asset sales, security problems at its onshore operations in Nigeria and the impact of Hurricane Isaac on offshore operations in the Gulf of Mexico. Analysts had expected production to rise 2%.
Total revenue amounted to $115.43 billion, a decrease of 8.4% from the third quarter of 2011. Diluted earnings per share were 114 cents, compared with 112 cents the previous year.
Shell raised its dividend one cent to 43 cents a share.
Generated by readers, the comments included herein do not reflect the views and opinions of Rigzone. All comments are subject to editorial review. Off-topic, inappropriate or insulting comments will be removed.