Siemens Prepping Workers for Future US Manufacturing Surge
by Karen Boman
|
Rigzone Staff
|
Wednesday, October 31, 2012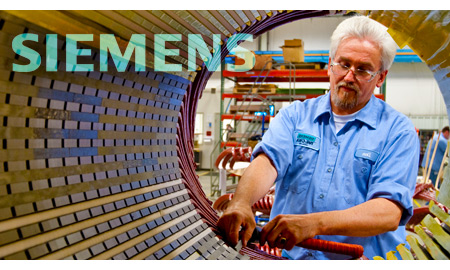 In recent debates preceding next month's U.S. presidential election, President Barack Obama and Republican presidential contender Mitt Romney have both pitched plans to revive the U.S. economy through the creation of high-tech, high-paying technical jobs.
While significant demand exists in the United States for highly-skilled manufacturing jobs, attracting employees to fill its existing and future workforce presents a challenge for Siemens as it seeks employees with skills in science, technology, engineering and math (STEM), said Doug Keith, president of Siemens Corporation's Drive Technology Division, in an interview with Rigzone.
Workers with STEM skill sets are needed to fill Siemens' power engineering positions; these jobs tend to stay open the longest due to availability of suitable candidates, Keith said. Power engineering is a subfield of energy engineering that deals with the generation, transmission and distribution of electric power and electrical devices such as motors. These motors are used to power energy infrastructure from drilling rigs to pipelines and downstream equipment.
The types of manufacturing jobs for which Siemens is hiring across its energy, health care and other divisions calls for employees with the skills to work in Siemens' automated facilities with the latest in manufacturing automation.
"We're very interested in improving productivity and efficiency for our customers by driving automation in our factories," commented Keith. "We build machines but want to bring in machines into our own factories that are faster and more precise but require more of the people we're trying to hire."
While Siemens has programs that target the training of our own employees, the company has a number of initiatives underway to help shape the future U.S. workforce, from encouraging elementary and high school students to consider careers in science to recruiting recent college graduates and retraining the existing workforce.
Getting Kids Interested in Science and Technology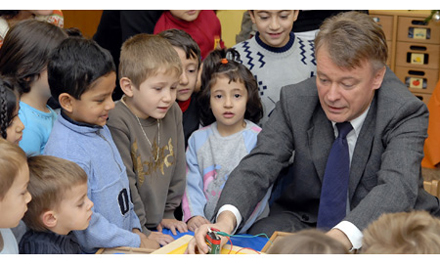 A Siemens' employee conducts a classroom science experiment
These initiatives include the Siemens Science Day program – organized by the Siemens Foundation – company employees can go into local classrooms to conduct science demonstrations with kits designed and provided by Siemens. For example, an experiment could involve showing how a photovoltaic cell would work.
The Siemens Science Day is targeted for kids from kindergarten through the 12th grade. Another Siemens program, We Can Change the World, encourages students from kindergarten through the 12th grade to develop green initiatives to make changes in their communities.
Siemens also helps STEM educators stir up elementary and high school kids' interest in science and math with its STEM Academy. Each year, the company invites 50 educators from across the country for a gathering in Washington D.C. to take part in the program. In the academy, teachers are shown teaching techniques and ideas to get kids interested in science, said Keith.
To stimulate interest in science, math and engineering among high school students, Siemens co-sponsors a nationwide science competition through partnerships with seven universities such as Georgia Tech, Notre Dame, Pennsylvania State University and the Massachusetts Institute of Technology. High school students can win $10,000-$100,000 in prizes in the multi-stage competition.
Siemens has also established a program in which scholarships are awarded to students in each U.S. state with top scores on the Advanced Placement math and science exams. Additionally, the Siemens' merit scholarship program recognizes students whose parents are full-time employees of Siemens business divisions.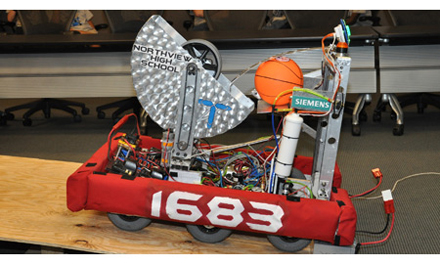 A project from a Siemens-sponsored high school science competition
Influencing U.S. schoolchildren's interest in science is the most fun, said Keith.
"It's great to see their eyes light up, and how that might influence their decision to one day pursue a career in science."
At the university level, Siemens is also actively partnering with universities to influence the future STEM workforce, from Siemens' experts helping college design curriculum for STEM fields to hosting seminars on campus and recruiting students as interns at Siemens' operations across the country.
Siemens is also involved in regional programs, including a program with Georgia's Department of Education, to help design workforce training curriculum for manufacturing jobs. The idea is to generate interest among high school students in manufacturing through tours of plant facilities.
"Our goal is to identify talent as early as possible and build partnerships with students," said Keith. "We try and establish relationships with high school and university students so they hopefully will become in terns in our training programs across the country."
Once college students join Siemens, they go through a two-year training program that involves four six-month rotations to gain broad experience in the company, said Keith. The Engineer in Training program provides interns with hands-on experience working in various business segments, including cross-functional assignments in various business segments. The program's intent is to accelerate careers and learning and to develop the next leaders of the company, said Keith.
To help meet its more immediate workforce needs, Siemens has also partnered with a number of community colleges around the country to facilitate retraining of the existing workforce. Siemens efforts to partner with community colleges around the United States to develop workers was highlighted in President Obama's January 2012 State of the Union address, in which Obama recognized Siemens' program with a Charlotte, N.C. community college.
In North Carolina, Siemens partnered with Central Piedmont Community College to design college courses in laser and robotics training in order to train workers for its gas turbine factory in Charlotte, N.C. http://www.whitehouse.gov/the-press-office/2012/01/24/remarks-president-state-union-address
Through these efforts, Siemens hopes to address the need for more power engineers. More students in universities today tend to focus on microelectronics and electrical engineering courses, said Keith.
The lack of STEM-skilled workers capable of working in manufacturing dates back to the 1990s through the early part of this decade, when manufacturing was not considered attractive by college students, Keith noted. So with a potential manufacturing renaissance on the rise thanks to abundant shale gas, manufacturing companies must seek to stimulate interest in younger Americans going into manufacturing "sooner rather than later".
The types of jobs for which Siemens is hiring require advanced training. Keith noted that seven out of 10 open positions at the company require a bachelor's degree, and half of the open positions require engineering skills. Of the potential pool of workers that apply for jobs, only 10 percent pass the screening process in terms of meeting skill requirements for jobs, said Keith.
Additionally, eight out of 10 positions at Siemens require an associates' degree or higher. Siemens offers tuition reimbursement to workers with a two-year degree so they can complete their bachelor's degrees, Keith said.
Besides the abundant supply of U.S. natural gas, other factors that could drive a potential surge in U.S. manufacturing activity include the higher cost of shipping today versus two years ago, labor cost inflation in China and the valuation of the U.S. dollar versus other currencies, Keith said.
Siemens is also seeking to hire U.S. military veterans to meet its current staffing needs. Siemens is hiring veterans to fill field service roles as well as technicians and specialist roles. Keith said veterans many times have experience operating technical machinery and working under tight deadlines.
The company has actively sought to hire veterans. Siemens President and CEO Eric Spiegel announced last year that 10 percent of all the company's open positions would be filled by veterans.
The company "way overachieved" its 2011 goal by hiring 630 veterans last year. Siemens already has met its goal this year of hiring 300 additional veterans this year, Keith said.
Click here to read about Siemens' historic plant producing motors to power latest O&G technology
Generated by readers, the comments included herein do not reflect the views and opinions of Rigzone. All comments are subject to editorial review. Off-topic, inappropriate or insulting comments will be removed.