Siemens' Historic Plant Producing Motors to Power Latest O&G Technology
by Karen Boman
|
Rigzone Staff
|
Wednesday, October 31, 2012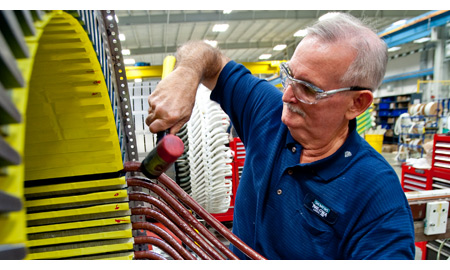 Caption: Siemens employee winding a motor stator
The future workers that Siemens Corporation is seeking to recruit will be needed throughout its U.S.-based operations, including its U.S. manufacturing facilities such as the historic Norwood motor plant outside of Cincinnati, Ohio. Skilled workers will be needed throughout the company's manufacturing operations, including manual laborers who are trained to assemble portions of the motors by hand.
Since it opened in 1898, the Norwood plant has produced 150,000 motors. Siemens subsidiary Siemens-Allis acquired the Norwood plant in 1977, Three years ago, the company invested approximately $35 million to upgrade the Norwood facility to include a testing facility for the motors.
Today, 2,000 motors per year are manufactured at the facility; 35 percent of the motors produced in the factory are manufactured for use in the oil and gas industry. A wide range of motors are manufactured at the Norwood facility, ranging in size from 300 horsepower (hp) to 18,000 hp.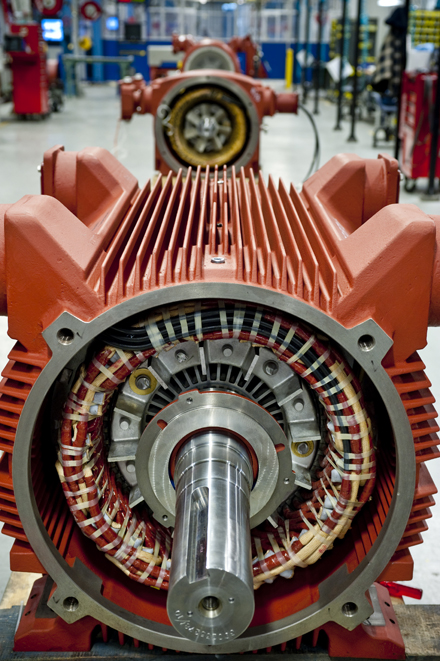 An example of a motor produced at the Norwood facility
The motors are built to meet American Petroleum Institute specifications and ANSI standards, and are tested at the facility under the same conditions in which the motors would be operating in the field. Customers can even be present in the facility for testing, said Keith.
Siemens offers a full line of global drives, from mini to medium voltage drives and motors with up to 100,000 hp capacity, that are manufactured at its U.S.-based and global plants. The company supplies motors in a range of sizes for use not only for the oil and gas industry, but the mining, cement, power generation, metals, marine, water and chemical businesses.
Siemens sees the midstream and liquefied natural gas (LNG) markets as sweet spots for its product offerings on both the oil and natural gas side. The LNG market for Siemens' product is expected to grow as exploration of the Arctic, where large quantities of natural gas are believed to exist.
In addition, Siemens' motors are also used in offshore jackup rigs, drilling platforms, subsea equipment and for compressor pump applications for floating production storage and offloading vessels. Siemens motors and drives are also being used in onshore pipelines, gas-to-liquids projects and refining facilities in the United States and internationally.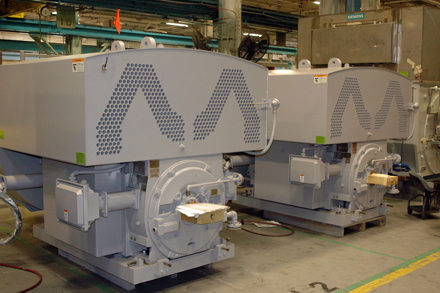 Horizontal motors for offshore oil and gas industry use
Though it is a German company, Siemens is very much a U.S.-focused company with 60,000 employees in the United States. Siemens is bullish on its U.S.-based operations, particularly as the unconventional oil and gas boom has created demand for new pipeline infrastructure.
"We have a lot of shale plays in areas where you don't have much infrastructure," said Peter Hoglund, head of Siemens' oil and gas operations.
Plans underway to convert existing U.S. LNG import facilities into export facilities to send shale gas overseas also gives Siemens cause to be optimistic about its North American operations outlook.
"We've obviously reviewed global economic indicators and we see challenges in China and some mining challenges on a global basis, but in general we're very bullish on what we're seeing," said Hoglund.
Siemens will also launch in the United States an integrated drive systems process to allow its customers a more simplified way of doing business around drive train systems that will also save them time and money, said Keith during a tour of the Norwood factory last month.
The new process came out of Siemens' conversations with its customers and the challenges of managing multiple vendors for multiple components that are part of the drive train, including sifting through service agreements and warranties and overseeing implementation of services. These challenges stem from the complex nature of oil and gas industry projects in terms of engineering, economics and health, safety and environment.
Keith noted that Siemens not only offers a comprehensive range of components related to drive train technology, but the people and expertise to optimize how integrated drive systems work.
"We know why they work, how they work and how to optimize those components with other components of the drive train," Keith commented.
Because of its product offerings and expertise, Siemens can custom-design packages for its clients, said Keith.
"We believe there are opportunities to take out over engineering in systems today because of our experience" in managing drive train systems. The integrated approach will allow Siemens' customers to better manage their drive train components and get better results.
"The more I speak to customers to learn about what our customers do, we see that it's absolutely imperative that this equipment run continuously," said Keith.
This need is particularly critical for motors working in oil and gas operations worldwide in remote operations, adverse environments, extreme climates and limited space.
These conditions require products that are extremely rugged and have a compact, modular design that can maximize use of space. The space constraints of newbuild drillships and semisubmersibles call for innovative design in drive systems that take up smaller space on board rigs.
Generated by readers, the comments included herein do not reflect the views and opinions of Rigzone. All comments are subject to editorial review. Off-topic, inappropriate or insulting comments will be removed.