ASEAN Initiates Code of Conduct Talks for South China Sea Dispute
by Quintella Koh
|
Rigzone Staff
|
Tuesday, October 30, 2012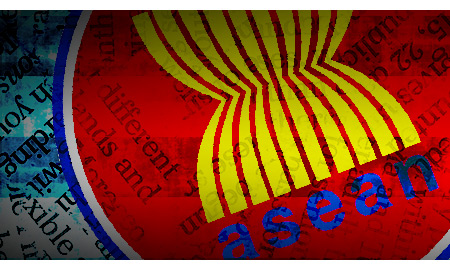 The territorial dispute between the Association of Southeast Asian Nations (ASEAN) and China over the Spratly Islands – which sits on blocks of potentially rich oil and gas resources – could reach some form of amicable resolution by next month as ASEAN countries have started discussions on a code of conduct in the South China Sea.
Indonesia started the initiative last month by circulating among the ASEAN members a draft code of conduct for the South China Sea. Foreign ministers from the respective countries have started meeting each other in bilateral discussion sessions ahead of the ASEAN Summit scheduled to take place in Phnom Penh, Cambodia, next month.
"ASEAN, China, all the others – everyone wants a positive outcome. Everyone understands the need for regional peace and harmony, and I believe we will all work towards that," Singapore's Foreign Minster K. Shanmugam said at a joint press conference after meeting with Indonesian Foreign Minister Marty Natalegawa, the Straits Times reported Oct. 25, 2012.
Senior officials from ASEAN and China are also slated to meet in Thailand this week to discuss about the proposed code of conduct.
Battle for Energy Resources in the "Second Gulf"
The Spratly Islands, a collection of rocky islands, sits at the heart of a six-nation row exceeding its diminutive statue.
The area is widely believed to contain massive oil and gas resources and has consequently drawn strong interest from the bordering states of Brunei, China, Vietnam, the Philippines, Taiwan and Malaysia. Estimates for proven and undiscovered oil resources in the entire sea – known as the South China Sea by China and the West Philippine Sea by the Philippines – range from 28 billion to 213 billion barrels of oil, the U.S. Energy Information Administration (EIA) said in a March 2008 report. This surpasses every country's proven oil reserves, except that of Saudi Arabia and Venezuela. Chinese state media have even gone as far as terming the South China Sea as "the second Persian Gulf."
Given its growing thirst for energy, China has long claimed the South China Sea as its territorial waters. Citing a series of historical claims dating back to the Han and Ming dynasties, China in 2009 submitted to the United Nations (UN) a "nine-dash line map" which documents nearly the entire South China Sea – including the Spratly Islands – as its territory. This plan was contested by the Philippines at the UN.
The continued disagreement – most noticeably between China, the Philippines and Vietnam – had led to fierce clashes between the three countries. Several of these confrontations have involved shots fired by Chinese patrol vessels and accusations by Vietnam that Chinese forces have twice severed exploration undersea cables in a disputed area that lies 75 miles (120 kilometers) off the coast of Vietnam and 373 miles (600 kilometers) off the coast of China's Hainan province.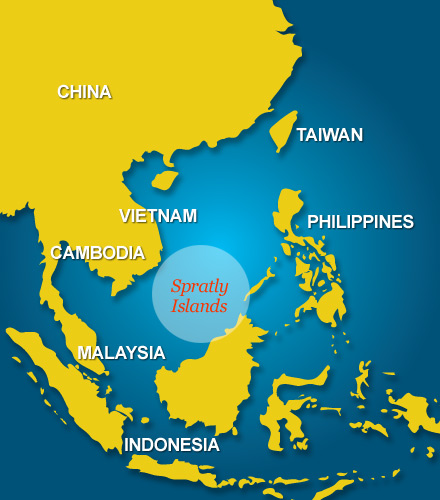 Relations between the three countries plummeted to a new low this year when state-backed China National Offshore Oil Corporation (CNOOC) announced June 25 that it would open nine offshore blocks in the South China Sea for joint cooperation with foreign companies, all of which Vietnam lays claim to as well. Vietnam issued a public statement June 30, that "condemns" CNOOC's action. China subsequently responded July 1 with a concerted deployment of four combat-ready patrol ships in the disputed area.
No oil and gas exploration companies have responded publicly to CNOOC's offer given the high level of tension between rival claimants, especially when Beijing has openly demonstrated that it is not adverse to using force to defend what it sees as national rights.
Between the ASEAN members, opinions on the territorial dispute surrounding the South China Sea were so divided that for the first time in 45 years, the association failed to issue its customary joint statement at the end of the ASEAN Ministerial Meeting held in Cambodia July 9.
The diplomatic failure resulted as the summit's chair, Cambodia, refused to include several paragraphs in the draft statement that highlighted recent run-ins at the Scarborough Shoal, which is part of the Spratlys. The Philippines and Vietnam rallied their regional neighbors to push for those inclusions which referenced incidents involving their ships and Chinese vessels, but Cambodia argued that such mention of bilateral disputes was not appropriate for the communiqué.
The Role of the U.S. in the Spratly Islands Dispute
Both the Philippines and Vietnam have used their growing ties with the United States – Asia Pacific's guarantor of security – as leverage against China's increasing assertiveness in the South China Sea.
In June earlier this year, during a tour of the deep water port of Cam Ranh Bay, Vietnam - a key U.S. base in the Vietnam War - U.S. Defense Secretary Leon Panetta said the harbor will be important to the Pentagon as it moved more ships into Asia.
In addition, the Philippines announced July 6 it could place a request to the United States to deploy US P3C Orion spy planes over the South China Sea.
Presidential Obama's Republican rival Mitt Romney demonstrated his support for the Philippines by citing in his election campaign website that the United States "should be assisting Pacific nations to enhance maritime domain awareness, i.e. the ability to employ radar and other detection networks to monitor aggressive behavior in disputed waters."
Romney's comments prompted a curt response from China, which through its spokesperson Hong Lei told the United States Sept.1, to "stop making groundless accusations against China and interfering in China's internal affairs and promote China-U.S. mutual trust and cooperation in a responsible manner."
Looking Ahead to 2013
Industry watchers have proposed several solutions that could help China and the ASEAN members move onto a path of greater understanding and perhaps even cooperation. A working paper presented by a visiting senior research fellow at the East Asian Research Institute of the National University of Singapore, Zhao Hong, suggests that China and ASEAN can explore avenues on energy cooperation through embarking on joint research.
"It is possible that through energy project cooperation, the most immediate obstacles posed by sovereignty in the South China Sea may be side-stepped or shelved," Zhao wrote.
In his analysis of the developments of the South China Sea dispute, Dr. Euan Graham, a senior fellow in the S. Rajaratnam School of International Studies views ASEAN attempt to reconcile their differences as the right step forward.
"Joint development is an oft-repeated mantra that has failed to deliver where territory is disputed in the South China Sea, because of the political difficulties involved in resolving sovereignty amongst 6 separate claimants," Graham told Rigzone in an interview.
"But if the ASEAN claimants could at least reach agreement on each other's claims, that would simplify the more pressing requirement - for them - of arriving at a common position vis-a-vis China (and Taiwan)," Graham added.
Generated by readers, the comments included herein do not reflect the views and opinions of Rigzone. All comments are subject to editorial review. Off-topic, inappropriate or insulting comments will be removed.
RELATED COMPANIES