API: EPA Pavilion Analysis Not Scientific, Sound
by Karen Boman
|
Rigzone Staff
|
Thursday, October 18, 2012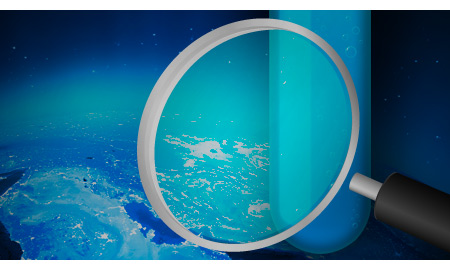 The U.S. Geological Survey (USGS) did a better job conducting water quality testing in two monitoring wells at EnCana's Pavilion natural gas field in Wyoming, while the U.S. Environmental Protection Agency's (EPA) gathering and analysis of data from its two wells did not involve "scientific and sound" methods, according to the American Petroleum Institute (API).
In December 2011, the EPA released a draft report that indicated that groundwater near the town of Pavilion could contain hydraulic fracturing fluids. EPA in September 2008 began investigating the groundwater near Pavilion after some local residents reported changes in well water taste and odor following hydraulic fracturing activity at nearby gas production wells.
The controversy generated by that report prompted the State of Wyoming, in coordination with the EPA, to request the U.S. Geological Survey (USGS) to conduct sampling of water from the two monitoring wells drilled by the EPA. USGS late last month released two reports related to groundwater quality, quality control and well yield data for EPA's two monitoring wells near Pavilion.
"In summary, the most significant key finding of the USGS investigation at Pavilion is that most of the key indicator compounds that the EPA claims show a possible link between hydraulic fracturing and supposed groundwater contamination were not found in the USGS samples, and thus the USGS results are inconsistent with EPA's results of 2011," said API is its review of the recent USGS Pavilion Wyoming reports.
API is not asking EPA to stop its nationwide study of the impact of hydraulic fracturing on U.S. drinking water supplies. However, API is asking EPA to utilize scientific, proven practices in its well construction, sampling and analysis, said Upstream Director Erik Milito during a conference call with reporters Thursday.
"If you continue down a sloppy path you'll get sloppy results," Milito commented.
Milito also refuted the EPA's claim that its findings were consistent with the USGS study results.
USGS' data sampling was better than the EPA's in that it chose not to test samples from one of the EPA monitoring wells because the well could not provide a representative sample due to low-flow characteristics, said Milito. In the well from which USGS did draw samples, it found the samples did not contain several compounds of interest previously identified by the EPA.
In addition, while EPA has yet to acknowledge this, hydrocarbons are naturally occurring and have historically been detected in groundwater in the Pavilion area, said Milito. It is not unexpected to find hydrocarbons in groundwater in a hydrocarbon-bearing formation.
"We would advocate EPA abandon these wells and move forward with their study using proven scientific peer-reviewed processes involving properly constructed wells," Milito commented.
Milito said the "apparent EPA failure" to follow sound scientific practices at Pavilion also raise concerns about the testing EPA is now doing in its national study on the potential impacts of hydraulic fracturing on drinking water resources.
A study conducted by Battelle, on behalf of API and America's Natural Gas Alliance found that more collaboration between the oil and gas industry and the EPA could enhance EPA's national study of hydraulic fracturing's impact on drinking water.
The Battelle study found deficiencies in API's study in terms of rigor, funding, focus and stakeholder inclusiveness of EPA's study plan.
API has reached out to the EPA to work with the agency on well construction design, Milito said, noting that the industry group has experts available to collaborate with EPA on well construction. However, API has encountered quite a bit of resistance to cooperative efforts between API and the agency.
As a result, API has conducted its own independent analysis of issues such as hydraulic fracturing and drinking water. Milito said API would continue to work with Battelle and other third party consultants to ensure it was using accurate data in its analysis.
He noted that U.S. states are best-suited for monitoring hydraulic fracturing activity – which Milito said EPA Administrator Lisa Jackson acknowledged -- and that oil and gas companies are committed to protecting U.S. public health and managing water resources.
"The Pavilion analysis is critically important because EPA – as part of its separate nationwide study into potential drinking water impacts – is also drilling monitoring wells and collecting and analyzing samples in other places," Milito commented.
"If EPA thinks its investigation at Pavilion has produced scientifically useful information, then it may proceed in the same inexpert way at other testing sites, assume it is getting useful information, and employ that information to justify changes in public policy," Milito added.
While USGS' work has raised the bar for sound science in the EPA's Pavilion research, some key technical issues still remain, requiring review and consideration by the USGS, EPA and the scientific community. Based on the USGS report and backup USGS sampling documents, EPA was onsite and may have influenced the USGS sampling effort.
"For example, USGS field notes collected during the sampling of MW-01 indicate not all samples were collected as planned by the USGS due to the EPA limiting access and time for full USGS sample collection," API noted in its review.
Pavilion field-operator EnCana late last month weighed in its own analysis of the USGS and EPA reports, saying the USGS results showed no evidence that hydraulic fracturing had impacted groundwater at Pavilion, and that EPA had provided no sound scientific evidence that drilling has impacted domestic drinking water wells in the area.
The EPA has warned local residents not to drink groundwater near Pavilion. However, EPA has based its warning in part on the presence of low levels of methane, despite the fact that they are well below any state or federal "Action Level" related to the danger of explosion, said EnCana spokesperson Doug Hock in an email statement to Rigzone.
While EPA tests of domestic wells found that over 60 domestic well sampling results exceeded the palatability criteria for sulfate and Total Dissolved Liquids, these tests found no oil and gas constituents had exceeded drinking water standards.
Hock said the sulfate and Total Dissolved Solids are naturally occurring and high levels in the groundwater have been documented by USGS and others in studies going back over 60 years. These tests also found that Diesel Range Organics concentrations were in parts per billion and unrelated to naturally occurring fossil fuels.
EnCana in August 2010 did agree to provide water to residents impacted by hydraulic fracturing on a short-term basis until the issues regarding palatability of their water could be resolved, said Hock.
The company currently provides drinking water to about 20 households in the area as a goodwill gesture until issues regarding the palatability of their water could be resolved, Hock noted.
"So again, the issue was the palataibility of the water, not the presence of oil and gas constituents."
Environmentalist groups such as the Natural Resources Defense Council have called for more regulations to be put in place governing hydraulic fracturing, saying the practice results in contaminated water supplies.
In its Pavilion gas study the EPA had said it used stainless steel casing for monitoring well No. 2, when it actually used carbon steel for the casing. The Wyoming Department of Environmental Quality (DEQ) made the discovery when it sent a downhole camera into monitoring well No. 2; this occurred when EPA released its Pavilion report in December 2011.
At a public hearing Oct. 10 in Riverton, Wyo., DEQ reported it had found corrosion in the well's interior and mineral accumulations within the well. The corrosion and accumulations suggest the well casing was not stainless steel, but possibly carbon steel. The blank casing was confirmed by the EPA to be high strength carbon steel, DEQ noted.

The video taken by DEQ suggested that monitoring well No. 2 was completed to a depth deeper than reported by the EPA. The USGS confirmed this finding, DEQ reported in its presentation.
"Due to the depth discrepancy of the completed well, it appears the screened interval of the monitoring well was completed within the drill cuttings and drill mud used to fill the open hole," according to the DEQ presentation.
Simon Lomax, research director of Energy in Depth, a research, education and public outreach campaign launched by the Independent Petroleum Association of America, noted that the use of carbon steel goes against EPA's own handbook of suggested practices for the design and installation of groundwater wells.
"The presence of corrosion products represents a high potential for the alteration of groundwater sample chemical quality," Lomax quoted the EPA handbook. "The surfaces on which corrosion occurs also present potential sites for a variety of chemical reactions and adsorption. These surface interactions can cause significant changes in dissolved metal or organic compounds in groundwater samples…"
"On the basis of these observations, the use of carbon steel, low-carbon steel and galvanized steel in monitoring well construction is not considered prudent in most natural geochemical environments. Conversely, stainless steel performs well in most corrosive environments, particularly under oxidizing conditions," Lomax noted.
Generated by readers, the comments included herein do not reflect the views and opinions of Rigzone. All comments are subject to editorial review. Off-topic, inappropriate or insulting comments will be removed.
RELATED COMPANIES