Romney, Obama Argue Energy Policy in Economic Revival
by Karen Boman
|
Rigzone Staff
|
Wednesday, October 17, 2012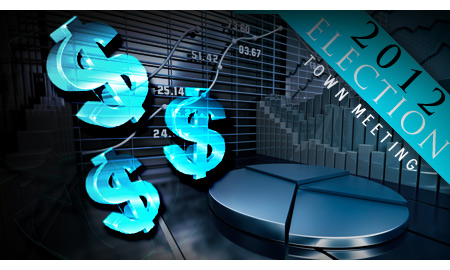 Republican presidential candidate Mitt Romney and President Barack Obama exchanged jabs in the Oct. 16 presidential debate over which candidate had a true 'all-of-the-above' energy policy and which was the best solution for future U.S. job growth.
President Obama raised the topic of energy as part of his plan to help revitalize the U.S. economic outlook, saying that U.S. control of all its energy resources was critical in his plan for creating job opportunities for college graduates entering the workforce and older, unemployed workers.
"We've got to make sure we're building the energy source of the future, not just thinking about next year, but 10 years from now, 20 years from now. That's why we've invested in solar and wind and biofuels, energy efficient cars," Obama said, pointing to the thousands of manufacturing jobs in the U.S. wind industry.
Former Massachusetts governor Romney argued his plan to make the United States energy independent through more exploratory drilling and production onshore and offshore and approval of the Keystone XL pipeline project would help create more U.S. manufacturing jobs.
"Because our energy is low cost, they are already beginning to come back because of our abundant energy," Romney explained, noting that his aggressive energy policy would add 3.5 million more jobs in the United States.
Obama told the audience at Tuesday's debate that U.S. oil production is at the highest level seen in 16 years and natural gas production is the highest it's been in decades. U.S. coal production and employment also have increased.
However, Romney countered that the increased production had occurred in spite of the Obama administration's policies, noting that oil production on federal land is down 14 percent this year and natural gas production on federal land is down 9 percent for 2012. He attributed the production decline on federal lands to Obama cutting half the number of licenses and permits for drilling on federal lands and in federal waters.
Much of the increased production came from the Bakken unconventional oil play in North Dakota, Romney noted. Instead of encouraging development of the Bakken, the administration has brought a criminal action against drillers under the migratory bird act because 20 to 25 birds were killed.
"I want to make sure we use our oil, our coal, our gas, our nuclear, our renewables," Romney said during the debate, in which both candidates repeatedly cut each other off and cut off moderate Candy Crowley to argue points.
"I believe very much in our renewable capabilities; ethanol, wind and solar will be an important part of our energy mix."
"But what we don't need is a president keeping us from taking advantage of oil, coal and gas," said Romney. "This has not been Mr. Oil, or Mr. Gas or Mr. Coal," noting the difficulty in getting new coal plants constructed in the United States and the number of coal jobs lost.
Obama attacked Romney's all-of-the-above energy plan as a plan "to let the oil companies write the energy policies", noting that the United States needs to invest in clean energy technologies as a way to create future jobs.
At one point in the debate, Romney asked Obama how much federal land he had placed off limits for exploration and production during his time in office, Obama argued that the administration had taken away federal leases held by oil companies who were not drilling them.
"And we are now reletting them so that we can actually make a profit," Obama noted.
Obama argued that his administration has opened up more public lands for drilling, with more drilling on public lands than in the previous administration under George W. Bush. He also noted that, as governor of Massachusetts, Romney "took great pride" in shutting down a coal plant.
"With respect to something like coal, we made the largest investment in clean coal technology, to make sure that even as we're producing more coal, we're producing it cleaner and smarter," said Obama. "Same thing with oil, same thing with natural gas."
The president commented that the United States is using oil more efficiently, with oil imports down to the lowest levels seen in 20 years.
Romney argued that the rise in gasoline and electricity prices since Obama took office four years ago is proof that the president's energy strategy is not working. Obama attributed the lower energy prices in 2008 versus today to the United States being on the verge of an economic recession when he took office four years ago.
During the debate, the two candidates fielded questions from 82 undecided New York voters during the town hall debate at Hofstra University in Hempstead, N.Y. Romney and Obama also attacked each other on issues such as personal investments such as Romney's business investments in China.
The undecided voters asked questions of the candidates on a range of topics, from gun control to immigration to equal opportunities for women in the modern workplace. However, the state of the U.S. economy was a top concern, with one college student asking both candidates what they would do to ensure that jobs would be available when he graduates in 2014.
In addition to making college more affordable, Romney said his five-point plan would create 12 million new jobs in four years and raise U.S. worker take home pay. He also said he would seek to make the United States a more attractive environment for creating jobs by lowering the corporate tax rate and holding China accountable for creating an unfair playing field by the Chinese government artificially holding down the value of its currency and stealing proprietary technology.
Noting that 23 million people are still struggling to find work in the United States – and many have been out of a job for a long time – Romney said that fewer people working today that when President Obama took office.
President Obama said he would seek to create more manufacturing jobs, make more student loans available for younger American and expand the number of community college programs available to retrain workers as part of his plan to bright the U.S. outlook.
He asserted that Romney's five-point plan is really a one-point plan that will ensure wealthier Americans pay fewer taxes.
"That's been his philosophy in the private sector, that's been his philosophy as governor, that's been his philosophy as a presidential candidate."
Generated by readers, the comments included herein do not reflect the views and opinions of Rigzone. All comments are subject to editorial review. Off-topic, inappropriate or insulting comments will be removed.