Biden, Ryan Clash on Economy, Job Growth
|
Friday, October 12, 2012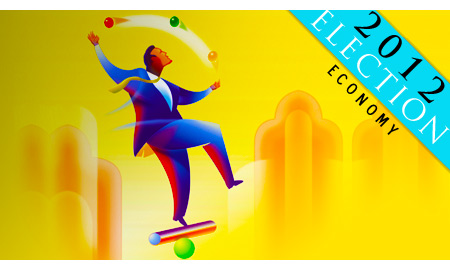 Vice President Joe Biden and Republican vice presidential nominee Paul Ryan exchanged fire over several hot-button topics during their Oct. 11 debate. When the focus shifted to state of our economy, both agreed that the number one issue here in the United States is jobs.
Debate moderator Martha Raddatz acknowledged that unemployment numbers in the U.S. recently fell below 8 percent for the first time in 43 months. However, the Obama Administration projected that it would fall below 6 percent after the addition of close to a trillion dollars in stimulus money. She asked Biden if this goal was still possible and, if so, when will it happen.
"I don't know how long it will take, but we can and will get it under 6 percent," Biden said. "When we came to office the economy was in free-fall; a great recession hit. Nine million people had lost their jobs, representing $1.6 trillion in wealth lost from retirement accounts and home equity. We knew we had to act; we immediately went out and rescued general motors and we cut taxes for the middle class.
"…Instead of signing pledges to not to ask the wealthiest among us not to contribute to bring back the middle class, [Romney] should be offering to level the playing field with the middle class."
Ryan countered Biden's position on unemployment by zeroing in on Biden's home town of Scranton, Pennsylvania, which had an unemployment rate of 8.5 percent when the Obama Administration took office; today, it's up to 10 percent.
"And that's the way it's going all around America," Ryan said. "Did they inherit a tough situation? Absolutely. But we're going in the wrong direction. The economy is limping along, growing at 1.3 percent. Job growth in September was slower than August and August was slower than July. Fifteen percent of Americans are living in poverty and 23 million are struggling to find work. This is not what a real recovery looks like."
The Romney/Ryan version of recovery hinges on a five-point plan: getting North America energy independent by the end of the decade; helping people who are hurting get the skills they need to get the jobs they want; getting the nation's debt under control; championing small businesses; and, making trade work so we can make more things in America.
"Mitt Romney cares about 100 percent of Americans in this country…We believe in mobility and opportunity and that's what we're going to push in a Romney administration."
While Biden acknowledged that Romney could be generous on a personal level, he continued to hammer the candidate's response to the automotive industry when it was on the brink.
"We saved a million jobs. About 200,000 people are working today and we've got 5.2 million new private-sector jobs going." During closing statements, Biden stressed the need for the middle class "to get an even shot. Whenever you've leveled the playing field, they—the people who have built this country—have been able to move."
Ryan opted to circle back to the five-point plan as the way to grow the economy faster.
"It's what our five- point plan for a stronger middle class is all about. It's about getting 12 million jobs, higher take-home pay, getting people out of poverty and into the middle class. That means going with proven, pro-growth policies that we know work to get people back to work.
"We face a very big choice. What kind of country are we going to be? What kind of country are we going to give our kids? President Obama had his chance. His economic agenda, more spending, more borrowing, higher taxes, a government takeover of health care--it's not working. It's just failed to create the jobs we need."
Generated by readers, the comments included herein do not reflect the views and opinions of Rigzone. All comments are subject to editorial review. Off-topic, inappropriate or insulting comments will be removed.