ExxonMobil: Australia Needs to Push Unconventional Energy Sources
by Dow Jones Newswires
|
Robb M. Stewart
|
Thursday, October 11, 2012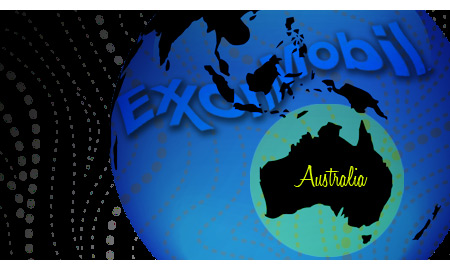 MELBOURNE - Exxon Mobil Corp.'s Australia chairman said Thursday that the country must take advantage of unconventional fuel production methods if it is to meet its energy needs and benefit from growing demand in Asia, calling for reason to triumph over emotion in a debate over the environmental impact of new techniques.
"In Australia, unconventionals bring the petroleum industry from our traditional, usually remote, hunting grounds into communities and on to farms," John Dashwood said in a speech in Melbourne. "You can understand why that might raise anxieties."
But with an "entourage of interest groups" stirring up community anxiety, the quality of the public debate on coal-seam and shale-gas exploration must be raised, he said.
"We have to start supporting and listening to our experts and replace baseless assumptions with the facts in our public policy debates," he told a business luncheon.
Mr. Dashwood said emotional campaigns against hydraulic fracturing, or fracking--a technique in which a mixture of water and chemicals is injected under pressure undergound to fracture hard oil- or gas-bearing formations to release hydrocarbons--stir up fears of catastrophes and encourage politicians to halt development and call for enquiries. However, industry engineers and geoscientists have a deep understanding of the technical intricacies of each oil and gas development and go to great lengths to mitigate risks, he said.
There isn't any evidence that coal-seam gas production destroys farmland, contrary to some public assumptions, he said: "The fact is there are countless examples in the U.S. and in Australia where the development of unconventionals and farming coexist."
Nevertheless, some producers haven't helped public confidence by not disclosing additives used in hydraulic fracturing fluids, he said.
Exxon Mobil is working to extend the operating life of its conventional gas fields in the Bass Strait, between Australia's southern Victoria state and the island of Tasmania, and has begun an exploration program for coal-seam gas in the Gippsland Basin east of Melbourne.
Mr. Dashwood said that based on current estimates, demand for gas in Victoria state will outstrip supply early in the next decade. Globally, demand for gas is expected to rise 60% between 2010 and 2040--and by the end of that period, natural gas will account for more than 25% of the world's energy, he said.
If Australia is to become one of the world's largest suppliers of liquefied natural gas on the doorstep of Asia, the energy industry must support transparency in its operations and adhere to robust safety and operating standards, while governments must promote policies that encourage investment and allow technologies to flourish based on their own merits, he said.
Generated by readers, the comments included herein do not reflect the views and opinions of Rigzone. All comments are subject to editorial review. Off-topic, inappropriate or insulting comments will be removed.
RELATED COMPANIES