Rise of Chinese Shipyards in the FPSO Industry
by Quintella Koh
|
Rigzone Staff
|
Thursday, October 11, 2012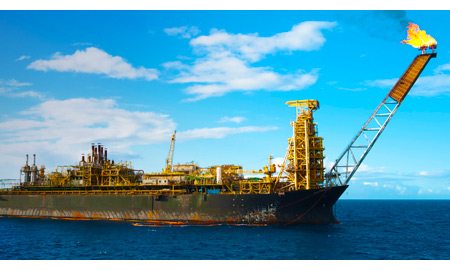 Chinese shipyards are set to take their place in the floating, production, storage and offloading (FPSO) conversion industry in the coming years as the country emerges as an alternative location to the traditional powerhouses Singapore, Malaysia, South Korea and the United Arab Emirates (UAE).
Speaking at the 13th Annual FPSO Congress 2012 that took place in Singapore Sept. 17-20, IHS CERA's Principal Researcher of Cost and Procurement Kelvin Sam said that the two factors powering the Chinese shipyards ahead in the industry are growing engineering capabilities and ample yard capacity.
The Rise of the Chinese Shipyards
In his description of the FPSO conversion industry, Sam said that from 2003 to 2006, FPSO conversions contracts were typically awarded to shipyards in Singapore, Malaysia, South Korea and the UAE. But the competitive landscape underwent a transformation in April 2007 when China's Cosco – which has the largest FPSO conversion share in China – secured a $35 million contract with Japan's Mitsui Ocean Development & Engineering Co. (MODEC) to carry out the hull and marine repair and conversion work of an oil carrier to an FPSO capable of handling 1.6 million barrels of oil per day.
The deal sealed between Cosco and MODEC in April 2007 was a landmark transaction as it is a signal to FPSO industry watchers that China is capable of taking its place as a major FPSO player.
Cosco went on to sign more high-profile contracts with MODEC after 2007.. In May 2009, MODEC awarded Cosco a contract to convert an 18-year-old Very Large Crude Carrier - Sunrise IV - to an FPSO. The conversion contract involves repair and conversion of the vessel to an FPSO including topside integration and commissioning. The FPSO was re-delivered to MODEC around mid-2010 for deployment to Petrobras' Tupi field.
Cosco's latest deal with MODEC inked in Dec. 2011 is to convert one Large Crude Carrier Tanker - Sunrise Jewel – into an FPSO for use in the Cernambi-Sul field offshore Brazil.
Moving up the Capability Curve
The ability to forge long-term alliances with foreign companies is a key strength the Chinese shipyards have when it comes to strengthening their capabilities, according to Sam. He cited the example of the partnership between Cosco and Sinagpore's Sembcorp Marine as a case study.
On July 21, 2004, Sembcorp Marine signed an agreement with Cosco to acquire a 30 percent stake in the Cosco Shipyard Group. The transaction was seen as mutually beneficial to both Sembcorp Marine and Cosco, as it allowed Sembcorp Marine to enlarge its footprint in China and Cosco to gain FPSO conversion know-how.
"And today, the company [Cosco] has acquired a significant number of FPSO customers," Sam acknowledged.
Capacity for New Orders
Data presented at the Congress also shows that there are already signs of a tight supply chain.
"Shipyards in Singapore and South Korea will not be able to take in additional orders as they are already operating close to full capacity," Sam remarked.
Taking example of South Korea's Samsung Heavy Industries, the company is already slated to deliver a record number of drillships this year. In Singapore, Sembcorp Marine and Keppel Corporation are also seeing full order books. At present, Sembcorp Marine has already surpassed its record-high of $4.6 billion (SGD 5.7 billion) worth of orders from fiscal year 2008 - securing $6.5 billion (SGD 8.1 billion) in offshore contracts. Keppel is also blazing towards its $8 billion-record from 2011 with $7.1 billion (SGD 8.9 billion) worth of rig orders to-date. Both of the companies are targeting to end the 2012 fiscal year with $8.8 billion (SGD 11 billion) worth of rig orders apiece.
Chinese shipyards however have room to take on FPSO conversion projects. Sam used Cosco Dalian Shipyard as an example, which has the capacity to accept at least one more FPSO conversion project this year. He also mentioned that Shanghai Waigaoqiao Shipbuilding is keen to move into the FPSO conversion space, even though it is currently involved in only jackup projects until 2013.
The available capacity in Chinese shipyards means that China is a credible alternative location for contractors and buyers who are seeking to diversify the location of their FPSO projects.
"Buyers [will] want their FPSOs in yards other than the traditional ones to prevent overheating and a supply crunch," Sam explained.
The Future for Chinese Shipyards in the FPSO Industry
The data that Sam presented is proof that there are good reasons for Chinese shipyards to continue gaining market share over the next few years given their growing capabilities and ample shipyard capacity. The view of FPSO industry players moving into China can be accurately summed up by a statement made by SBM Offshore in an earnings conference call last year.
"We do have plans to move into China, but in a really controlled way. Not so much to benefit from lower prices, although there is a benefit from lower pricing, but to make sure that we have capacity other than in Singapore and the Middle East," the company said.
Generated by readers, the comments included herein do not reflect the views and opinions of Rigzone. All comments are subject to editorial review. Off-topic, inappropriate or insulting comments will be removed.
RELATED COMPANIES