FPSO Industry Finds Growth in Deep Waters
by Quintella Koh
|
Rigzone Staff
|
Monday, October 08, 2012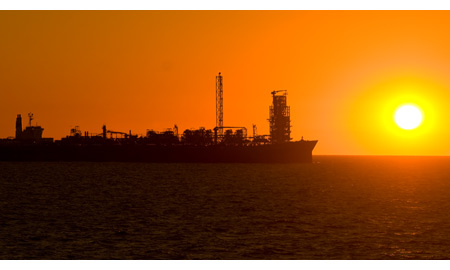 Global oil demand is on the increase while onshore oil production is slowly declining. Hence, oil producers are now naturally looking towards the next most prolific solution: deeper waters.
According to data furnished by SBM Offshore during the 13th Annual FPSO Congress 2012 that took place in Singapore Sept.17-20, offshore production is set to increase from 21 million barrels of oil per day (bopd) to 27 million bopd between 2008 and 2013.
Global FPSO Demand: The Opportunities
"This trend is continuing, which adds up to a lot of new facilities required. The major growth opportunity is in deeper water which guarantees a healthy demand for floating production solutions for quite some time," said SBM Offshore's Director of Proposals & Technology Development Jerry Joynson in a speech made during the Congress.
Joynson pointed out that opportunities will exist for the supply of the largest FPSOs ever built, to operate in the harshest of environments.
"We see, for example in Brazil, tendering for the supply of multiple FPSO hulls, multiple turrets, and multiple of other key equipment occurring," said Joynson.
Several of the high-profile contracts bagged by the Singapore shipyards stand as proof to Joynson's point.
On Aug.7, Singapore's Keppel Corporation firmed up contracts with SeteBrasil for the design and construction of five semisubmersibles for approximately $4.1 billion (SGD 5.1 billion). This is in addition to the contract signed last December in which Keppel O&M – a wholly-owned subsidiary of Keppel Corporation – agreed to deliver one semisubmersible to SeteBrasil.
The semisubmersibles will be built based on Keppel Corporation's proprietary DSS 38E design - rated to drill 32,808 feet (10,000 meters) below the rotary table in water depths of 9,843 feet (3,000 meters). The six semisubmersibles are scheduled for delivery between the end of 2015 and 3Q 2019.
When completed, the rigs will be chartered to Brazilian state-led oil firm Petrobras for 15 years for drilling activities in the pre-salt areas of Southeast Coast of Brazil, offshore Brazil. Three of the rigs will be operated by QueirozGalvãoÓleo e Gás SA, two by Petroserv SA and one by OdebrechtÓleo e Gás SA.
Not to be outdone by its rival, fellow compatriot Sembcorp Marine also bagged a large contract with SeteBrasil. The company secured contracts Aug. 8 for five drillships worth approximately $4 billion from SeteBrasil. This is in addition to the $793 million-contract signed Feb. 6 by Sembcorp Marine, in which the company agreed to design and construct a drillship for Netherlands-based Guarapari Drilling, a subsidiary of SeteBrasil.
All of the six drillships will be built based on the Jurong Espadon design, which is rated to operate in water depths up to 10,000 feet and can reach drilling depths of up to 40,000 feet. The drillships are scheduled for delivery between 2Q 2015 and 2Q 2019. They will be built in Brazil and will also be chartered to Petrobras for 15 years for drilling activities in the pre-salt areas of Southeast Coast of Brazil, offshore Brazil. Three of the drillships will be operated by Odfjell and the other three by Seadrill.
IHS CERA's Principal Researcher of Cost and Procurement Kelvin Sam is mostly in agreement with Joynson.
"The number of FPSOs ordered by oil companies this year should be eleven. This number is quite healthy by historical standards," Sam said.
Tightening Supply
Sam's data presented at the Congress shows that while there are many FPSOs still under construction, there are already signs of a tight supply chain. Traditional shipyards such as Singapore and South Korea will not be able to take in additional orders as they are already operating close to full capacity.
Taking example of South Korea's Samsung Heavy Industries, the company is already slated to deliver a record number of drillships this year.
Singapore, the other traditional shipyard, is also seeing its order books almost full. Sembcorp Marine and Keppel Corporation – the world's two largest drilling-rig builders – are on track to end this fiscal year with over $8 billion (SGD 10 billion) worth of orders each. At present, Sembcorp Marine has already surpassed its record-high of $4.6 billion (SGD 5.7 billion) worth of orders from fiscal year 2008 - securing $6.5 billion (SGD 8.1 billion) in offshore contracts. Keppel Corporation is also blazing towards its $8 billion-record in 2011 with $7.1 billion (SGD 8.9 billion) worth of rig orders to-date.
Both of the companies are targeting to end the 2012 fiscal year with $8.8 billion (SGD 11 billion) worth of rig orders apiece.
Taking a Further View
Over the next few years, FPSOs will move from being a niche product to a mainstream solution of choice in deep water, Joynson said.
He said that units are continually increasing oil production capacity and becoming more complex with the inclusion of not only sea water sulphate removal equipment as almost standard, but also CO2 removal and CO2 re-injection as well.
"This trend will continue as operators try to squeeze as much value as possible from each FPSO that enters service in the major fields," Joynson said.
"Smaller FPSOs will also be found exploiting smaller reservoirs, such as in the North Sea fields that would have previously used a platform are now being developed using an FPSO," Joynson added.
Joynson pointed out that the future could also see FPSOs with quite unique production facilities on board, such as gas-to-liquids, liquefied natural gas (LNG) and other gas capture solutions as an influx of large-scale LNG projects in Australia and Malaysia comes on-stream towards 2020.
"FPSOs will also be used to target hydrocarbons in some of the harshest oceans that will test our skills to their limits – the future is exciting!" Joynson said.
Generated by readers, the comments included herein do not reflect the views and opinions of Rigzone. All comments are subject to editorial review. Off-topic, inappropriate or insulting comments will be removed.