Debate: Candidates Recognize Need for National Energy Policy
|
Thursday, October 04, 2012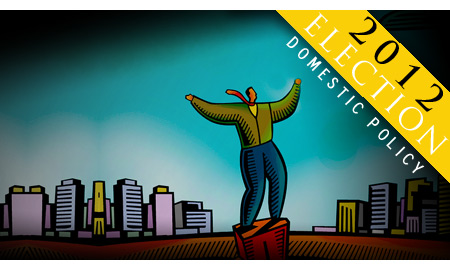 President Obama and Republican presidential candidate Mitt Romney launched the 2012 presidential debates Oct. 3 at the University of Denver by addressing the need for a national energy policy.
"I think it's important for us to develop new sources of energy here in America," Obama said in response to moderator Jim Lehrer's question on how candidates would create new jobs.
Meanwhile, Romney focused on making the United States and North America "energy independent" while creating 4 million jobs.
[The 90-minute debate was divided into segments focusing on the economy, health care, the role of the government and governing.
"While both candidates support more domestic energy, actions must match the words," American Petroleum Institute President Jack Gerard said in a statement following the debate.
While oil and gas production in the United States is up, "all of the increase in natural gas and oil has happened on private land, not on government land," Romney pointed out to Obama during the debate, adding that the Obama administration "has cut the number of permits and licenses in half".
Since the majority of domestic oil comes from state and private lands, states such as North Dakota have fared well in domestic oil production, touting low unemployment and government surpluses.
"The real credit should go to private sector investment, technical innovation by industry, and pro-business state regulatory environments that encourage safe, responsible development. Mr. Obama has virtually no control over these factors and is distorting the truth when he implies otherwise," Tim Wigley, president of Western Energy Alliance, said in a statement.
In addition to job-creation, Obama cited ending tax incentives for the energy sector in the debate.
"The oil industry gets $4 billion a year in corporate welfare. Basically, they get deductions that those small businesses don't get. Does anybody think that ExxonMobil needs some extra money when they are making money every time you go to the pump?" Obama said.
The "Department of Energy has said the tax break for oil companies is $2.8 billion a year," Romney countered, adding that the money from the 100-year treatment goes "largely to small companies" such as drilling operators.
Romney also highlighted that while he too likes green energy, the Obama administration has provided "$90 billion in breaks to the green energy world".
If elected, Romney promised to double the number of permits and licenses issued by the government, and to get "oil from offshore and Alaska [and] bring that pipeline in from Canada".
"The next president must implement a national energy policy and lift existing restrictions on the responsible development of our vast energy resources, approve the Keystone XL pipeline, avoid burdensome regulations that chill economic investment, and resist the urge to regulate the very technologies that have made our energy boom possible," Gerard added.
Generated by readers, the comments included herein do not reflect the views and opinions of Rigzone. All comments are subject to editorial review. Off-topic, inappropriate or insulting comments will be removed.