U.S. Silica 'Well Positioned' to Meet Fracking Sand Demand
|
Thursday, September 27, 2012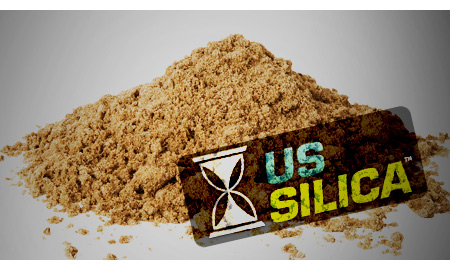 Despite weakness in the U.S. rig count caused by the shift from natural gas to oil/liquids drilling, U.S. Silica CEO Bryan Shinn anticipates demand for the company's sand in hydraulic fracturing to grow by 15 to 20 percent this year, and sees a positive demand outlook for the company's products.
"We're not tied directly to just the rig count in terms of demand and growth," Shinn told Rigzone in a recent interview. "Rigs are getting more efficient, with new rigs capable of drilling more holes."
Longer laterals are also being drilled, with more stages and more proppant per stage being used.
Established over a century ago in Pittsburgh to supply sand for the glass industry, Frederick, Md.-based U.S. Silica mines natural silica sand for use in a number of industrial applications.
"If you look around, you likely see windows and bottles made from our products," said Shinn.
The company also supplies sand products to the construction industry for use in insulation - or shingles - and the wind, solar and geothermal industries.
In recent years, U.S. Silica has seen demand rise significantly for its Northern White fracturing proppant sand and resin-coated sands in the oil and gas industry thanks to an increase in hydraulic fracturing.
In its July 31 second quarter 2012 earnings report, U.S. Silica said its oil and gas proppants segment was the primary driver of year-over-year revenue growth. Its second quarter oil and gas revenues were $54.5 million, up 111 percent compared with the second quarter of 2011.
U.S. Silica sold 685,000 tons of sand into the oil and gas markets for hydraulic fracturing, which produced $33.3 million in contribution for the second quarter, up from 535,000 tons and a contribution margin of $16.7 million in the second quarter of 2011.
Earlier this year, the company announced it would partner with BNSF Railroad to open a transportation facility in San Antonio, Texas to supply fracking sand to the Eagle Ford shale. To date, the company has added eight new transload facilities, and will likely add more facilities in the future, Shinn said.
The company also went public earlier this year as it expands its presence in the oil and gas industry.
"We think we're in the early innings of an energy revolution led by shale oil," said Shinn. "The whole fracking process doesn't work without our products, and we feel good about our long-term growth."
U.S. Silica, the second largest producer of silica in the United States, has an extensive transportation network throughout the country, with the option to ship not only by railroad but by river barge as well, Shinn said.
Shinn does see challenges in finding high quality reserves located near a class one railroad system such as BNSF or Union Pacific Railroad and in a region of the country where a company can get a permit to open a sand mining facility.
"An operation is not cost effective if you can find a plot of land with 50 to 70 million tons of sand and with necessary transportation," said Shinn.
Once an ideal piece of property is located, companies must still go through a two-to-three year permitting process. Shinn said he's seen many mine sites abandoned along the way by folks who got frustrated with the process or were denied a permit after spending several years on seeking a permit.
The company does have an advantage in that it owns over 140 million tons of American Petroleum Institute spec reserves in the ground. Shinn estimates the company will produce around 3 million tons of sand.
"The 40 to 45 year reserves that we own and fully control is the big difference between us and a lot of companies," Shinn said.
Fracking Sand Consumptions Grows Dramatically
John Puckett, a partner in SandBox Logistics LLC, which provides transloading, storage and delivery services for hydraulic fracturing sand, has seen consumption of fracking sand increase dramatically.
"The supply seems to be catching up a little bit with the demand," said Puckett. "We're seeing more mines coming online and seeing a lot of investment in processing plants."
The switch by U.S. producers from dry gas to crude oil and liquids-focused drilling has not impacted the demand for fracking sand, Puckett said. The influx of Chinese ceramic proppants has not had as big of an impact on the U.S. market, since it tends to be more expensive.
The most improvements that could be made in the U.S. proppant market are on the logistics side. A railroad makes the most economic sense due to its vast infrastructure, said Puckett. However, a lack of containers for storing sand is an issue. In some cases, companies are using railcars as storage, which is an expensive option and one with which railroad companies are not happy.
Cost Poses Challenge for Overseas Operations
U.S. Silica's oil and gas business is mainly focused on the United States, with facilities located near the Utica, Marcellus and Bakken plays. The company has been involved in supplying sand for oil and gas operations in South America, but the cost of exporting sand overseas poses a long-term challenge.
To meet long-term business opportunities globally, the company will have to work with customers to develop local sources of sand, Shinn said.
"Operators and service companies are in a wait-and-see mode in terms of the international markets."
However, the company has not had to deal with the heavy competition from Chinese proppant imports that U.S. ceramic proppant suppliers have faced, said Shinn.
Low natural gas prices, volatile natural gas liquids prices and an oversupply of varying quality Chinese proppant continue to weigh on both volumes and pricing for Carbo Ceramics, according to a Barclays Capital Sept. 19 analyst note. Persistent challenges associated with logistical and supply issues due to operators moving from gas to liquids-rich basins exacerbate these headwinds in the near-term, Barclays said.
Oversupply presents the main challenge for the U.S. proppant market, Barclays analyst James C. West told Rigzone.
"As we look towards 2013, we believe that Chinese imports are falling and we expect their impact on the market to abate somewhat by the end of 2012," according to the Sept. 19 Barclays note.
Generated by readers, the comments included herein do not reflect the views and opinions of Rigzone. All comments are subject to editorial review. Off-topic, inappropriate or insulting comments will be removed.