Interview Turn-Offs Can Shut Down Your O&G Job Prospects
by Matthew V. Veazey
|
Rigzone Staff
|
Saturday, September 29, 2012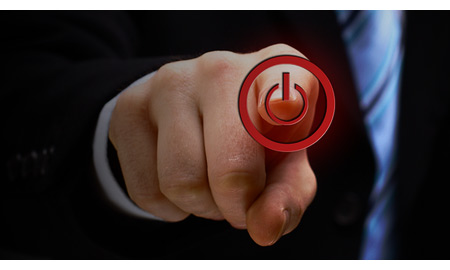 When you begin your search for a position with an oil and gas employer, chances are you have a very small window of opportunity to make a first impression with the individual screening resumes and job applications on its behalf. (A recent Rigzone article discusses this topic in depth.)
If you've been chosen to interview for an opening, congratulations! You've distinguished yourself among perhaps hundreds of people vying for the job. You have reached a stage where you can sell yourself in a manner that a resume or job application cannot capture, and you will have a better forum for influencing someone who will have a role in filling the position. However, you are now competing against a cadre of applicants who have also stood out to the recruiter or employer. The competition has escalated.
Remember that the interview process is another "weeding out" phase to help the employer find the right person for the job. Perform well in an interview and you may get the coveted job offer. Perform poorly and you will likely find yourself again "pounding the pavement," searching through more job listings.
What follows are some tips to help you avoid turning off the interviewer and perhaps make it past this screening phase.
Respect the interviewer's time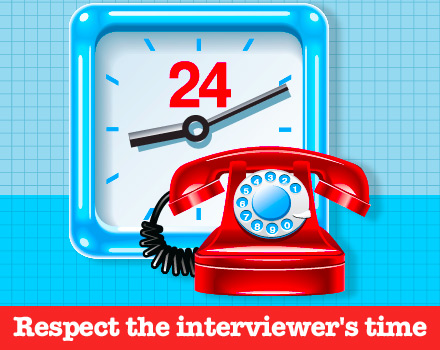 The person conducting the interview has a limited amount of time to meet with each candidate. Be on time for your interview!
Arriving late for your appointment is one of the worst things you can do during this phase, said Fabio Tosca, human resources manager with Cameron in Houston.
Although you may tend be a stickler for being on time, the interviewer will likely interpret your late arrival as a major non-verbal statement about how you would respect the employer's time. Before you've even had a chance to answer the interviewer's first question, showing up late can derail your chances of advancing in the screening process.
If some unforeseen, unavoidable circumstance prevents you from arriving on time, contact the interviewer as soon as possible to advise him or her of your status.
"Tardiness without a courtesy call is a huge faux pas," said Christine Norris, executive search consultant with the Houston recruitment firm Professional Alternatives.
Another way to respect the interviewer's time is to keep your responses concise.
"Candidates should avoid being too lengthy with answers - answer with a yes or no and back up with a great, impactful example," said Norris.
Using time wisely also corresponds to preparation. Tosca reminds candidates to do their homework before an interview, noting that it shows when someone has little knowledge about the company and the desired position.
Norris added that a candidate should pay close attention to pre-interview email communications with a recruiter. Familiarize yourself with any instructions regarding the actual internal interview and follow them.
Interviewers are impressed by candidates who can synthesize their comments and provide a cogent analysis while staying on point, Tosca added. It can be helpful to mentally structure your responses to hypothetical interview questions beforehand. For instance, be prepared to discuss how your background relates to the job responsibilities or to explain how you would act in a given workplace scenario.
Look the part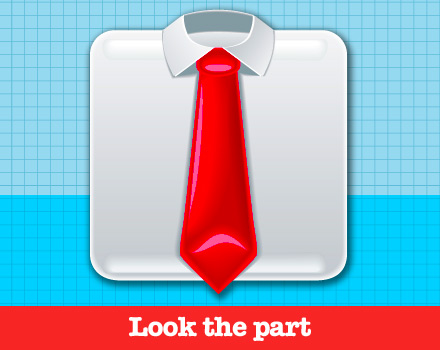 Dressing professionally in business attire for a job interview shows the interviewer that you are serious about competing for the opening. When in doubt, go for the classic and conservative look: a suit in dark colors or earth tones, a starched white button-down shirt, neatly groomed hair and dark shined shoes are mainstays.
Men may opt to wear a tie in colors such as red, blue or gold with a repeating pattern or stripes. Women should avoid wearing flashy jewelry and excessive makeup. Also, wearing overpowering cologne or perfume is an olfactory no-no in an interview. Norris remarked that it is "a big turn-off."
As one fashion-savvy member of the Rigzone staff succinctly puts it, "Your skills should be the 'loudest' thing in the interview."
Use technology to your advantage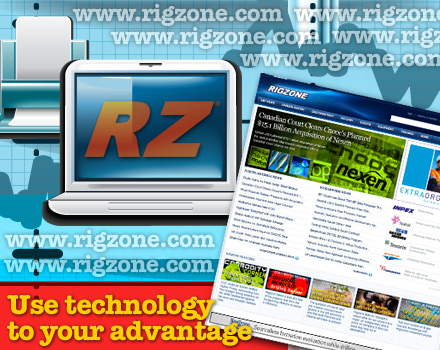 Mobile phones and tablet computers are ubiquitous in today's society, but they should be hidden – and silenced – before and during a job interview. Norris pointed out that text messaging or utilizing a mobile device while waiting for the recruiter conveys a negative image.
The use of technology can work for or against you when the job candidate and interviewer cannot be in the same location. For instance, if you are conducting a telephone interview with your mobile phone, be sure that your device is fully charged and that you are in a location with great reception. Otherwise, it may be a good idea to use a landline.
Unlike a conventional telephone call, a videoconference or the use of an online communication service such as Skype enable the recruiter and candidate to see each other. Just because you can engage in a job interview from familiar surroundings such as your house or apartment, treat the experience as if you were in the same room with the interviewer. In addition to dressing professionally and having a resume on hand when asked about your background, be sure to remove audible and visual distractions from the online encounter.
"Candidates that ask you to hold on, have the TV on loudly in the background, and become distracted with children, the doorbell or another call coming in can't possibly be the professional and prepared candidate that a recruiter would like to represent," Norris explained. "If the candidate will participate in the conversation like this with the recruiter, they will think its fine to execute the conversation with your client like that. No, no, no!"
Pace yourself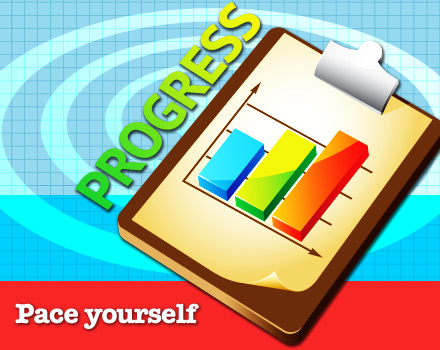 An online interview or a phone call via cellular networks also underscores the need to make allowances for any delays that may occur as messages travel back and forth between participants.
"Be certain to pause when finishing a statement or answer and to not talk over the interviewer," Norris advised. "It's so hard to judge this when not participating in an internal office interview. Wait for the pause, then speak, pause and allow the recruiter to speak. Pay attention and stay in tune."
Also remember to pace yourself in terms of what you say as the interview progresses. For instance, Tosca pointed out that asking for a salary range early in the interview tends to work against you.
In addition, Norris urges candidates to allow the recruiter to lead the interview.
"When a candidate is asked, 'tell me a little bit about you,' don't just jump right into your work history," she said. "It's important to share a bit of personal information about one's self -- born and raised where, decision on where/why to attend a particular college, family roots in a certain industry, and then first great opportunity."
"It's so much more than just an interview," commented Norris. "It's the next step in developing a stellar relationship between recruiter and candidate."
When the interview does progress to work history, Norris strongly advises candidates to diplomatically describe their professional life.
"Never speak negatively about a current or prior employer," Norris said. "Share all experiences with a more positive spin: if something was challenging, how did you learn from it, what action plan did you use and how did you grow?"
Manage your online presence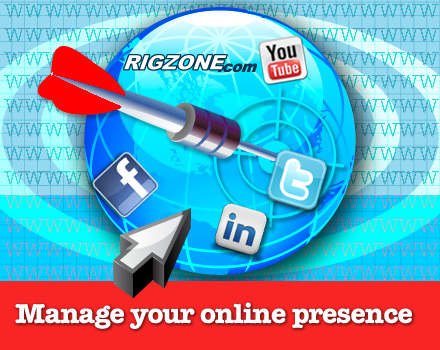 Technology's influence also extends beyond the interview. Recruiters will investigate an applicant's online presence on social media sites such as Facebook, Twitter, Instagram, YouTube and MySpace.
"Research and digging begins right when we see the name of a potential candidate," Norris said.
Publicly accessible inappropriate comments, graphic images and Twitter posts throughout the standard work day are some "instant red flags," she added.
"I take notice of appropriately locked down personal, social media," continued Norris. "I prefer when one of my candidates has kept their personal business private and I can see nothing."
You can also use a publicly accessible social media presence to your advantage. For instance, maintaining an updated, professional presence and relevant connections on a business networking site such as LinkedIn and being engaged with groups tied to your alma mater or industry can reflect well on you.
"Candidates need to be mindful that not only are the recruiters looking at social media, but actual hiring managers are as well," concluded Norris. "Having a great reputation via social media is just as important as having a great reputation from your current/prior employers."
Generated by readers, the comments included herein do not reflect the views and opinions of Rigzone. All comments are subject to editorial review. Off-topic, inappropriate or insulting comments will be removed.
MORE FROM THIS AUTHOR
Matthew V. Veazey
Senior Editor | Rigzone