Canadian Court Clears Cnooc's Planned $15.1 Billion Acquisition of Nexen
by Dow Jones Newswires
|
Yvonne Lee and Fiona Law
|
Friday, September 21, 2012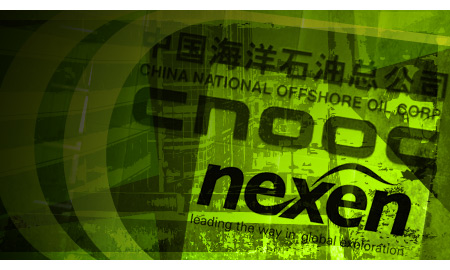 HONG KONG--Cnooc Ltd.'s (CEO) planned $15.1 billion acquisition of Nexen Inc. (NXY) took a another step toward completion after a Canadian court cleared the deal.
The Court of Queen's Bench of Alberta's decision, announced Friday by the state-controlled Chinese oil giant, comes after Nexen's shareholders voted overwhelmingly in favor of Cnooc's offer, which included a large premium, at a meeting in the Canadian energy company's home base of Calgary on Thursday.
The proposed deal, which was announced in July, must still secure regulatory approval from the governments of Canada, China and the U.S., but Cnooc expects a deal to be completed in the fourth quarter. The Chinese company's offer has sparked a debate in Canada about how big a role state-owned enterprises should have in the Canadian economy and resource development.
Cnooc is China's largest offshore oil company by production. Acquiring Nexen would allow it to secure oil and gas reserves in western Canada, the North Sea, the U.S. Gulf of Mexico and offshore Nigeria. Cnooc said earlier the deal would boost its oil and gas output by about 20% and enlarge its oil and gas reserves by nearly a third.
The latest developments helped push Cnooc's Hong Kong-listed up 1.7% to HK$15.90 as of 0502 GMT, after rising as high as HK$15.94 earlier in the session. The benchmark Hang Seng Index was up 0.84%.
The proposed Nexen deal comes amid a scramble to secure overseas reserves of fossil fuels among resource-hungry Chinese energy companies hampered by developments at home.
Cnooc's ambitions to drill in the South China Sea are complicated by drilling costs that can reach $100 million per deep-water well, according to analysts, as well as by political tensions over continuing territorial claims to the waters by China, Vietnam, the Philippines, and others. China is in only the earliest stages of exploring for shale gas, which is trapped in rock formations and is plentiful but difficult to extract.
Cnooc has set a target of expanding its oil and gas output by between 6% and 10% annually between 2011 and 2015. This means the company will need to produce between 419 million and 486 million barrels of oil and gas a year by 2015, up from 331.8 million barrels in 2011.
Generated by readers, the comments included herein do not reflect the views and opinions of Rigzone. All comments are subject to editorial review. Off-topic, inappropriate or insulting comments will be removed.
RELATED COMPANIES