Shale Gas: An American Success Story
by ExxonMobil Corp.
|
Press Release
|
Thursday, September 20, 2012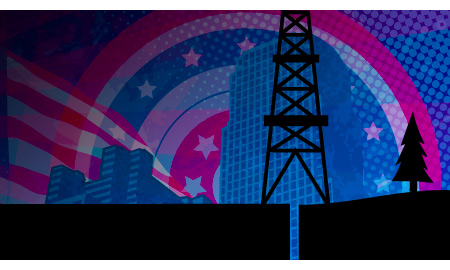 Shale gas development, an activity that scarcely existed 10 years ago, is a U.S. success story that supports more than one million American jobs and generates billions of dollars in government revenues, Jack Williams, president of XTO Energy, a subsidiary of Exxon Mobil Corporation, said Thursday.
In a speech at the Shale Gas Insight Conference in Philadelphia, PA, Williams said that as a result of American innovation, the country has emerged as the clear global leader in shale development as the demand for natural gas continues to grow.
"Wherever we look, we see energy development creating multiplier effects that ripple through the U.S. economy," Williams said. "The World Economic Forum estimated that oil and gas production accounted for nine percent of all new U.S. jobs last year. A significant part of that growth is coming from shale development."
In Pennsylvania, Marcellus Shale development generated $11 billion in value-added economic impact in 2010, while supporting 140,000 jobs and contributing $1 billion in state and local tax revenue, he said. Nationwide, shale gas development is expected to support 1.5 million jobs, and contribute nearly $200 billion to GDP by 2015. Those benefits are expected to double by 2035.
Industry, government -- and a willing public -- must take the right steps to ensure the United States remains a leader in shale development, so that U.S. citizens and communities can enjoy the full economic benefits of this energy advancement, Williams said.
He said the industry must work to improve public confidence in shale development through transparency and education efforts to increase knowledge of industry standards and practices that protect water and air quality.
ExxonMobil has been active in communication and transparency efforts, which include disclosing hydraulic fracturing fluids components, development and publication of operational guidelines to protect air quality and water management and support for a university-based training initiative for state regulators and policymakers.
Policymakers can do their part to support the industry's growth and development by maintaining a stable, transparent and fact-based regulatory environment that encourages investment, he said.
Williams said that because of the size of the shale gas resource, the United States will be able to export liquefied natural gas (LNG), which will increase domestic benefits.
"Just as we do with exports of grain, cars and other American products, exporting LNG can create economic value that would not have existed otherwise," Williams said. "LNG exports could encourage increased domestic gas production, which would, in turn, support the creation of more American jobs."
Generated by readers, the comments included herein do not reflect the views and opinions of Rigzone. All comments are subject to editorial review. Off-topic, inappropriate or insulting comments will be removed.