UK Lawmakers Call for Arctic Exploration Moratorium
by Karen Boman
|
Rigzone Staff
|
Thursday, September 20, 2012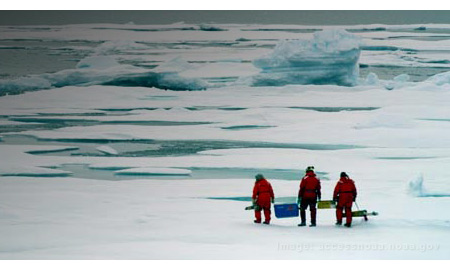 A UK Parliament Committee called for a moratorium Thursday on Arctic oil and gas drilling amid concerns that oil spill response techniques may not work effectively in the Arctic and growing evidence that global warming is negatively impacting Arctic ecosystems and wildlife.
Oil and gas exploration in the Arctic should not move forward until regulatory regimes are in place in all Arctic countries that would impose the highest available environmental standards, and require the best available and safest technology to be used for all components of drilling, the Environmental Audit Committee recommended in a two-part report published Thursday.
"We are concerned that there appears to be a lack of strategic thinking and policy coherence within Government on this issue, illustrated by its failure to demonstrate how future oil and gas extraction from the Arctic can be reconciled with commitments to limit temperature rises to 2 degrees Celcius," lawmakers said. "The Government should seek to resolve this matter."
Lawmakers recommended Arctic drilling not move forward until a pan-Arctic oil spill response standard is in place. They also recommended the UK government seek to persuade the Arctic Council to use expertise of other states to develop a risk standard, which lawmakers said must be "As Low as Possible".
Oil and gas companies must also be required to show they have adequate funds, financial guarantees or insurance to meet the costs of responding to an oil spill.
"Consideration should also be given to setting up a liability deposit bond scheme which could be administered by the Arctic Council," lawmakers said in the report.
An oil and gas industry group should be established to peer-review companies' drilling and spill response plans and operating practices, with reports made public. Through the Arctic Council, the UK government should coordinate with oil companies in establishing this group, according to the Environmental Audit Committee.
Lawmakers said that further independent research and testing on oil spill response techniques in Arctic conditions should be conducted, including assessing the environmental side-effects of such techniques.
"Only once response techniques have been independently proven to be as effective as those used for temperate latitudes should drilling be permitting to go ahead," lawmakers said.
"Through the Arctic Council, the government should seek to persuade Arctic littoral states to carry out and publish the results of such further research and testing," lawmakers said, adding that an internationally recognized environmental sanctuary is established in at least part of the Arctic.
The Committee noted that a growing body of evidence exists indicating that the effects of climate change are being felt strongly in the Arctic. This month, the Arctic ice-cap has reached the lowest level seen since satellite records began, and new evidence indicates the ice cap is thinning at a faster rate than previously thought.
The general view that the ice cap is not at risk of a summer collapse in the next few years may need to be revisited and revised, lawmakers noted in the report. A collapse not only threatens the unique ecosystems there, but would have damaging ramifications for regional and global climate.
"A collapse of summer sea-ice, increased methane emissions from thawing permafrost, runaway melting of the Greenland ice-sheet, and a collapse of the thermo-haline circulation, may all be approaching the Arctic and will have disastrous consequences for global climate change and sea levels," lawmakers said. "These together comprise a wake-up call to reinvigorate efforts to tackle climate change."
Generated by readers, the comments included herein do not reflect the views and opinions of Rigzone. All comments are subject to editorial review. Off-topic, inappropriate or insulting comments will be removed.