Offshore Morocco: Drilling Deeper
|
Tuesday, September 18, 2012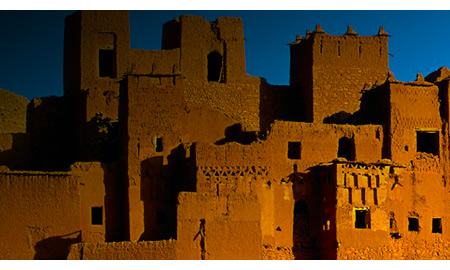 Africa has long been a key destination for energy companies seeking oil and gas reserves. Nigeria was established as an important source of hydrocarbons in the 1950s, while other West African countries, such as Equatorial Guinea, have seen substantial increases in their oil production in more recent decades.
Last year's revolutions in the North Africa, and the subsequent effect on oil supplies of related disruptions to production there, showed just how important Libya is to world oil markets.
Even more recently, East Africa is beginning to be recognized as a future source of gas for industrialized countries around the world.
However, oil-rich Libya and the highly-prospective regions of West Africa and East Africa are not the end of the story when it comes to the role that the continent might play in the world of oil and gas in future decades. One small corner of Africa that looks like it is about to see its own energy industry begin to emerge is Morocco, whose offshore prospects have enticed some sizable foreign oil companies to make deals in the country in recent months.
According to the Moroccan ministry responsible for overseeing the country's license blocks, the Office National des Hydrocarbures et des Mines (ONHYM), "the entire Atlantic Margin of Morocco is under explored in terms of drilling".
Only 34 wells have been drilled since 1968 and 29 of these were drilled prior to 2003 and aimed principally to test Jurassic carbonate objectives in the shallow water areas of the shelf.
Between 2003 and 2009, Morocco has seen the drilling of deep offshore wells to test the Tertiary, Upper and Lower Cretaceous layers. Most of these found oil and gas shows but failed to find hydrocarbons in commercial quantities.
Despite these disappointments, the Moroccan government points out that there is strong evidence of active petroleum systems off the coast of the country.
For example, the MO-2 well in the Tarfaya offshore area tested 2,377 barrels of oil per day with an API gravity of 12 degrees from the Upper Jurassic layer when Esso discovered the Cap Juby oil field there in 1969. The nearby MO-8 well also discovered a 38-degree API light oil accumulation in the Middle Jurassic carbonates.
Today, independent oil firm Cairn Energy is the operator of the Cap Juby Maritime license and it holds a 37.5-percent interest in the block. Other licensees include the ONHYM (25%) and Barrus Petroleum (37.5%). A 3D seismic survey is being planned for later this year, which will be combined with reprocessed older data in order to find deeper light oil targets.
Very recently, on Aug. 28, Cairn announced it was also farming into the adjacent Foum Draa block.
The deal will see Cairn acquire an aggregate 50-percent interest in and operatorship of Foum Draa from the current license holders in return for a payment of a share of past costs (approximately $1.5 million) as well as a promise to pay up to $60 million towards the costs of an exploration well on the license area.
The Foum Draa Block is located offshore southern Morocco in water depths of up to 6,560 feet and covers an area of approximately 1,950 square miles.
Two key prospects on the block have been identified and the first exploration well is expected to be drilled in the fourth quarter of 2013.
Following completion of the farm-in, juniors San Leon, Serica and Longreach will hold interests of 14.2 percent, 8.3 percent and 2.5 percent respectively, while the ONHYM will hold the remaining 25 percent (in line with its participation with Cap Juby).
'Step Change' Resource Potential
San Leon, which is quoted on London's Alternative Investment Market, is something of a pioneer in Morocco, having been involved in extensive offshore work there since early 2010.
As New York-based Bernstein Research commented at the time of the deal with Cairn, San Leon had previously highlighted its acreage offshore Morocco as "one of the last-remaining under explored regions of North Africa" with a proven petroleum system with "step change" resource potential and favorable fiscal terms from the government.
San Leon was the previous operator of Foum Draa and the firm can certainly take some satisfaction in knowing that not only one but two independent oil firms have now bought into its licenses in Morocco.
Only weeks before the Cairn announcement, San Leon and its partners Serica and Longreach sold down their combined interest in the Sidi Moussa block, also offshore Morocco, to Genel Energy. Genel acquired a 60-percent interest in this block in return for $1.3 million of past costs incurred by the selling partners and a promise to fund up to $50 million of the costs of an exploration well.
"Sidi Moussa, while under explored, contains very large mapped prospects and we look forward to drilling an exploration well, which will most likely be in 2014 as per the license commitments," San Leon Executive Chairman Oisin Fanning said at the time of the Genel deal.
Other companies involved in Morocco include Kosmos Energy – a company headquartered in Dallas, Texas, which focuses on emerging areas of Africa and South America. Kosmos discovered the Jubilee field, offshore Ghana, in 2007.
Kosmos holds the premier position in Morocco's Agadir Basin and operates three large offshore blocks: Essaouira, Foum Assaka and Tarhazoute. The firm has recently completed a wide-area 3D seismic acquisition in Morocco and is planning initial drilling to take place during the latter half of 2013.
Kosmos also holds the Cap Boujdour block in the Aaiun Basin – one of the remaining frontier exploration provinces offshore Africa, offering Cretaceous targets. Kosmos is currently examining existing 3D seismic data and expects first drilling to take place in late 2013.
Meanwhile, Tangiers Petroleum – another AIM-quoted junior – holds a 75-percent interest in eight licenses directly south of the Foum Draa block.
With the arrival of Genel and Cairn, offshore Morocco is getting more serious attention as these companies commit to drilling deeper targets in what are almost frontier zones. Rigzone will be keeping an eye on their progress.
Generated by readers, the comments included herein do not reflect the views and opinions of Rigzone. All comments are subject to editorial review. Off-topic, inappropriate or insulting comments will be removed.