Uganda Says Oil Reserves Have Increased to 3.5 Billion Barrels
by Dow Jones Newswires
|
Nicholas Bariyo
|
Monday, September 17, 2012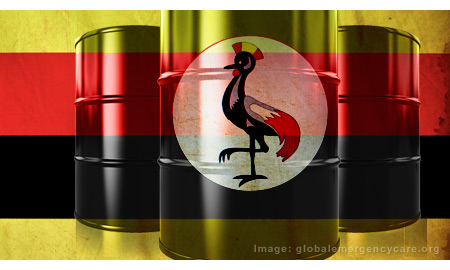 KAMPALA, Uganda - The Ugandan government Monday said that its estimated oil reserves in the Lake Albertine Rift basin have increased to 3.5 billion barrels from 2.5 billion barrels, following months of rigorous appraisal and drilling activities.
Ernest Rubondo, the head of the country's Petroleum Production and Exploration department, told Dow Jones Newswires that over the past several months oil exploration companies have appraised various wells in blocks 1 and 2, boosting the potential of the basin.
"I can confirm that the our reserves have increased to 3.5 billion barrels," Mr. Rubondo said, adding that the basin still has potential for more discoveries.
Blocks 1 and 2 are operated by France's Total SA and UK's Tullow Oil PLC respectively. Company officials could not be reached for an immediate comment.
Uganda first announced commercial oil in the basin in 2006, but the East African nation is yet to start crude pumping amid a spat with companies over the oil production plans and refining options. Tullow, Total and Chinba's Cnooc Ltd. said earlier this year that they would invest at least $10-12 billion to develop the oil fields by 2017.
The Ugandan government has appointed a panel to review and approve the oil development plans but it has not yet indicated when the plan is likely to be approved. According to Tullow, first oil output is expected 36 months after the approval of the plan.
Generated by readers, the comments included herein do not reflect the views and opinions of Rigzone. All comments are subject to editorial review. Off-topic, inappropriate or insulting comments will be removed.