North America Energy Independence Hinges on Right Govt Policies
by Karen Boman
|
Rigzone Staff
|
Thursday, September 13, 2012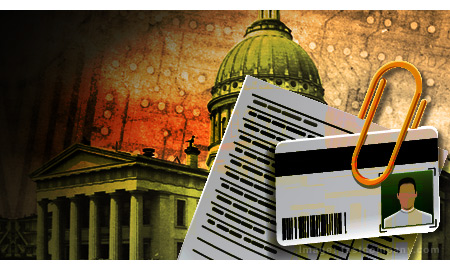 North American energy independence can be achieved by the end of the decade, but only if government policies encouraging development of domestic oil and gas exploration and production are put in place, according to energy industry experts and market analysts testifying Thursday before a Congressional committee.
Increased U.S. oil production is already cutting into the amount of oil the United States must import from unfriendly oil-exporting nations, said Ed Whitfield, head of the House Energy and Commerce Committee's Energy and Power subpanel, during a hearing on what regulatory policies need to be in place for North American energy independence to be achieved by the end of the decade.
Several independent reports released in 2012 indicate North America can produce enough oil and natural gas to meet America's energy demands, possibly by the end of the decade.
North American energy independence would bring with it hundreds of thousands, if not millions, of new jobs in a rejuvenated energy industry, said Whitfield in opening remarks for the hearing on "The American Energy Initiative".
"Indeed, it would succeed where the stimulus package failed, and rather than cost over $800 billion it would actually add revenues to the federal treasury," said Whitfield.
Citing data from the Congressional Research Service, which reported that 96 percent of the U.S. oil and gas production increase since 2007 has occurred on non-federal lands, Whitfield noted that production has declined by 2 percent on federally-controlled lands and offshore areas.
However, "the full potential of North American energy independence cannot be realized if too many federal lands are left out of the equation," Whitfield noted.
Whitfield criticized President Obama for rejecting the Keystone XL pipeline project and blocking access to federal lands and offshore areas for drilling.
"And he still cites the outdated and misleading claim that we possess only 2 percent of the world's oil reserves," said Whitfield.
To achieve energy independence, reasonable and consistent environmental regulations must be put in place, along with the encouragement of oil and gas development on federal lands and tax policies that allow energy companies to keep their own money to drill, said Harold Hamm, chairman and chief executive officer of Continental Resources.
Hamm, who also serves as an energy policy advisor to Republican presidential nominee and former Massachusetts governor Mitt Romney, cited the 'onslaught' of proposed new regulations that would raise exploration and production costs, including a proposal for the federal government to regulate hydraulic fracturing, without producing a commensurate level of environmental benefit.
"Federal agencies in many cases [abuse] their authorities by broadly interpreting the laws resulting in punitive new regulations or so called guidelines, or ignoring due process," Hamm noted.
Hamm questioned why the U.S. federal government was not encouraging more exploration on federal lands, noting that at least 62 percent of known oil resources on federal lands are off limits.
"Based on resources estimates, these lands contain about 62 percent of the oil on federal land, or 19 billion barrels, and 41 percent of the natural gas, or 94.5 trillion cubic feet," Hamm said, noting the slowdown over the past three and a half years in leasing on federal lands and time required to get a drilling permit.
The unconventional drilling boom has brought high-paying jobs, increased tax revenues and economic growth to the United States, said Hamm, who pointed out that the oil and gas industry helps support 9.2 million high-paying jobs directly and indirectly in the U.S. economy. With the right government policies, the oil and gas industry could create an additional 3.6 million jobs by 2020.
However, the costs of drilling plays such as the Bakken, where the average well costs around $10 million, requires a substantial amount of capital, Hamm noted.
"The tax provisions put in place for over 50 years that let us keep our own money to reinvest in drilling are crucial to keep this energy revival going," Hamm said.
He added that these tax provisions allowed the industry to survive "the disastrous years" of dominance from the Organization of Petroleum Exporting Countries and decades of U.S. subeconomic oil and gas prices, but allowed the industry to test the technology that eventually unleashed the U.S. shale boom.
Thanks to rising domestic production and declining consumption, net petroleum imports to the United States have declined from its all-time peak of 13.5 million barrels of oil per day (bopd) in 2005, or 65 percent of U.S. oil consumption, to 9.7 million bopd in 2011, or 52 percent of U.S. oil consumption, said John Freeman, managing director of equity research at Raymond James & Associates.
Between 2008 and 2011, the United States added more barrels to global oil supply than any other country, Freeman noted.
"What's especially impressive is that this happened in spite of the deepwater drilling moratorium in 2010 and 2011, which of course had the effect of lowering production from the Gulf of Mexico," said Freeman. "In other words, all of the production increase – a total of 1.6 million bopd over three years, came entirely from offshore fields."
The unconventional drilling boom is projected to increase U.S. supply of nearly 1 million bopd for 2012, with a similar increase projects for 2013 and sustained growth towards the end of the decade, though at a somewhat slower pace, Freeman said.
"In fact, we forecast the U.S. will become the largest oil producer in the world before the end of this decade," said Freeman. According to Raymond James & Associates, the Bakken, Eagle Ford and Permian Basin are the primary building blocks in the domestic production surge.
While U.S. oil production is rising, U.S. oil consumption has declined since 2005, thanks to improved fuel economy of vehicles on U.S. roadways, changing driving habits as consumers try to cut fuel costs, a shift fro moil to natural gas in the petrochemical industry and transportation sector, Freeman said.
While the government can put policies in place that will encourage domestic exploration and production, one issue it cannot address is the 'graying of the oil patch', Freeman said.
"The average U.S. petroleum engineer is close to 50 years old, and the number of students in these programs at universities is insufficient to fully compensate for the workers who are retiring," Freeman commented.
Labor shortages in the most active drilling areas such as the Bakken formation also pose a challenge for the oil and gas industry, Freeman noted.
The development of pipeline infrastructure to move oil from high-growth production areas to refineries and distribution hubs is another constraint the United States faces, Freeman noted.
Thanks to horizontal drilling, the decades-long decline in Western Canadian conventional oil drilling has been reversed, with conventional oil production expected to rise by 200,000 bopd to 300,000 bopd by 2015, according to forecasts from the Canadian Energy Research Institute (CERI).
Alberta's oil sands production is also expected to rise from its current 1.6 million bopd to 2.2 million bopd by 2018 due to production ramp-ups and debottlenecking efforts over the next two years, said Peter Howard, president and CEO of the CERI.
An additional 2.5 million bopd of oil sands production is waiting on pipeline/rail access to a market, said Howard.
Five new pipelines will be needed over the next 15 years for Western Canada to reach its production potential.
However, Keystone and two other proposed projects that would move oil sands supply to market, the Trans Mountain Expansion and the Northern Gateway project, have or are about to run into significant pushback from various entities "all with no clear outcome," Howard said.
The Northern Gateway project has run into environmental concerns in British Columbia and the perception that the environmental risk is greater than the economic benefits.

Generated by readers, the comments included herein do not reflect the views and opinions of Rigzone. All comments are subject to editorial review. Off-topic, inappropriate or insulting comments will be removed.