New Zealand Looks to Boost Oil & Gas Output
by Dow Jones Newswires
|
Arpan Mukherjee
|
Tuesday, September 04, 2012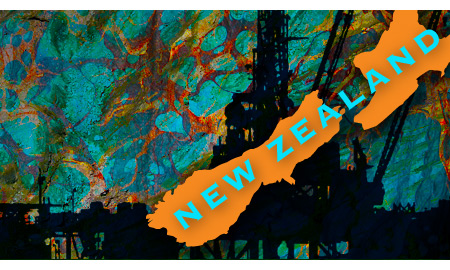 WELLINGTON – New Zealand is hoping to replicate the success of oil and gas exploration in its North Island's Taranaki basin in a new prospecting round as it tries to boost economic growth and attract investment, Minister of Energy and Resources Phil Heatley said Tuesday.
The government, which invited bids for oil and gas exploration permits for 23 blocks in June, expects exploration activity to increase sharply from 2014, though some on-shore exploration is expected to start in the current year.
"It appears that 2013, 2014, 2015 and 2016 will be the busiest ever in terms of exploration," Mr. Heatley told The Wall Street Journal.
Oil and gas exports from Taranaki, the country's only producing area, are worth around an annual 2.2 billion New Zealand dollars (US $1.76 billion) and produce royalties of around NZ $300 million a year and create 5,500 jobs.
"What we are saying is that even if we have one more basin like Taranaki, that is an extra NZ $1.5 billion [from exports] and probably another NZ$320 million in royalties and 5,000 jobs. If we could repeat that, it would be pretty significant," Mr. Heatley said.
The Taranaki basin, which includes 13 of the blocks up for tender, is located on the west coast of the North Island. Its 16 existing fields produced 19.3 million barrels of crude and 0.157 trillion cubic feet of gas in 2010, according to the ministry of economic development.
The government is keen to tap shale oil and gas resources along the east coast of North Island, with Apache Corp and Tag Oil already showing some interest, he said.
The two companies, working as part of a joint venture, have completed a 2-dimensional seismic program in the east coast basin and are in talks about drilling plans for four vertical wells.
Both companies anticipate well-site construction to begin in the first quarter of calendar 2013 followed shortly after by drilling operations, Tag has said.
Laws on deep sea oil drilling inside New Zealand's 600-million-hectare exclusive economic zone passed last month have helped to remove some uncertainty, the minister said.
The legislation was criticized by opposition political parties who said that the government had failed to learn from the 2010 Gulf of Mexico offshore disaster.
The government is also planning to offer additional onshore mining permits in 2013 on top of 13,500 square kilometers in Northland on offer at present. The area has potential for mainly gold, silver and copper deposits.
"New Zealand Petroleum and Minerals are very interested in replicating what they have done in Northland and they are putting up a multi-year plan to me in the next few months," Mr. Heatley said.
Generated by readers, the comments included herein do not reflect the views and opinions of Rigzone. All comments are subject to editorial review. Off-topic, inappropriate or insulting comments will be removed.