Report: Boost in UK Offshore O&G Workers
by Jon Mainwaring
|
Rigzone Staff
|
Thursday, August 30, 2012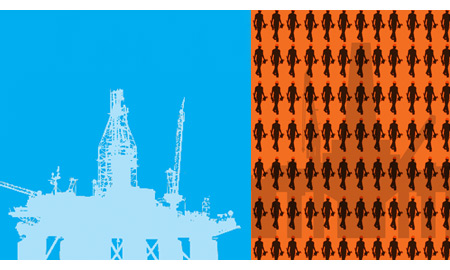 The number of people working offshore in the UK oil and gas industry increased by 5 percent between 2006 and 2011, according to a new report from trade body Oil & Gas UK.
Oil & Gas UK's 2012 Demographics Report found that 52,300 people traveled offshore in 2011 – an increase of 5 percent over 2006. Meanwhile, the proportion of young workers (aged between 24 and 29) has significantly increased, although there has been a decrease in those aged between 35 and 49.
The average age of the workforce remained almost constant at 41.4 years old.
"There are many positives such as the increase we're seeing in the number of workers traveling offshore and the big increase in the number of younger workers. These lead us to expect that in the next few years, more people will join the UK oil and gas industry and gain experience than those who leave through retirement or relocation," Dr. Alix Thom, Oil & Gas UK's employment and skills issues manager, commented in a statement.
"A decrease in the number of 35 to 49-year-olds, however, gives us something to think about. We know the industry considers many mid-career, engineering, managerial and professional scientist roles the most difficult to fill with suitably qualified and experienced workers in short supply. This is thought to be a result of skilled and experienced workers moving to work abroad in response to growing demand from a thriving industry around the world," added Thom.
Another notable statistic was the still small number of women working in the offshore oil and gas industry in the UK. Just 3.7 percent of women make up the offshore population, with 30 percent of those working in catering. Meanwhile, half of offshore disciplines have no female representation at all. Thom commented that the "industry would benefit from tapping into" the valuable resource that women represent.
Overall, the report's finding of increased employment offshore demonstrates that the oil and gas sector in the UK remains healthy. And it is just the latest upbeat news about the sector in the UK.
Only last week, Oil & Gas UK released a report that showed business confidence in the oil and gas sector was at the highest level it has been at since the organization began measuring it four years ago.
Meanwhile, a number of oil and gas firms that operate on the UK Continental Shelf have issued positive updates regarding their prospects in recent months, including Premier Oil which reported in July that its average production in the UK increased by 30 percent during the first half of 2012.
Oil field services Aker Solutions told Rigzone last month that it was seeing an increase in activity in both the UK and Norwegian zones of the North Sea.
Generated by readers, the comments included herein do not reflect the views and opinions of Rigzone. All comments are subject to editorial review. Off-topic, inappropriate or insulting comments will be removed.
RELATED COMPANIES