Confusion over North Sea Oil Sheen near Talisman Field
by Jon Mainwaring
|
Rigzone Staff
|
Thursday, August 30, 2012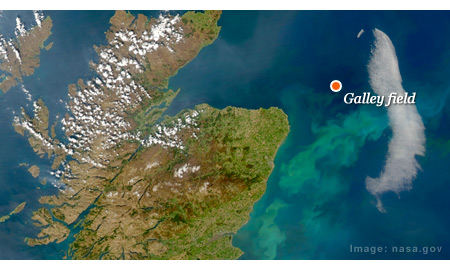 There is confusion about who is responsible for an oil sheen near Talisman Energy's Galley field in the UK North Sea, according to a Department of Energy and Climate Change spokesman.
Speaking to Rigzone Thursday the DECC spokesman confirmed that investigations are continuing into the sheen, which was first observed approximately 2 miles from a pipeline connecting Galley to Talisman's Tartan Alpha installation at around lunchtime on Tuesday. But according to the DECC spokesman, Talisman claims there has so far been no evidence linking it to the sheen in spite of it reporting a minor leak from the pipeline almost a week ago.
"The sheen has been spotted in the vicinity of the pipeline, but Talisman are saying it is not there. The amount of oil that has come from the pipeline is very small, so they are not making a connection between the two. So we're investigating it at this moment," the spokesman said.
On August 24, Talisman reported a minor leak from the Galley-Tartan Alpha pipeline, which is approximately 16 miles long. At the time the leak was identified the pipeline was depressurized and isolated, and Talisman monitored the leak point using a remotely-operated vehicle.
Total fluid released from the pipeline was reported to DECC as being approximately 14 tons, of which two tons was oil. However, aerial observations of the sheen made on Tuesday estimated between five tons and 34 tons of oil. Talisman confirmed Thursday that it estimates the total release from its pipeline to date is no more than 88 barrels of fluids (approximately 12 tons), of which 13 barrels (1.8 tons) would be oil and the rest water.
Talisman got in touch with Rigzone Thursday afternoon (London time) to say that analysis of samples taken from what it describes as a "third party" sheen has confirmed that it is not crude oil from the Galley field and that the results of this analysis are being passed on to DECC.
A spokeswoman explained that Talisman has been conducting pipeline flushing operations following the discovery in the Galley-Tartan Alpha pipeline and has since flushed seawater through the pipe past the crack in the pipeline. But while Talisman was out there conducting this operation, the firm spotted the sheen and informed DECC.
"Because we're out there and have got the oil spill equipment we've worked closely with them and have offered any assistance that they might need," said the spokeswoman.
DECC has promised a full investigation, and the UK's Maritime and Coastguard Agency has been notified.
Generated by readers, the comments included herein do not reflect the views and opinions of Rigzone. All comments are subject to editorial review. Off-topic, inappropriate or insulting comments will be removed.
RELATED COMPANIES