Gulf Producers Look to Resume Operations as Isaac Threat Past
by Karen Boman
|
Rigzone Staff
|
Thursday, August 30, 2012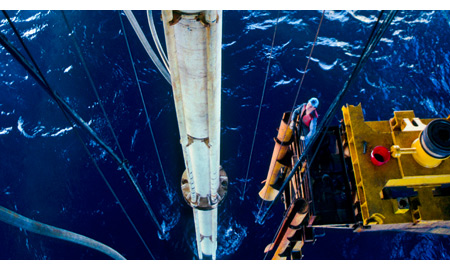 With the threat posed by Hurricane Isaac to Gulf of Mexico offshore facilities past, some Gulf of Mexico operators were either redeploying or looking to return workers to offshore facilities on Thursday.
Chevron Corp. said Thursday it started deploying personnel to onshore and offshore facilities "where it is safe to do so" to assess Hurricane Isaac's impact on its facilities. The company said it would not comment on any possible impact to its operations.
Anadarko Petroleum Corp. expects to begin restaffing its central Gulf facilities - Gunnison, Marco Polo and Constitution - on Friday, the company said in a statement Thursday.
"Crews will perform more detailed inspections, and we expect to begin start-up activities at these facilities as third-party-operated pipelines and infrastructure permit," the company said.
Anadarko also expects to return workers to its eastern Gulf operated facilities Independence Hub and Neptune starting Saturday morning, followed by onsite inspections and start-up activities as non-operated pipelines and infrastructure permit.
Anadarko's remote monitoring capabilities indicate that its Gunnison, Marco Polo, Constitution, Independence Hub and Neptune facilities are intact.
"Though Tropical Storm Isaac has moved onshore and is no longer a threat to the company's operated deepwater facilities in the Gulf of Mexico, we continue to pray for the safety and protection of those in the communities that have been affected by this storm," Anadarko said in a statement.
Shell began flyover inspections of its storm-affected assets Thursday morning, the company said in a statement. Plans are also underway to potentially redeploy its staff Friday as weather conditions permit.
BP said it would attempt flyover inspections of its key facilities in the Gulf and begin redeploying personnel as the weather permitted. Offshore personnel remain evacuated from all BP-operated production platforms and drilling rigs, and all of its Gulf oil and gas production has been temporarily shut in, the company said in a Thursday statement.
Drilling contractor Ensco Plc reported that its drillship and semisubmersible rigs in the Gulf were successfully mobilized away from Isaac's path, and a flyover inspection indicated no damage was inflicted by Isaac on Ensco's jackup rigs. The company's Broussard, La.-based warehouse facility also did not sustain damage, the company said in a statement on Thursday.
All dynamically positioned drilling rigs in the U.S. Gulf of Mexico that were moved off location prior to Hurricane Isaac's passage through the Gulf have been accounted for by the Bureau of Safety and Environmental Enforcement (BSEE) district staff.
BSEE reported Wednesday that it was able to confirm through real-time monitoring that all mobile offshore drilling units, including jackups and drilling rigs are keeping station.
No damage was incurred at TY Offshore's Gulfport, Miss.-based shipyard or to any vessels under construction there at the time Isaac hit, TY Offshore said in a statement Thursday. Work is scheduled to resume Friday at the yard, which was hit by a nine-inch storm surge.
TY's New Orleans shipyard did take a direct hit from Isaac, but was protected by the recently completed floodgates protecting the city. The only damage to the New Orleans shipyard was to some roof panels of the covered wetslip, which was not occupied at the time.
Most U.S. Gulf of Mexico oil and gas activity remained on hold Thursday as offshore operators monitored Hurricane Isaac to determine when flyover inspections of offshore platforms could begin.
Workers were evacuated from 50 rigs, or 65.79 percent, of the 76 rigs currently operating in the Gulf, due to Tropical Storm Isaac, which made landfall over New Orleans early Wednesday as a Category 1 hurricane. Oil and gas personnel were evacuated from 509 production platforms, or 85.4 percent, of the 596 manned platforms in the Gulf.
Approximately 94.99 percent of U.S. Gulf oil production, or 1.3 million barrels per day, was shut in due to the storm. Approximately 72.52 percent of U.S. Gulf natural gas production, or 3.2 billion cubic feet per day, was shut in as well.
Isaac's slow forward motion and heavy onshore rains means the process of returning personnel to platforms to restore production will take a few days, according to an Aug. 30 analyst note from Tudor Pickering Energy Research.
Even though Isaac is no longer a hurricane, the storm surge, inland flooding and tornadoes pose life-threatening hazards to people living in the affected area, the National Hurricane Center reported at 10 a.m. Central Standard Time on Thursday.
Anticipated rainfall of between 7 and 14 inches, with 25 inches possible, across northern and eastern Louisiana, Mississippi, southwestern Alabama, Arkansas and Missouri, could result in significant lowland flooding.
Natural gas prices finally reacted to the disruptions caused by Isaac – including 67 percent of Gulf gas production shut in and 11 gas processing plants shut down – with investors and traders bidding front month gas higher on Wednesday, according to an Aug. 30 analyst noted by GHS Research.
The September, October and November natural gas strips all traded higher Wednesday, with September climbing .77 percent to $2.634, and November last seen Wednesday at $2.878, up 2.4 percent over Tuesday's close, GHS said.
However, prices remains below $3 due to expectations of supply remaining bloated and that new storage injections may not be offset by sufficient electric power demand in the next two months.

Generated by readers, the comments included herein do not reflect the views and opinions of Rigzone. All comments are subject to editorial review. Off-topic, inappropriate or insulting comments will be removed.