Gulf E&P Activity on Hold as Isaac Drenches Gulf
by Karen Boman
|
Rigzone Staff
|
Wednesday, August 29, 2012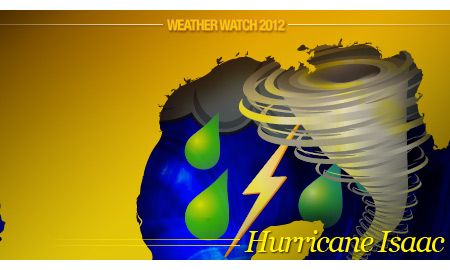 The oil and gas industry continues to monitor Hurricane Isaac as the storm, which made landfall early Wednesday, continues to pound New Orleans and the southeastern Louisiana-southern Mississippi region with heavy winds and rain.
Shell said it expects to begin flyover inspections of its assets on Thursday as weather conditions improve, the company said in a statement Wednesday.
"Once we determine that conditions are safe, we will begin redeploying staff on Friday, August 31 and restarting operations," Shell said.
The company's central and eastern Gulf operations remain fully evacuated with the associated production shut-in, Shell reported.
BP said it was keeping a close eye on the storm to determine when conditions would be safe to redeploy personnel and resume operations.
"However, we cannot yet predict when that will be," the company said in a statement on Wednesday.
The company evacuated all personnel from BP-operated production platforms and drilling rigs, and all its Gulf oil and gas production remains temporarily shut in. BP's facilities in Fourchon and Houma, La., and in Pascagoula, Miss., also have been evacuated and remain closed.
The exact number of workers evacuated by BP wasn't available, a company spokesperson said. The company directly employs more than 2,500 people in its Gulf of Mexico business and supports tens of thousands of additional jobs in the region, according to a company statement.
Anadarko Petroleum Corp. also said Wednesday it was monitoring Hurricane Isaac's track. While the company's operated Boomvang and Nansen spars in the western Gulf continue to produce, the company on Monday evacuated all non-essential workers from both platforms as a precaution.
Production remains shut-in at Anadarko's deepwater facilities Independence Hub, Constitution, Marco Polo, Red Hawk, Neptune and Gunnison. The company evacuated approximately 195 workers from its Gulf operations.
The Bureau of Safety and Environmental Enforcement (BSEE) reported Wednesday that workers have been evacuated from 50 rigs, or 65.79 percent, of rigs working in the U.S. Gulf of Mexico.
Workers also have been evacuated from 505, or 84.73 percent, of the 596 manned platforms in the Gulf of Mexico.
Approximately 94.72 percent, or 1.3 million barrels of oil per day, of current U.S. Gulf oil production, and approximately 71.64 percent, or 3,223.92 billion cubic feet per day (Bcf/d), was shut-in as of midday Wednesday, BSEE reported.
The precautionary production shut in likely to be restored in the next few days, with refinery restarts expected to occur later this week, according to an Aug. 29 research note from Tudor Pickering Holt Energy Research.
The combination of storm surge and the tide is threatening normally dry areas of the southeastern Louisiana and southern Mississippi coasts with flooding, the National Hurricane Center reported Wednesday. The center of Isaac is expected to move further inland over Louisiana on Wednesday and Thursday and move over southern Arkansas by early Friday.
West Texas Intermediate (WTI) and Brent crude prices eased down in electronic trading Tuesday as visibility improved into expected disruptions timetables for a return to normal operations in the Gulf region, according to an Aug. 29 analyst note from GHS Research. WTI came off an intraday high of $96.30 before touching $95.85 late Tuesday, while Brent prices hovered around the $112 level.
The lower shut-in rate for Gulf natural gas production also contributed to the bearish price action for natural gas trading on Tuesday, with the September 2012 contract showing prices declining to $2.594, significantly below the recent tests around the $3 level, GHS reported.
Generated by readers, the comments included herein do not reflect the views and opinions of Rigzone. All comments are subject to editorial review. Off-topic, inappropriate or insulting comments will be removed.
RELATED COMPANIES