Most GOM Production Shut-In as Hurricane Isaac Heads to SE Louisiana
|
Tuesday, August 28, 2012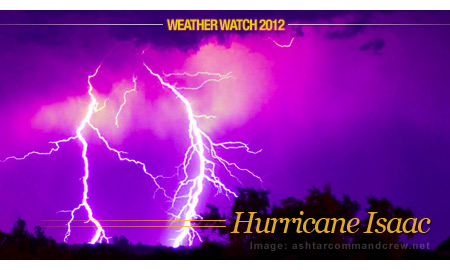 Approximately 93.28 percent of U.S. Gulf of Mexico oil production, or 1.3 million barrels of oil per day, and approximately 66.7 percent of U.S. Gulf natural gas production, or 3 billion cubic feet per day, has been shut in as Hurricane Isaac bears down on southeastern Louisiana.
Oil and gas operators have evacuated workers from 503 production platforms, or 84.4 percent, of the 596 manned platforms in the U.S. Gulf, the Bureau of Safety and Environmental Enforcement (BSEE) reported Tuesday.
Workers have also been evacuated from 49 rigs, or 64.47 percent, of the 76 rigs currently operating in the Gulf. BSEE's update is based on information from 79 company reports as of 11:30 a.m. Central Standard Time Tuesday.
Shell completed evacuations of all workers from its central and eastern Gulf operations on Monday, the company said in a statement Tuesday. Shell had also shut in production in both regions.
Anadarko Petroleum Corp. reported Tuesday that production continues at its operated Boomvang and Nansen tension leg spars in the western Gulf, but the company evacuated Monday all non-essential workers from these platforms as precaution.
The company in total has evacuated approximately 195 workers from its Gulf of Mexico operations. Anadarko has evacuated all workers from and shut in production at its operated facilities in the eastern and central Gulf, including Independence Hub, Constitution, Marco Polo, Red Hawk, Neptune and Gunnison.
Australia-based Petsec Energy said Tuesday it has shut in production at its Main Pass 19/18 and Chandeleur 31/32 offshore gas fields and evacuated workers from these fields ahead of Isaac.
Houston-based Tesla Offshore said in a statement that its survey vessel fleet was ready to meet emergency survey needs in the Gulf following Tropical Storm Isaac.
Tesla said the company's offshore clients have offered to suspend current survey contracts to free vessels to respond to emergencies in the areas of greatest need.
Isaac, now a Category 1 hurricane, is expected to make landfall as early as Tuesday evening over southeastern Louisiana the National Hurricane Center (NHC) reported at 1 p.m. Central Standard Time Tuesday.
Isaac is moving northwest near 10 mph, with maximum sustained winds of nearly 75 mph. Some additional strengthening is anticipated before the storm makes landfall, with gradual weakening expected after landfall occurs, NHC reported.
A hurricane warning is in effect for the Gulf Coast from east of Morgan City, La., to the Mississippi-Alabama border, including New Orleans, and a hurricane watch is in effect from Intracoastal City, La., to Morgan City, La. A tropical storm warning is in effect for the Mississippi-Alabama border to Destin, Fla., and from Morgan City, La., to Cameron, La.
No Major Onshore, Offshore Damage Expected to O&G Infrastructure
No major onshore or offshore damage to energy infrastructure is anticipated from Isaac, according to an Aug. 28 research note from Tudor Pickering Holt Energy Research.
"The slow forward motion is likely to cause flooding inland but should not create long term impact to oilfield operations," said Tudor Pickering Holt in the note.
The upgrades to design standards for Gulf production platforms made in response to Hurricanes Katrina, Rita and Ike mean that platforms are better prepared to face a large hurricane, said Satish Nagarajaiah, professor of civil engineering and mechanical engineering at Rice University in Houston, told Rigzone in an interview Monday.
Operators implemented other lessons from Katrina and Rita into their offshore evacuation processes and shut-in procedures as well. The Deepwater Horizon incident in April 2010 has also impacted operations, with significant improvements in equipment to allow for quick responses to equipment failure, Nagarajaiah said.
Isaac is expected to generate a large storm surge expected across a large portion of the Gulf Coast and as far as Illinois and the Carolinas, with rainfall expected to reach over 15 inches in local areas near New Orleans.
"The risk of onshore power outages combined with offshore disruptions suggested a period of some disruptions to crude oil production and refinery operations," according to an Aug. 28 analyst note from GHS Research.
West Texas Intermediate (WTI) and Brent crude prices eased on news that Isaac might become a weaker system, resulting in fewer disruptions than feared, GHS noted. WTI prices backed off of the $97 handle to trend at approximately $95.50 in late Monday electronic trading, GHS said.
Brent prices also declined from highs seen in trading late Sunday, abandoning the $115 handle in favor of $112, GHS reported.
Prices for the November natural gas contract traded lower on Monday, opening at $2.970 and closing at $2.865, indicating significant doubts about Isaac's ability to sufficiently disrupt gas output in the near term to offset the gas market supply glut, GHS said.
Generated by readers, the comments included herein do not reflect the views and opinions of Rigzone. All comments are subject to editorial review. Off-topic, inappropriate or insulting comments will be removed.