Doubts Loom Over Venezuela Supplying Orinoco Development Alone
by Dow Jones Newswires
|
Katarina Gustafsson
|
Monday, August 27, 2012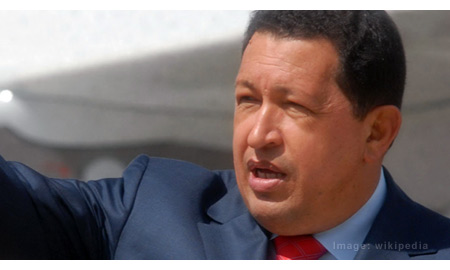 CARACAS - Hundreds of supporters carrying signs saying "Complete Oil Sovereignty" can be seen at just about every stop during a tour Venezuelan President Hugo Chavez is conducting of his country's oil fields.
It is a typical campaign cry for the socialist leader as he looks to have Venezuela's own basic industries supply the materials needed to develop its prized Orinoco heavy-oil belt, one of the world's largest crude-oil reserves. Mr. Chavez this week called on metals companies to boost output to speed up development of the area ahead of his closely watched re-election bid on Oct. 7 as his government aims to meet ambitious oil-production growth targets.
However, labor disputes and declining output in recent years at state-run materials companies are hampering the Venezuelan government's ability to meet the task alone. The Orinoco region is central to the government's plans to increase overall crude-oil production to four million barrels a day in the next few years from around three million barrels currently.
"There are reasons to doubt the president's goals just by looking at the recent track record," said Ronald Balza, an economist and professor at Universidad Catolica Andres Bello.
On Monday, Mr. Chavez outlined plans to integrate operations between national oil monopoly Petroleos de Venezuela SA, or PdVSA, and two other state-run metals companies, steel producer Siderurgica del Orinoco, or Sidor, and miner Corporacion Venezolana de Guayana, or CVG.
Sidor in particular is slated to provide PdVSA with 1.2 million tons of steel in each of the next five years to develop the Orinoco, at a total cost of around $3.6 billion, a task Mr. Chavez said he was "confident that the workers will be able to meet."
Steel will be in high demand for the government's development plans. In addition to building pipelines and constructing two new refineries, the former army officer on Wednesday reiterated his calls for building new cities in the Orinoco region, which will be used to draw the 100,000 workers the government estimates it will need in coming years. Currently, much of this 21,000-square-mile area remains barren and large areas have been used to farm pine trees.
Sidor, however, has been mired in union strikes in recent years that have weighed on production. The steelmaker said it produced 2.5 million tons of steel last year, well below the target of 4.3 million tons it had set for itself earlier in 2011.
In January, the company said in a statement that it aimed to produce 3.7 million tons, but noted that most of the product would go to feed Mr. Chavez's plans to construct houses for the poor.
A call to the company seeking comment wasn't returned. Calls to a spokeswoman at the Oil Ministry, which oversees mining affairs, also weren't returned.
Mr. Chavez, during a televised event earlier this week at which he revealed his vision for the integration of the metals industry and PdVSA, faced a tough crowd of workers from basic industries. After Chavez detailed plans for using Venezuelan steel in the Orinoco development, one union leader addressed Mr. Chavez on state television noting that the pipeline factory where he wanted to increase output had been paralyzed for two years due to a conflict between the union and management.
Mr. Chavez responded by saying that the nationalization of Sidor in 2008 "came a bit later" than it should have but improving operations under state management will require "much work, much knowhow, and above all much patience."
"The president was apparently ill-informed on that," said Jorge Roig, president of Venezuela's Metallurgical and Mining Industry Association. Mr. Roig said insufficient investment and regulatory uncertainty "has left the market very undersupplied."
"We haven't had any notable investment into mining for more than three years," Mr. Roig said.
Indeed, mining was the only sector that contracted in Venezuela during the second quarter, according to central-bank data. While the overall economy expanded 5.4% in the April-through-June period--thanks to heavy government spending on social programs ahead of the election--mining declined 4.5%.
Mr. Roig also added that strict regulations on reinforcing steel used in constructing buildings has also spawned a large black market for the commodity.
On Thursday, officials from the National Guard speaking on state television said they had seized more than 881,000 kilograms of reinforcing steel as it was being smuggled out of Venezuela just this year.
"That PdVSA will be producing and using its own parts in the [Orinoco region], I highly doubt it," said one local executive at a foreign oil partner that is co-managing a facility in the region with PdVSA.
The executive, speaking on condition of anonymity, said the Venezuelan company was aggressively seeking funds from "wherever they can," but little information on the sourcing of the money was being provided.
He noted that parts used at the facility are most likely being imported, but added that information on that, too, wasn't transparent.
Venezuela boasts large deposits of natural resources, "so it's not that they can't produce. It's a question of management and direction," said Mr. Balza. "It seems if they want to do what they are saying, they'll have to work with the private sector or at least with public companies from other countries."
Generated by readers, the comments included herein do not reflect the views and opinions of Rigzone. All comments are subject to editorial review. Off-topic, inappropriate or insulting comments will be removed.
RELATED COMPANIES