Shut-Ins, Worker Evacuations Continue As Operators Brace for Isaac
by Karen Boman
|
Rigzone Staff
|
Monday, August 27, 2012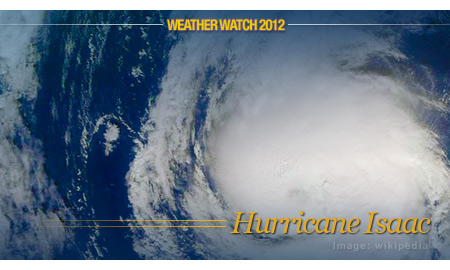 Oil and gas operators on Monday continued to shut in production and evacuate workers from Gulf of Mexico production platforms and drilling rigs as they braced for Tropical Storm Isaac, which is expected to strengthen and make landfall as a hurricane Wednesday morning in southeastern Louisiana.
Isaac is expected to make landfall on the anniversary of Hurricane Katrina's descent in New Orleans on Aug. 29, 2005. Katrina was the deadliest and most destructive of the 2005 Atlantic hurricane season and one of the five deadliest hurricanes in U.S. history, according to the National Hurricane Center (NHC).
The Bureau of Safety and Environmental Enforcement (BSEE) reported Monday that 78.02 percent, or 1.076 million barrels of oil per day (bopd) have been shut in, while 48.13 percent, or approximately 2.1 billion cubic feet per day of natural gas production has been shut in.
BSEE reported Monday personnel have been evacuated from 346 production platforms, or 58.05 percent, of the 596 manned platforms in the Gulf. Workers have also been evacuated from 41 rigs, or 53.9 percent, of the 76 rigs currently operating in the Gulf. The survey reflected information from 62 companies' reports as of 11:30 a.m. Central Standard Time Monday.
| | | |
| --- | --- | --- |
| | Total | Percentage of GOM |
| Platforms Evacuated | 346 | 58.05% |
| Rigs Evacuated | 41 | 53.% |
| | Total Shut-in | Percentage of GOM Production |
| Oil, bopd Shut-in | 1,076,642 | 78.02% |
| Gas, MMcf/d Shut-in | 2,165.94 | 48.13% |
NHC reported Monday afternoon that it expected Isaac to strengthen and become a hurricane in the next 24 hours. NHC reported the center of Isaac was 280 miles southeast of the mouth of the Mississippi River as of Monday at 2 p.m. Eastern Standard Time.
The storm is moving towards the northwest at 14 miles per hour (mph) and has maximum sustained winds of 65 mph, according to a report from the U.S. Department of Energy's Office of Electricity Delivery & Energy Reliability.
NHC has issued a hurricane warning from east of Morgan City, La., to Destin, Fla., including New Orleans, and a hurricane watch is in effect from Intracoastal City to Morgan City, La.
Louisiana Gov. Bobby Jindal has called a state of emergency, and 53,000 residents of St. Charles Parish near New Orleans were told to leave ahead of the storm. Mississippi Gov. Phil Bryant, Florida Gov. Rick Scott and Alabama Gov. Robert Bentley also declared states of emergency.
While the storm does not yet pose the same threat as Hurricane Katrina did in 2005, it will have an impact on Gulf oil and gas infrastructure, said Satish Nagarajaiah, professor of civil engineering and mechanical engineering at Rice University in Houston, told Rigzone in an interview Monday.
Drilling rigs and production platforms both inside and outside the storm's direct path will be impacted, as 12 to 15 foot-waves generated by the storm surge will likely be seen in the eastern and western Gulf of Mexico.
However, the upgrades to design standards for Gulf production platforms made in response to Hurricanes Katrina, Rita and Ike mean that platforms are better prepared to face a large hurricane, Nagarajaiah said.
Operators implemented other lessons from Katrina and Rita into their offshore evacuation processes and shut-in procedures as well. The Deepwater Horizon incident in April 2010 has also impacted operations, with significant improvements in equipment to allow for quick responses to equipment failure, Nagarajaiah said.
BP reported Monday that all personnel have been safely evacuated from its offshore production platforms, and oil and gas production has been temporarily suspended at all facilities. All BP-operated drilling rigs have also been evacuated or are securing to evade the storm, BP reported.
BP is also evacuating its onshore facilities in Houma and Fourchon, La.
"These actions come amid a westward shift in several of the leading storm-tracking models, and a growing consensus that the tropical storm may strengthen into a Category 1 or 2 hurricane before making landfall along the Gulf Coast Tuesday or Wednesday," BP said in a statement.
Shell on Monday said it was continuing with full evacuations of workers from its central and eastern Gulf operations, with production shut-ins occurring to coincide with full evacuations.
BP and Shell reported Friday that they had started evacuating staff from the Gulf of Mexico as Isaac's projected path shifted west. BP said it would evacuate all workers from its 250,000 bopd capacity Thunder Horse production platform in the eastern Gulf and would suspend oil and gas production there.
Anadarko Petroleum Corp. reported Monday it had successfully shut in production and safely evaluated 160 workers from its operated facilities in the central and eastern Gulf of Mexico, including the Independence Hub, Constitution, Marco Polo, Red Hawk, Neptune, and Gunnison deepwater platforms.
Apache Corp. reported Monday it had evacuated approximately 970 employees and contractors from the company's offshore Gulf facilities. Apache also has or will shut in operated production totaling about 74,000 bopd, including 45,000 bopd net to Apache and 312 MMcf/d of gas production, including 203 MMcf/d net.
Onshore, Apache will have safely shut in 8,500 bopd (6,875 bopd net) and 84 MMcf/d (32 MMcf/d net) by the end of Monday, the company reported.
Due to the anticipated track of tropical storm Isaac, BHP Billiton Petroleum has also begun evacuating at the Shenzi and Neptune tension leg platforms, located in the Southern Green Canyon area.
Demobilization is expected to be completed no later than today at noon, the company reported Sunday. Subsequently, production will be shut in both platforms within a few hours.
"We will continue to monitor the progress of the storm in order to remobilize our offshore teams as soon as the conditions allow us," the company said in a statement.
Gulfport Energy Corporation said Monday that it has initiated procedures to shut in and evacuate all field personnel at the West Cote Blanche Bay field located in Southern Louisiana, West of New Orleans. Additionally, Gulfport has begun moving all marine equipment to safe harbor, including drilling and completion rigs, the company said in a statement.
Swift Energy on Sunday said it begun implementing standard shut-down procedures in its coastal Louisiana properties, the Lake Washington Field in Plaquemines Parish and the Bay de Chene Field in Jefferson and Lafourche Parishes, due to the risk of adverse weather conditions currently anticipated from approaching Tropical Storm Isaac.
All operational activities in these areas are being shut down and personnel and equipment are being evacuated from these fields, Swift said in a statement.
The expected disruptions from Isaac was causing West Texas Intermediate (WTI) oil prices to gap up, with WTI prices opening Sunday in electronic trading at $96.50 before testing the $97.50 area, according to an Aug. 27 analyst note from GHS Research.
Brent prices followed the lead on Sunday, gapping up at the open of $113.80 while continuing to gain price toward the $115 area.
U.S. natural gas prices reacted to the Isaac threat, with September 2012 delivery prices higher by over one percent, testing the $2.76 level, GHS reported in the note. However, November deliveries were not gaining as much, very likely reflecting continued concerns about heavy supplies going into the early transition to the home heating session in October.
Generated by readers, the comments included herein do not reflect the views and opinions of Rigzone. All comments are subject to editorial review. Off-topic, inappropriate or insulting comments will be removed.
RELATED COMPANIES